I love Twitter. That was almost love at the first sight. It's a great idea which became awesome thanks to all the apps that completed it.
Here are two absolutely fantastic tools that have some really basic functionality Twitter still lacks:
---
Snapbird is a freemium tool giving you some cool searching options you probably didn't know you actually needed a lot! In fact, its functionality is so cool that I am surprised Twitter doesn't offer anything like that:
Search your or anyone's favorites likes

There are lots of ways to use Twitter likes. Most use them to "thank" for the mention. Some people use them to bookmark ideas for later reference. Others favorite Twitter testimonials to easier curate them
In any of those cases, the ability to search your own or someone else's likes for a keyword or a hashtag is priceless…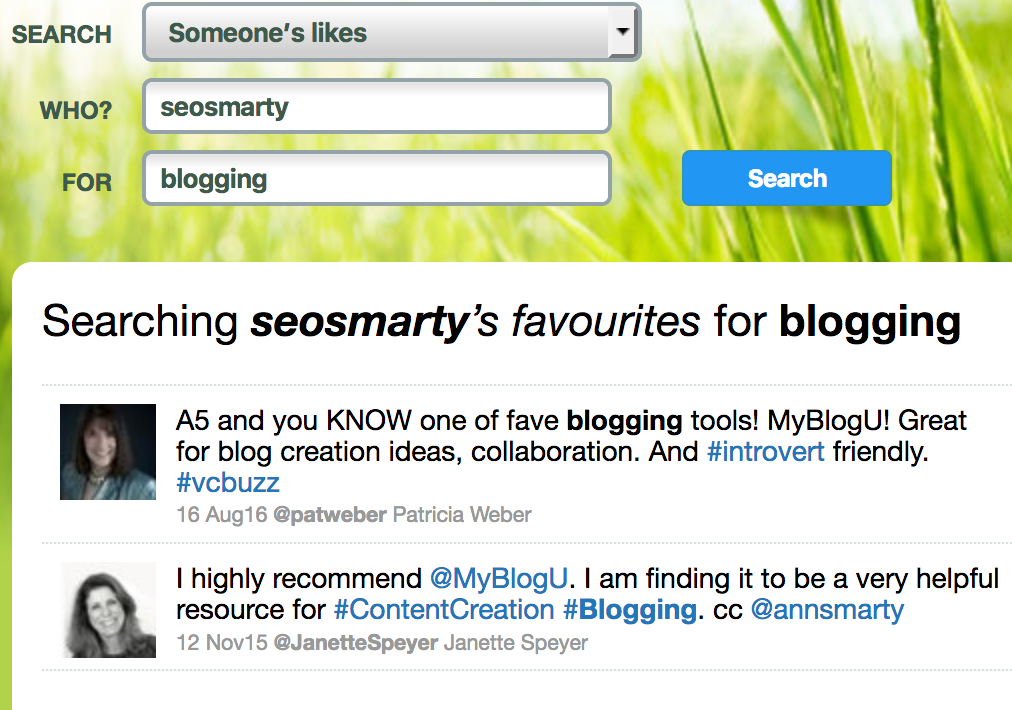 You can investigate what others favorite, look back into your own Twitter bookmarks or even find who you "thanked" in the past!
Search for DMs you sent or received
Why Twitter doesn't allow to search within your Twitter inbox is beyond me. Sometimes I have to scroll and scroll until I find the conversation I need. Am I probably missing something here?
I can get it that some people don't use Twitter DMs that much but many of us still do! I am keeping my Twitter private inbox very clean and to the point; yet there's no built-in solution to search it.
Snapbird solves that problem allowing you to search for DMs you sent or received.
Twiangulate: How we are connected?
---
I mentioned Twiangulate a few times in the past but they have changed the functionality a bit, so time to take a look at it again. Right now it's a great connection discovery tool that gives you way to find how you are connected to someone else on Twitter (Build relationships!)
I love their "Keywords" tab allowing for some great Twitter bio search functionality. You can search by any keyword in a bio and you can even limit your search to someone's friends. For example:
Find experts and insiders. Discover which accounts are followed by key people in a gossip empire, etc.
Understand clout. Determine which influencers and celebrities follow an account using the "reach" search.
Reveal a group's favorites. Which accounts are most followed by members of a group, for example, the US Congress, Ontario's MPPs or NYTimes journalists?


---
There are plenty of ways to play with the search tool for blogger and influencer outreach, relationship building, and more!
Find who these two Twitter accounts have in common
Give two Twitter accounts and find who the both follow (as well as who follows both of them:):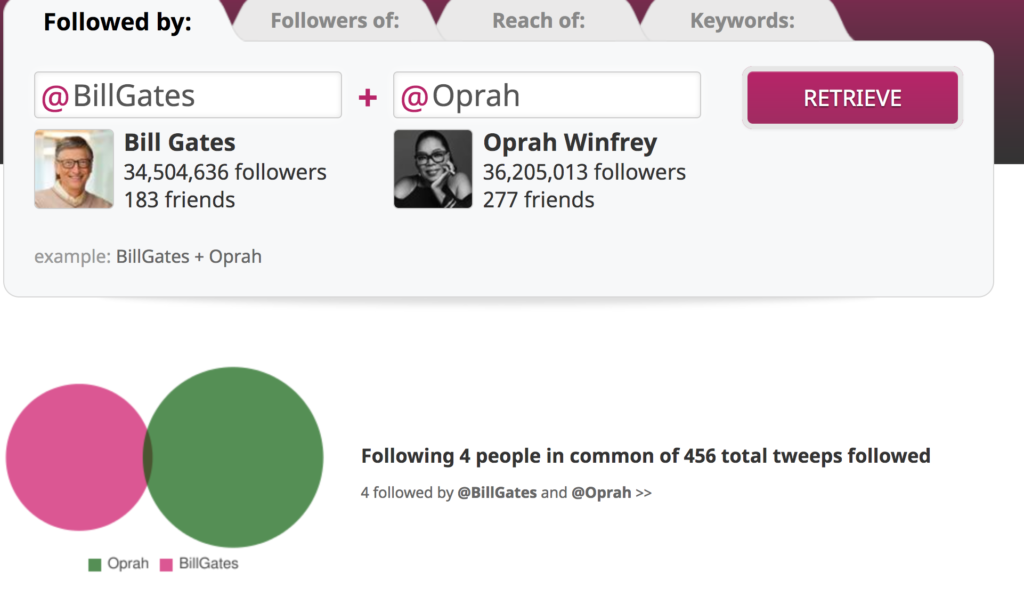 Find most powerful accounts that follow both Twitter users (and how they overlap):

Which Twitter search tools are you using and why? Please let us know in the comments!