Next week I am heading to Pubcon SFIMA, so I thought it would be a good time that I try a couple of new Twitter tools to make the most of it.
I love using Twitter when I go to conferences because it helps me get much more out of an event in terms of connecting to people and getting my word out there.
The ability to tweet to and monitor an official conference hashtag opens up lots of opportunity to discover and get discovered by other people who also monitor the stream.
Here are three cool tools to bookmark for your next conference visit:
1. Tall Tweets
Tall Tweets is a "Twitter storm" tool which will break any text you copy-paste into tweetable 140-character-long chunks and even tweet those for you.
Tall Tweets is a great app for live tweeting any session. You can write a blog post, then put the text into it and let it live-tweet the session for you. It's a great way to stand out in a conference stream with lots of useful content.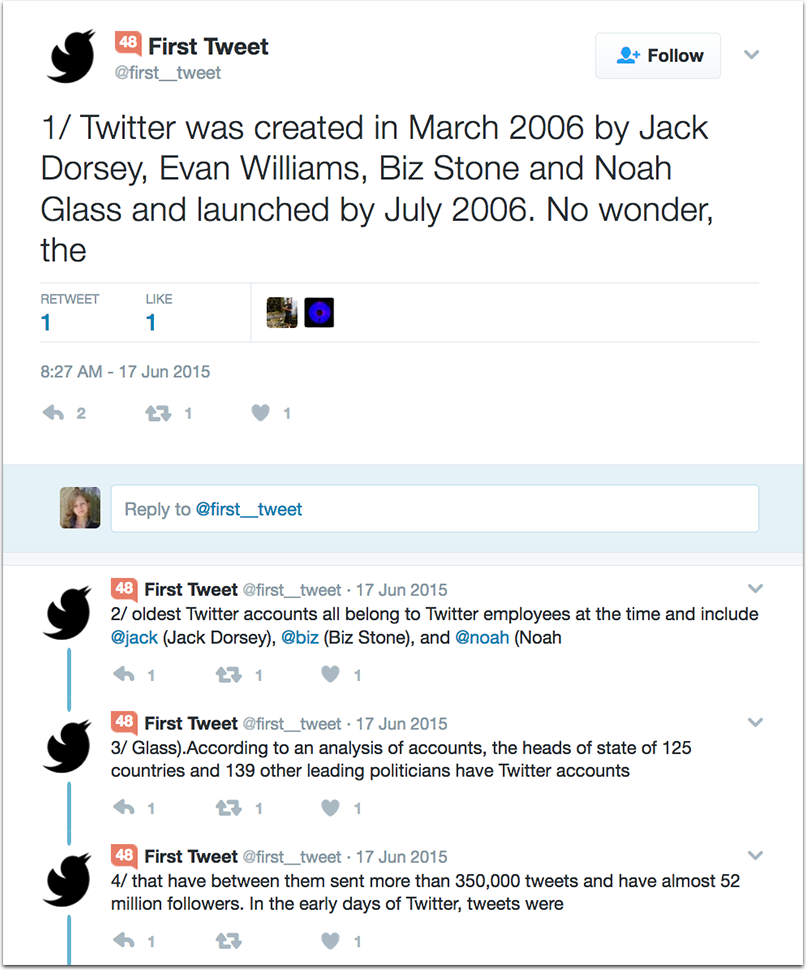 Tall Tweets lets you compose both tweetstorms and text shots (or text screenshots). The tweetstorm format will slice your lengthy essay into multiple tweets of 140 characters and tweets them all in sequence automatically.

If you opt for Tweet Shots, the app will convert your rich text into an image, rendered in Google's Roboto font, and posts the picture in a single tweet thus allowing you to bypass the 140 character limit.
There are more tools for breaking text into Twitter storms for you to try.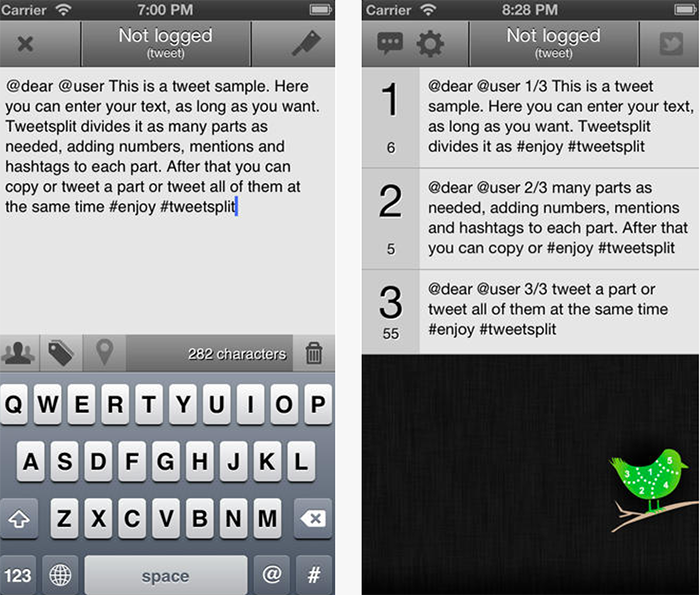 2. Text on Pictures
Another way to stand out in a conference steam is to post beautiful visual tweets quoting and tagging speakers. This is guaranteed to get you a quite few valuable follows and retweets.
Text on Pictures seems like a good fit for those purposes. I haven't tried it during conferences yet but I am going to.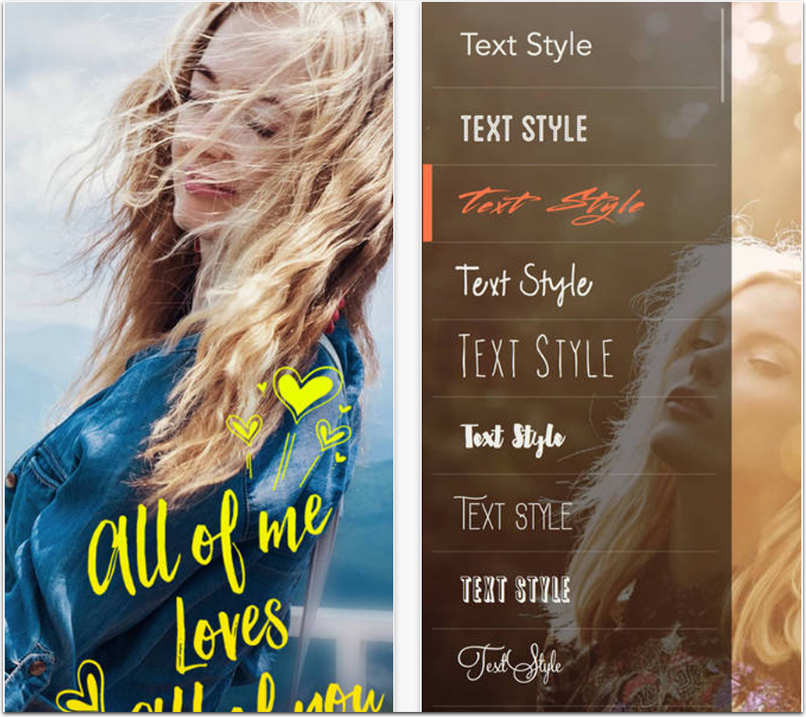 I'll also give Instaquote a try too.
Here are more cool tools to create cool visual tweets.
3. Twitter Archiver
Twitter Archiver is a Google Spreadsheets Addon that lets you export and archive Twitter search results in a Google Spreadsheet (which you can easily export into an Excel file). Spreadsheets let you search, sort, and share your data with your team.
To set up the monitoring, install the addon by clicking "Free" button and authenticate your Twitter account. You'll be presented with the search options where you can copy-paste the official conference hashtag: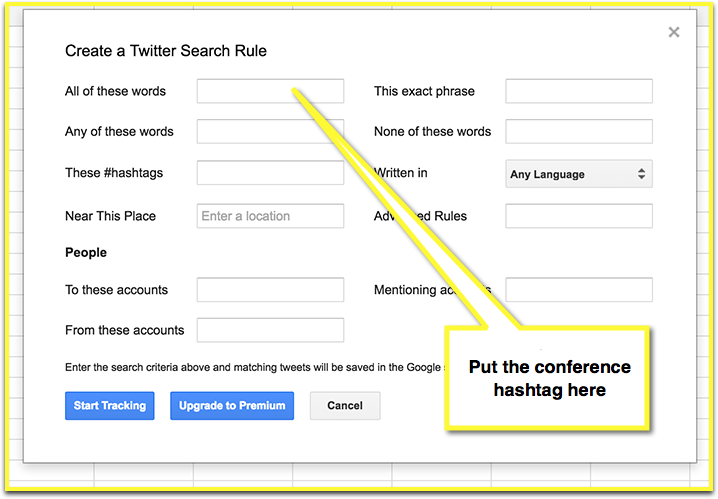 The addon will search and archive 100 tweets. It will search Twitter every hour for new tweets.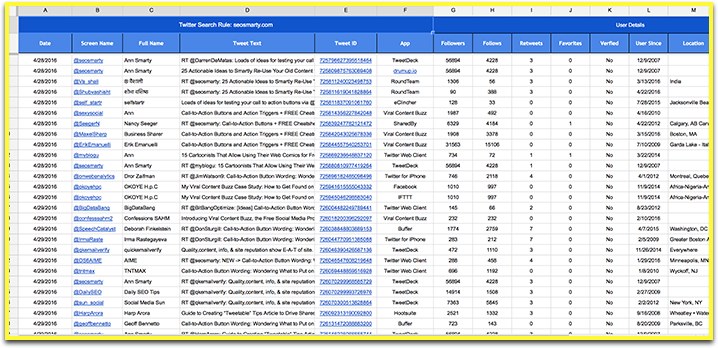 The columns:
Date of the tweet
The linked username
Full name
The tweet text
The app the tweet was published with
The number of followers of the user
How many times each tweet was retweeted and favorite
Whether the user was verified
Location of the user
The full bio of the user
Now that your archive is set up, feel free to play with the results right after the conference to follow people, identify potential leads and get in touch with them, find and connect to influencers, collect tweets mentioning you for your on-site testimonials, create session roundups and more.
Which Twitter tools are using before, during and after events? Let me know!