Who doesn't love Google Spreadsheets? For their awesome live collaboration features, fast performance and usability I consider them to be one of the best Google's products.
I have already listed Google Docs addons. In this article, I am listing some of the most useful Google Spreadsheet addons that can help you with keyword research:
1. Text Analysis Addon

This is a freemium addon that comes with a ton of free credits for you to play with it and make up your mind whether you'll need it on a regular basis. Some of the best features:
Extract the article title, body and author information from any URL
Extract entities such as places, people, products and organizations (Named Entities) from any text
Extract concepts: similarly to the above but with more precision. This option extracts different types of notable entities from a document, using Wikipedia as context.
Find best hashtags: Generate a list of highly-relevant hashtags that will help you get more exposure for your content on Social Media
Find related phrases: Get a list of phrases and words that are related to the input phrase or word based on semantic similarity.
A great alternative for entity and sentiment analysis: Text Mining addon. I recommend trying both.
2. Omni Translator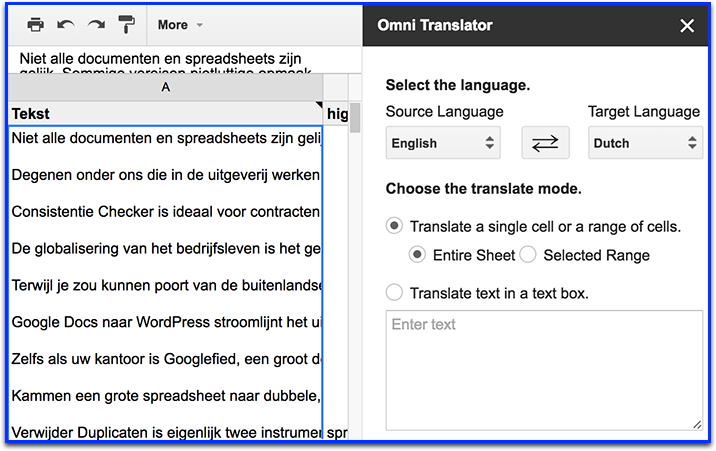 For international keyword research and content research. This addon makes translation a breeze and improves your productivity.
3. Remove Duplicates
If you combine keyword lists from different sources, this one may come in handy.
It does more than removing the duplicates though: You can color the cells with the common core terms to dig deeper into your keyword sets:
Use the "Compare columns or sheets" tool to quickly scan any columns in your tables for the same values. It will take you five simple steps to mark duplicates with colour or status, copy or move them to another sheet, clear repeating cells, or delete entire rows that contain dupes from your main table.
4. Advanced Find and Replace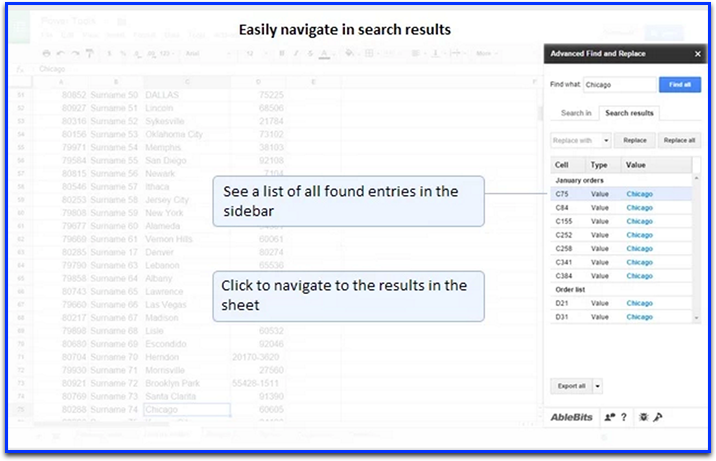 Another great addon for huge keyword lists.
You can look for the record you need in hyperlinks hidden behind the display text, formulas, and even notes. The search in values is performed with advanced parameters as well: you can match case, retrieve the cells that contain only the exact entry, or get any text occurrences.
***If you work with large combined lists, bookmark this tool too: Smart URL List Cleaner Tool
5. Twitter Archiver
Twitter Archiver is a great Google Spreadsheet addon that lets you import Twitter search result into a Google Spreadsheet.
I use it to monitor Twitter questions around my core term. It's a great way to collect content ideas and better understand your audience.
The search query I use: [keyword ? -http]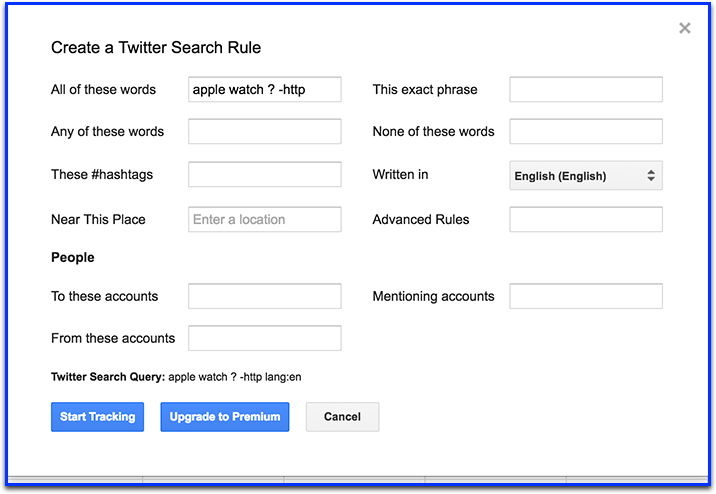 Bonus: Search Analytics for Sheets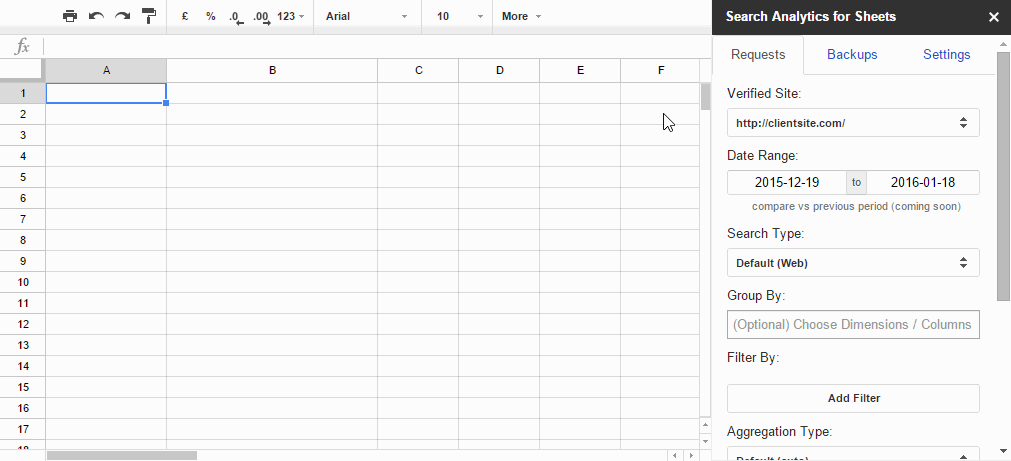 This one is a cool spreadsheet addon that lets you archive (and play with) data from Webmaster Tools' / Search Console's Search Analytics (including queries).
See more details here: Search Analytics for Sheets
Adding this one from the comments! Keep 'em coming!
Are there Google Spreadsheet addons you are using? Please share!