Social media continues to grow and adapt into a more exciting technology than ever before. While it was once a purely personal platform, the business and marketing applications are ace. Now we have entire degrees dedicated to the practice, and firms popping up all over the world promising to help brands expand on and off the web.
While many offer tools to allow you to measure your own analytics, others handle everything for you. In any case, a business can improve their visibility, leads, conversions, and evangelism with the right social media analytics company.
What is a social media analytics company?
Social media analytics companies use social media API data for easier reporting, monitoring, trend tracking and competitor analysis. Social media analytics aims at helping you estimate your social media ROI (return on investment) and improve your key performance indicators (KPIs).
Here are some great ones to keep an eye on this year.
1. Sprout Social
Sprout Social has been continuously praised by users and tech review sites as being one of the best on the market today. This is usually a reference to their various social media analytics tools, which include an impressive list of free ones. They cover multiple social networks, such as Twitter, Facebook, Instagram, and Linked, and monitor traffic sources.
With the recent acquisition of another social media analytics company Simply Measured, the suite has become even better.
Pricing starts at $99 a month
2. SumAll
SumAll is an all-in-one social monitoring tool that has two options: free, or a $99 paid plan. On the free side you have smart tweets, desktop view, and unlimited profiles for both. You also get actionable analytics tool and weekly report to help you grow your social efforts. It looks like they have canceled their paid plan which is both awesome and surprising.
They have pretty good support, so you never have to worry about your emails or calls going unanswered.
Pricing: Free
3. Brandwatch
Social listening is an important skill, but it isn't one many companies have mastered. Which is why they turn to Brandwatch. This firm will help brands to not only hear the conversation happening around them, but understand and utilize it for their advantage.
They have two products to choose from: Analytics and Vizia. The first is basic social reporting and monitoring like you would expect. The second is a complete social command center with advanced features to get the most out of your data.
They feature three plans on their website with zero info on actual pricing which is somewhat confusing. You need to request a demo to find out the rates.
From third-party reviews I was able to find that they start at $800 per month
4. TalkWalker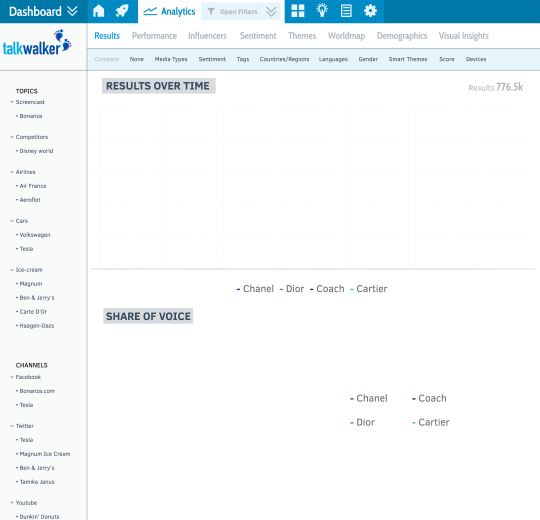 Talkwalker provides centralized social media analytics dashboard offering you graphs and analysis for:
Hashtag and campaign tracking including shares, reach, engagement, mentions
Sentiment analysis
Image recognition to help you protect your trademark & reputation
Google Analytics integration for social media ROI estimation
Virality that monitors how your content spreads across the web
Influencer marketing helping you identify industry influencers and (future) brand ambassadors


---
Pricing starts at $9,600 per year with more advanced package pricing available only on request.
5. Finteza
Finteza is the free on-site analytics platforms with an array of possibilities including analysis of your social media traffic. This is not purely social media analytics company but I firmly believe that nothing will provide you with more actionable insight than your own site visitors.
Finteza is quite easy to set up. It will start collecting and showing the data the moment you install the tracking code. It's an independent company that allows you to manage ads and create conversion funnels.
Pricing: $25 per month
6. Social Bakers
This is analytics company that offer multiple solutions for brands that need something more than basic analytics. Social Bakers core platform handles monitoring, engagement, competitive and industry benchmarking, competitive analysis and more, customized to meet the specific needs of companies that are based on sales. This is unique to many other platforms that could also be used for non-sales brands, such as blogs.
Its AI-powered algorithm monitors your social media audience and turns it into personas which you can better relate to and thus effectively target.
Pricing starts at $240 monthly
7. Awario
Awario is a social tool that operates within four categories: brand management, conversation management, profile management, topic monitoring, and lead generation. This gives an intensive approach to data gathering and implementation that attacks the problem of a weak campaign from all angles.
Awario includes a solid sentiment analysis feature that allows you to filter your brand mentions for negative, positive, and neutral sentiment. You can use this information to effectively delegate customer relationship-building based on how happy (or unhappy) your customers are.
They offer a free trial, and their pricing starts at $29 per month
Bonus: Cyfe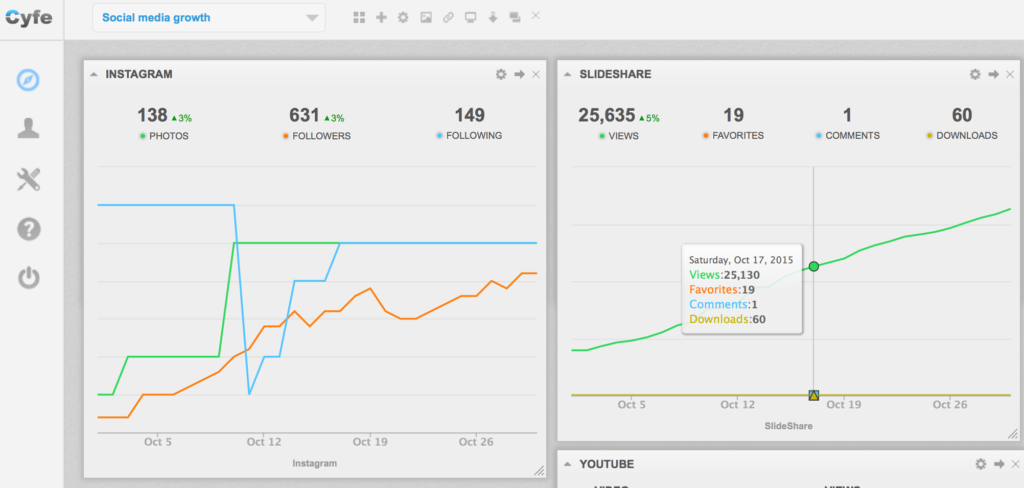 Cyfe is not a social media amalytics platform, per se, but they can combine a lot of API data for easier monitoring and analysis. It is my personally favorite tool for collecting and archiving all sorts of social media stats and trends. It supports all kinds of sources including Instagram, Youtube, Pinterest, Twitter, Facebook, Google Plus. You can connect it to your Google Analytics to monitor correlations and keep an eye on your social media campaign effectiveness.
It's a huge time-saver, especially if you manage clients and need to monitor dizens of accounts within one network. Unlike many social platforms, it gives you a fair amount of features and perks without having to spend a dime.
Keep An Eye Out For These Guys!
These social media analytics companies are sure to grow in the future. As they do, you will have plenty to take advantage of as a user, in order to grow your own brand's visibility and engagement.
Anyone you think should be on the list? Let us know in the comments.