It is hard to believe that anyone isn't really on board with social media, but a lot of businesses haven't quite managed to settle of a solid strategy. Small or local businesses in particular tend to create a page, and never come up with a cohesive way to work it to their advantage.
Hiring an expert is a worthwhile investment with a lot of return. But not all business owners are convinced. What does social media really do for a brand, especially when that brand isn't one of the well established names that permeate the global market?
A lot, actually. While the success of social media campaign from huge corporations aren't able to be directly replicated on a small scale, you can learn a lot about what to incorporate into your own strategy.
For example, look at these recent cases of social success for big businesses, and what they can teach you:
#MumbaiInANewLight Promotes Phillips And Tourism In One Sweeping Campaign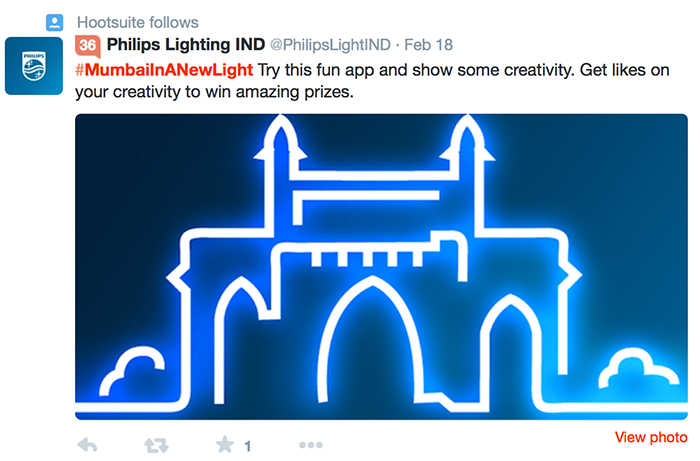 The Gateway of India is one of the biggest monuments in the tourist-friendly city of Mumbai. Phillips, in cooperation with the Maharashtra Tourism Development Corporation decided to take advantage of the visibility and popularity of the site to help boost brand recognition and tourism in the region.
Using their new LED lights, they created a brightly colored spectacle. Then they released an app that let people create their own lighting, and share it for the chance to win prizes. The campaign was huge on YouTube, Twitter and Facebook as people flocked to the app to show off their own lighting scheme.
What You Can Take From It: People love the chance to play around creatively, and share it with others. Give them a chance, and they will take it.
American Express Releases OPEN Forum, Targeting Small Businesses With Combined Social and Content Strategies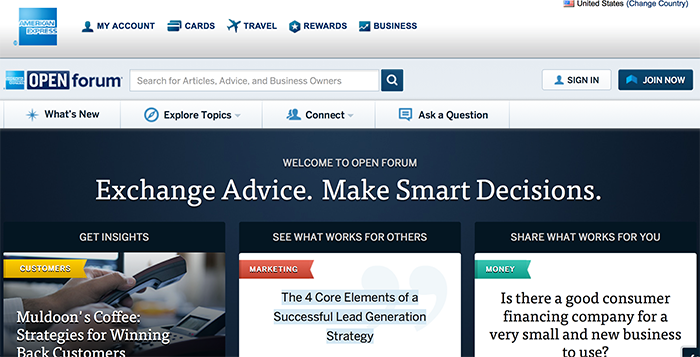 In the world of B2B marketing, it is important to target your audience correctly. Because AMEX was aiming for small businesses, they decided to give their potential (and current) customers what they could really use. So they created OPEN Forum.
Instead of going for something glitzy and trendy like many brands may have tried, AMEX kept it simple and focused on content. They created a place to read articles by industry experts on topics important to small businesses, then connect with a community and ask questions. They provided quizzes and panels. They paved the way for dialogue.
The Twitter page has more than 203,000 followers for the OPEN Forum alone.
What You Can Take From It: Consider what your audience really wants and needs, not what follows the current trends and popular tactics.
A1 Rebrands Their Sauce For The First Time In Decades, Fails At Pinterest But Becomes A Hit On YouTube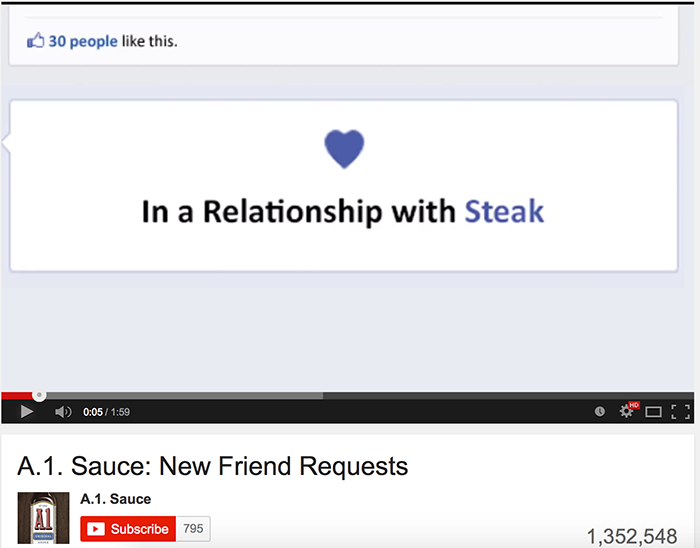 A1 is a steak sauce, but they didn't want to be a steak sauce any longer. They wanted people to think of their brand as associated with any kind of food that could use a bit of a kick. So they implemented a seemingly good idea, and created a Pinterest page that contained recipes and attractive food photos for users to try something new with A1.
This was a huge flop, as there are only 15 followers to their account at the time of this writing. However, what did take off was a video on YouTube where you see A1 on their Facebook page taking a step away from their long term relationship with steak, and exploring new avenues with lobster, pork, meatballs, chicken, and other foods.
Cheesy? Yes, but it has had more than 1,300,000 views, and counting.
What You Can Take From It: Sometimes your first idea doesn't work, but that doesn't mean your campaign won't have an impact.
How Social Media Can Help Your Personal Business
---
Now that we have seen some examples of businesses really taking advantage of social media, here are some other reasons to get on board.
Turn your customers into believers: I love it when brands reply me on Twitter. As a customer, I feel much more willing to recommend a brand to my friends if I am somehow connected to the brand on social media
Build trust: We are in a world now where companies are expected to offer customers a personal touch. That means one on one engagement, and nothing makes that easier than social media. Not having an active account can actually damage your brand's reputation.
Build other sources of awareness and traffic: Don't depend on search engine traffic! Build a more reliable online presence by diversifying your sources
Learn about your customers: Customer statistics are easy to learn over sites like Facebook and Twitter. From basic demographics, to preferences, interests and potential tie ins to other businesses (collaboration hot right now), social media makes a great data gathering tool.
Monitor and influence social media sentiment around your business: It is never nice to hear an insult about your business. But not even knowing it is out there is even worse. Social media gives you a chance to monitor your own reputation, and address issues the moment they creep up.
Generate leads: The most successful call-to-action on Twitter is "Download": Use this tip to promote your eBooks and build leads!
Keep your eye on the competition: Don't just monitor your own reputation, also look at the other guys. The competition (and their customers) are on social media, and you can learn a lot by watching them.
Have any examples of recent case studies showing social media and the way businesses have been using the tool? Let us know in the comments.
Are you interested in social media marketing service? Hire Internet Marketing Ninjas
"Let's get to basics" series: