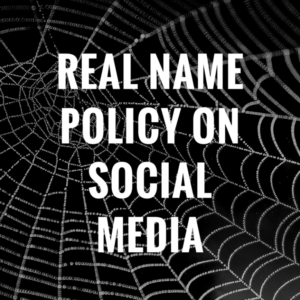 Since the start the web anonymity has been quite a hot controversy in social media world.
On one hand, everyone has the right to remain anonymous online to avoid personal attacks.
On the other hand, social media networks have been trying to promote "real" connections which resulted in many of them forcing "real name" policy on their users.
Let's see what the "real name" policy is these days:
1. Facebook: "Authentic" Names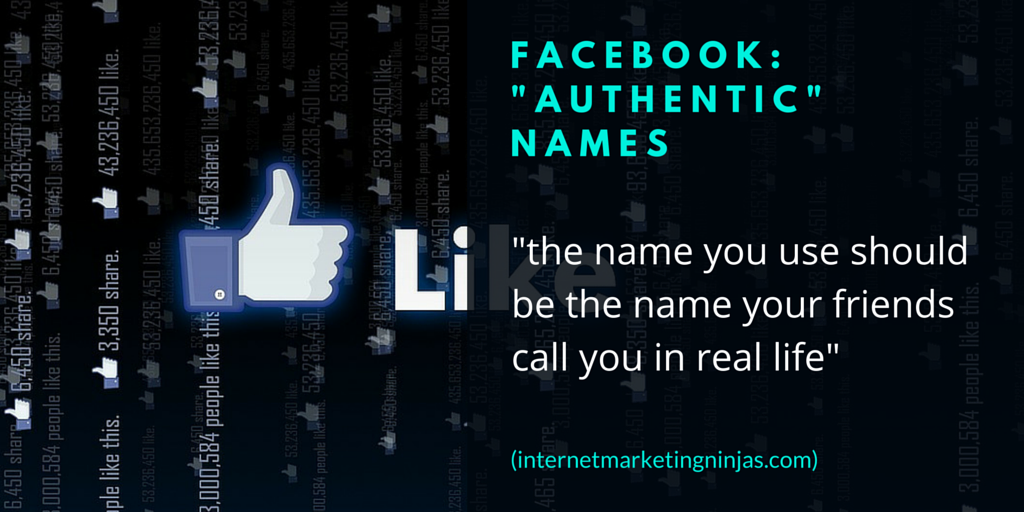 Facebook terms of service go into much detail explaining their "real name" policy noting that "the name you use should be the name your friends call you in real life".
On October 1 2014, Chris Cox, Chief Product Officer of Facebook, also clarified:
Our policy has never been to require everyone on Facebook to use their legal name. The spirit of our policy is that everyone on Facebook uses the authentic name they use in real life…

We believe this is the right policy for Facebook for two reasons. First, it's part of what made Facebook special in the first place, by differentiating the service from the rest of the Internet where pseudonymity, anonymity, or often random names were the social norm…
Their identification tools don't seem to allow much freedom though because in order to confirm your identity, you are required to provide a photo IDs and you may not have one for the name your friends are using in real life…
2. LinkedIn: "True" Names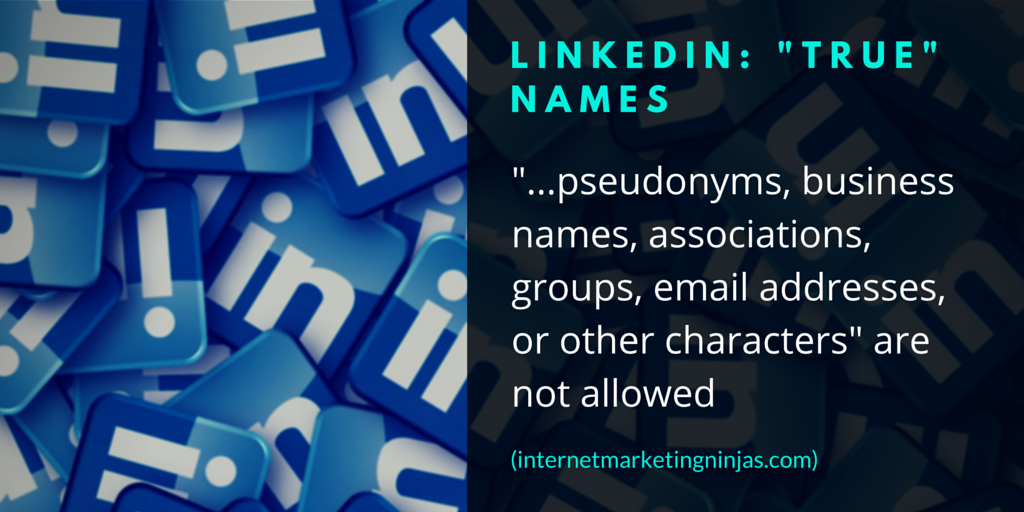 Due to its professional nature, LinkedIn requires "true" names without clarifying what that means but noting that "pseudonyms, business names, associations, groups, email addresses, or other characters" are not allowed.
If you are one of multiple people using your professional pseudonym when registering a professional account at Linkedin, you may be in trouble. Here's a very well-written, very well-grounded case by someone who is forced to be using their real name on Linkedin.

The real issue is the personal safety of various categories of users, for making your name known can have serious – and even lethal – consequences in certain cases.

Think of political antagonists using the Internet to democratically criticize an oppressive regime; think of secular minorities living in countries with a mandatory State religion; think of social activists fighting an unjust establishment; think of people of ethnic origins operating in racist societies. Think, since we are on this website, of people discriminated against for their sexuality.
3. Quora: Use Your Legal Name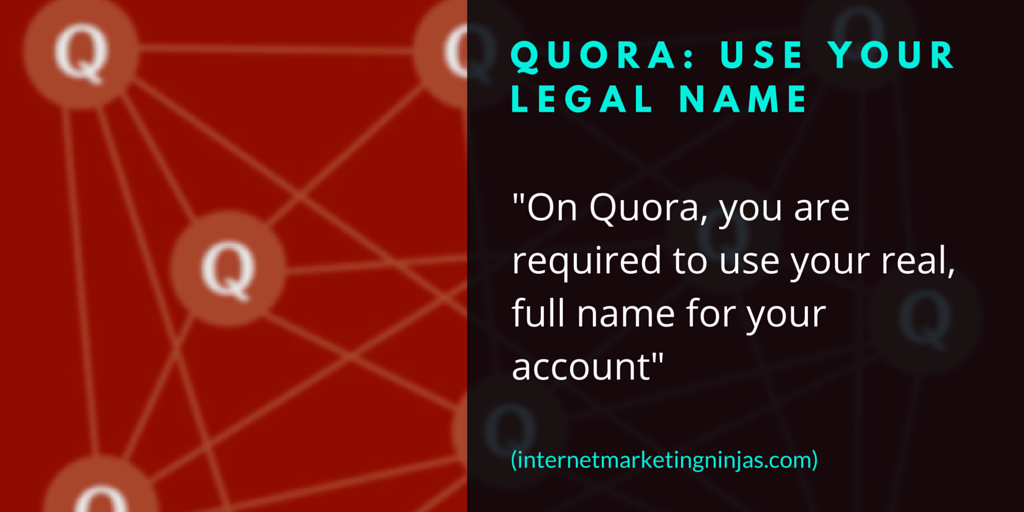 Founded by former Facebook employees, Quora is making the same mistake Facebook started with, the only difference being Quora has never tried correcting it standing firmly by their questionable decision.
Quora requires a "real full name" and explains that one should stand by their answers and the best way to do that is to use their real names. In case you are reported for not using your real name, you have to provide your ID which means you have to use your legal name.
They do have "reply anonymously" option to help those who don't want their names to be associated with certain answers, but it's not helpful to those who want to use their well-known monikers they use elsewhere.
While they say that they make exceptions sometimes, Quora real name policy is the major reason of its strongest users' unhappiness (warning: NSFW language in that one)

It is still hilarious to find such an adamant policy enforcers on the Internet, and it makes me wonder how Quora managed to put a bunch of lunatics to frame a policy on the Internet that forces users to reveal their identities.

While it sounds like LinkedIn, there is a marginal difference between the two networks. The former network requires such a deep level of credibility to enhance one's network and still they never want to screw your name and they clearly don't enforce it on you. The latter is just a Q/A network with a great user base. Somehow, they manage to mess everyone (except JJ Abrams and Soleio) with a naming policy.
4. Google Plus: No Restrictions Any More
In an obvious effort to profile the web, Google started Google Plus with a very strict real name policy which ended up in lots of controversies.
The policy didn't work for Google Plus well, especially when they started aggressively integrating it into Youtube (where few people use real names).
On July 15, 2014 it was announced that there were absolutely no restrictions as to what name you should use when registering an account at Google Plus.
What are your thoughts about social media real name policies? Share your thoughts!