Back in 2010 Twitter partnered with Tweetmeme to create an official Tweet button. It resulted in lots of criticism as the official button lacked some obvious customization options (primarily, it forces the user to use Twitter's official shortener. Besides, it has no color customization and is somewhat slow).
However the fact that Twitter partnered with the major player in that field to launch the official product has left us with almost no choice. Besides, the Tweet button does have quite a few great features (my favorite one: the ability to recommend your personal as well as your business accounts for people to follow).
Besides, what many people are likely to be unaware of: the Tweet button can be customized with the help of some of the hacks (listed below)
---
1. Use Your Own URL Shortener
Twitter Friendly Links is a great and absolutely easy-to-use WordPress plugin that lets you quickly create your own domain shortener. Just have it installed and activated, go to the plugin settings and configure the following:
Set the base URL: this option is *gold* if you have www in your default URLs. Making the base URL www-free will make your shortened URLs even shorter!
Set the Redirection type. I am using 301 redirect as a link-builder at heart: someone would want to use my tweet to quote or will copy-paste the URL from the URL directly from tweet and use it in a post. So I want this link not to be wasted.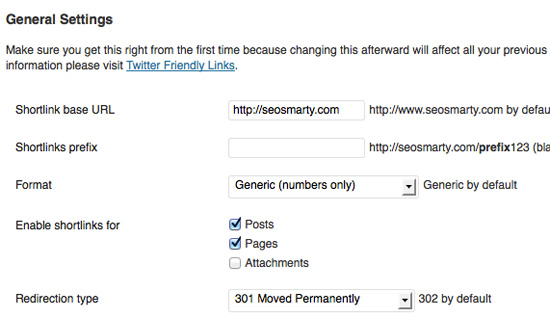 Now to use these pretty branded URLs with your Twitter button you'll need this plugin: WP Tweet Button – it has plenty of cool features and the rest of the post will be dedicated to those features, but so far the most important option for us is the WP Tweet Button plugin ability to support Twitter-Friendly link. All you need to do is to select "Twitter-Friendly Links Plugin" from the drop-down on its Settings page:
Now you are done: Readers are able to tweet your articles using the official Tweet button while using your pretty self-hosted URL shortener.

Another option: YOURLS which is also fun but somewhat hard to set up.
---
2. Promote Your Guest Authors and Contributors
WP Tweet Button has another valuable option: you can set up your "default" Twitter username from the admin page but it will be overridden by the author's Twitter name he specifies on his profile name.

What does it mean?
The post author's Twitter name will be included in the Tweet itself. Besides, the author's Twitter username will be recommended for following along with your default username: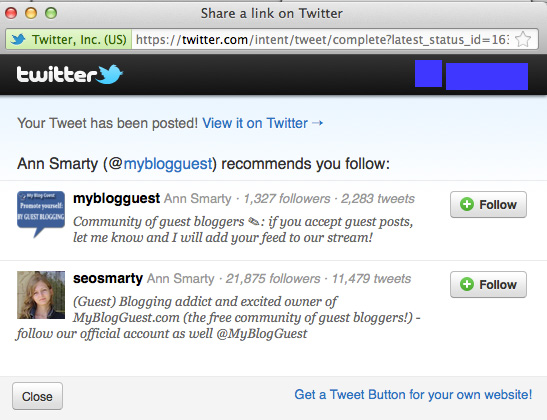 Another great thing about the plugin is that it lets you specify the Tweet text as well as more accounts to "recommend" right on the "Edit post" level. This means you can get as creative as you want: add the author's Twitter account to recommend, his custom hashtag, his name in the Tweet, etc: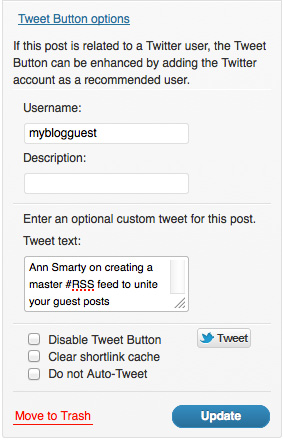 Here you go!

---
3. *Smartly* Auto-Tweet Your Articles
Whether to auto-tweet your blog articles or not is up to you. I find it a great option for people on the go: blogging while traveling, scheduling articles for later, etc – in these cases, the ability to auto-tweet your posts that go live while you are away or busy is a life-saver.
Now, traditionally Twitterfeed is used to auto-tweet, but WP Tweet Button is so much better!
Auto-tweet your own articles using your self-hosted URL shortener;
Auto-tweet your articles each time you update them.
The smart plugin even removed the default Twitter username to avoid you referencing yourself in your own Tweets.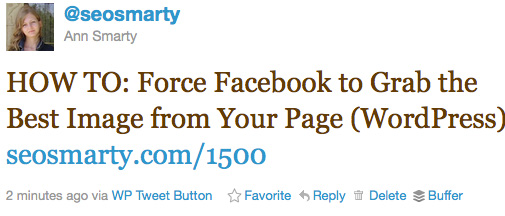 ---
So The Check-List Now!
If you choose to try the tips above, here's an actionable and easy-to-follow to-do list for you:
Tool
Settings
Twitter Friendly Links
Install and activate
Set the base URL (www-free)
Set the Redirection type (301)
WP Tweet Button
Install and activate
Select "Twitter-Friendly Links Plugin as your URL shortener
Set the default Twitter username to reference and recommend
Ask all your contributors to update their profiles to add their Twitter usernames (to reference them in the Tweets)
Authorize the plugin to auto-tweet your articles when you publish and/or update them
Don't forget to follow our official Ninja Twitter account to have articles like this (and better) to be delivered right to your Twitter home page!