How do you build your following on Twitter?
One of the most widely-used ways to build your following on Twitter is to mass-follow lots of people, then unfollow those who didn't follow back and then follow more…
I gained 100 new followers this week… And next week I'll loose 98 of them when I don't follow them back.

— Jim Boykin (@jimboykin) June 23, 2015
While this method is really effective for following building (many people do follow back), it's obviously spammy, low-quality and easy to spot (Those who are using this method usually have more users they are following than those who follow them back or the number is even).
It's also obvious that those people don't really read their Twitter feed because, with thousands of people you follow, it's impossible to manage.
But how do you build your following on Twitter?
How to build your following on Twitter without resorting to spammy tactics?
Click To Tweet
You actually start with following those in your industry you want to hear from.
You cannot do without following on Twitter, so that's where you start.
Next step is starting genuine interactions with those people you follow.
Comment on what they have to say
Quote, retweet and favorite
Tag them in Twitter updates (especially if you mentioned them on Twitter)
Start and support discussions on Twitter to gradually get noticed and followed back.
Twitter chats…
---
Participating in Twitter chats is a great way to build following and exposure.
A Twitter chat is a public open discussion on Twitter around one specified hashtag at a set time.
The beauty of Twitter chats is that they are open, so anyone can join (for example, by seeing your friends participating), so the exposure can grow exponentially.
There are lots of regular Twitter chats in most industries like health, politics, technology, etc. Just search Google or check out this site.
Here are some stats from our employee who host Twitter chats on behalf of our clients: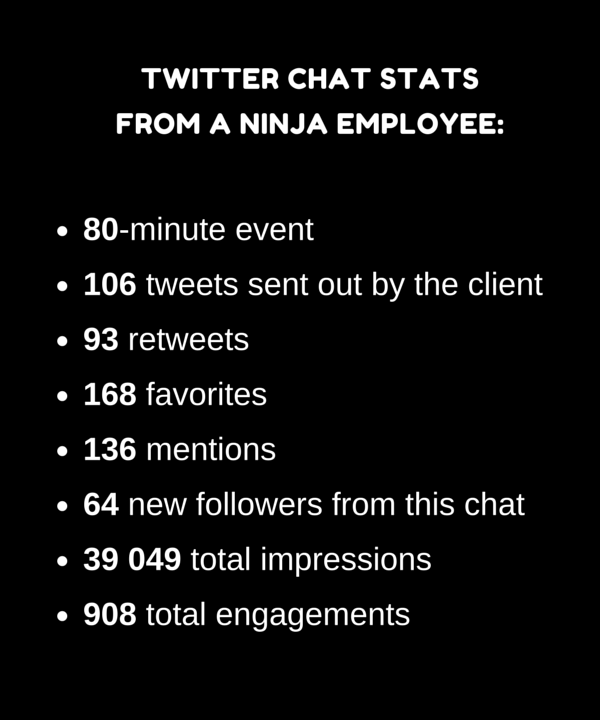 Speaking of that client, our social media team started with them when they had just about a hundred of followers and after 3 years this account has 16,000 followers.
The funny thing is, this was a small client who eventually has become a brand thanks to social media.
It's amazing that social media can still be a huge competitive advantage because not many small businesses still get social media.
Twitter chats have educational and branding benefits, so definitely add them to your marketing agenda.
There are other ways to build following on Twitter.
Influencer baiting on Twitter
---
Here's a great example of influencer baiting on Twitter:
We appreciate these kind words from @jimboykin. See you in Las Vegas, jim! pic.twitter.com/i6D3j9X9Sx

— Pubcon (@Pubcon) June 3, 2015
Wouldn't you retweet it if you got visually-quoted on Twitter?
We've been experimenting a lot with these kinds of visual quotes and got awesome results!
We've done other experiments as well like creative birthday greetings on social media too.
The key is to get creative!
Google may be mapping all those relationships and interactions with influencers because that's how they can understand citations and quality better.
Watch the whole video here: How to Build Twitter Following