Over the years, there have come a number of ways to help you to find and share popular websites and pages. Everything is about viral content and passing things on, and entire Internet cultures are based on that principle. Just think of your Facebook and Twitter pages; most of what you do on there probably has to do with re-posting or sharing some kind of content – especially links that you think others might need or enjoy.
Today's tools will be huge help for you if you need to estimate the activity and popularity of any website for:
Competitor evaluation;
Guest post prospect evaluation;
Your own blog analysis and monitoring;
Anything
The tools:
And now the details for each tool:
---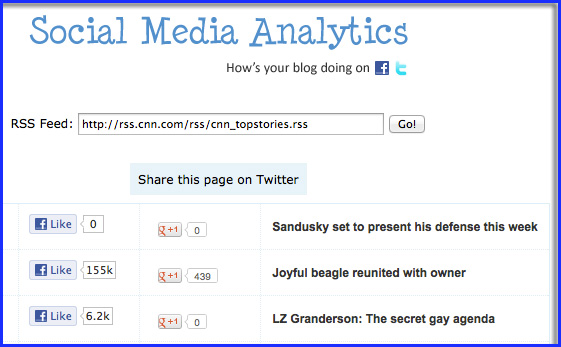 This is such an easy tool to use, and so useful. It works by allowing you to put an RSS URL into the search box. From there, it will take all of those RSS updates and present them as a list. You can then see how much they are being shared on Facebook, Twitter, and Google+.
What surprises me every time I use this tool is seeing what kind of content is frequently re-posted where. You can start to see a pattern, with news stories usually posted on Facebook, funny or interesting things like memes or images posted on Twitter, etc.
In any case, you can get a lot of info about the most shared pages in any category here.
One of the most important features I really miss there is the ability to sort the list of retrieved pages by the number of shares.
---
2. Topsy (SITE: command)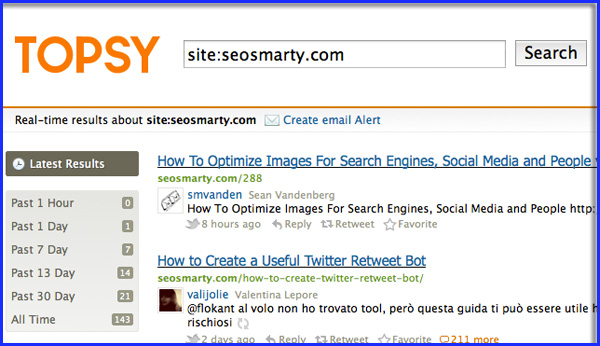 Unlike the above tool, this one is not based entirely on looking at RSS feeds. It is a basic search engine that can find anything from a simple query to an advanced one.
It is a trending search engine, for the most part. Everything is real time, with people's posts about the links on the RSS feed presented. It has a number of useful facts as well, like similar tweets, Facebook or Google links to the ones shown.
You can filter search results by time frame (stories shared within 1 hour, 1 day, 7 days, 13 days, 30 days)
Sort by date (to see the latest shared)
You can subscribe to any social stats page by RSS (e.g. to track how your page is being shared)
Clicking through any page takes you to the recent shares of that page as well as its overall stats: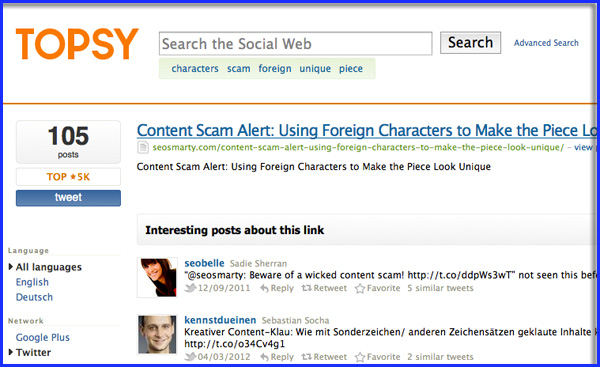 There's also "Social Analytics" stats that gives you an idea of the social media trend of any site (as well as lets you compare any sites):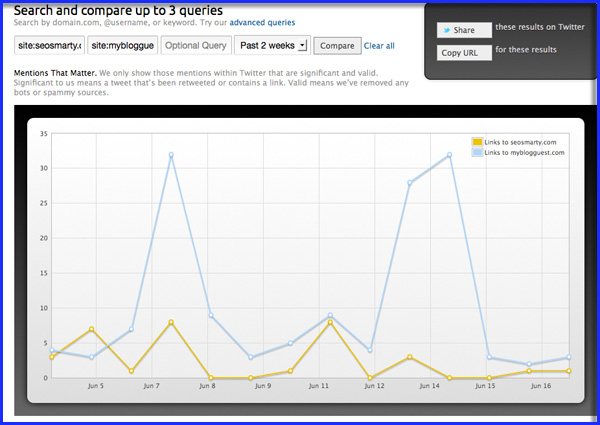 ---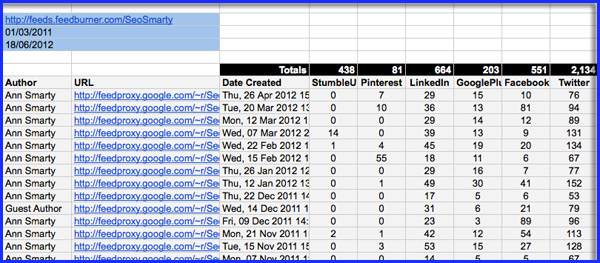 And I continue admiring Martin Hawksey's tools and this one is just perfect. It's very easy but so functional.
Just make the copy of a base document and provide your site RSS feed. It will retrieve the most recent pages from the feed, grab the date and the author of each one and then find the number of shares for each of them.
It's fast and awesome. Try it! Just keep a copy of your document in your bookmarks and run it for each blog you are considering to guest post for.
For your own website, you can also connect it to Google Analytics to identify page views for each article (and see the connection with social media activity)
Do you know of any more tools that can be used for the purpose? Let us know in the comments.
Don't forget to follow our official Ninja Twitter account to have articles like this (and better) to be delivered right to your Twitter home page!