Social media is a very necessary and helpful tool for marketing, whether that is a brand or a personal account. Anyone who has seen someone reach "Twitter fame" knows the potential benefits. An active account can drive consistent traffic, improve ad revenue, and build a relationship that is unbreakable.
People have created entire careers from social media accounts. Brands have some back from the brink of destruction on the back of Facebook. Social networks are powerful. But they have to be used correctly, or growth will be slow, maybe even non-existent.
Making Social Media More Efficient
All marketing is a business, and you need to be as efficient as possible. Time is money, after all. Social media is one area where it is easy to get caught up and waste more time than you intended. Distractions are waiting around every corner, jumping out at you and taking your focus away from the task at hand.
Having some extensions that diversify and improve your updates, especially more productively, is crucial. By integrating your social activity into an extension you will be limiting those distractions, and spending less time on your marketing while optimizing the posts you publish.
For Chrome users, there are five fantastic options for you.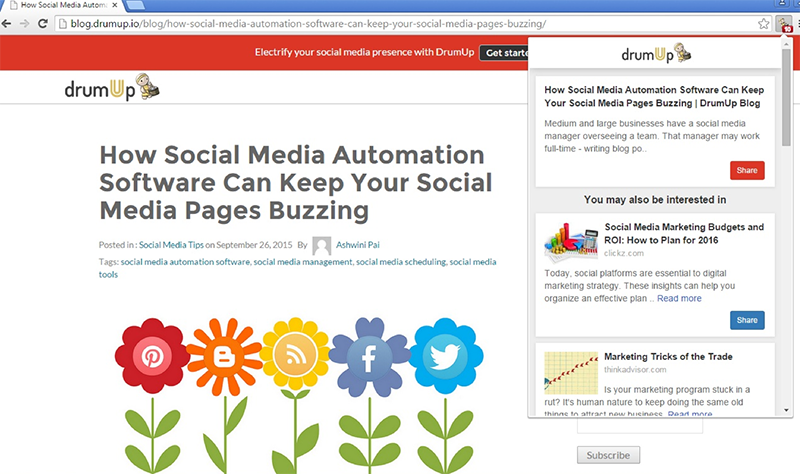 Are you always trying to find relevant and interesting content to share with your followers? That might be the most common complaint that all social marketers have, and what takes up most of their time.
Half the time what they spent ages searching out doesn't even have an impact. Stop wasting time! DrumUp searches for news stories, blog updates, social posts and more that are related to the keywords most searched by your and your social followers.
You can find fresh content to share for all of your networks this way, and cut down on the time you spent sniffing out links. It works based on the pages you read, so there is no needing to constantly customize and add search parameters. You just ask it to crawl the current page, and it will find hours of content of all different kinds from across the web.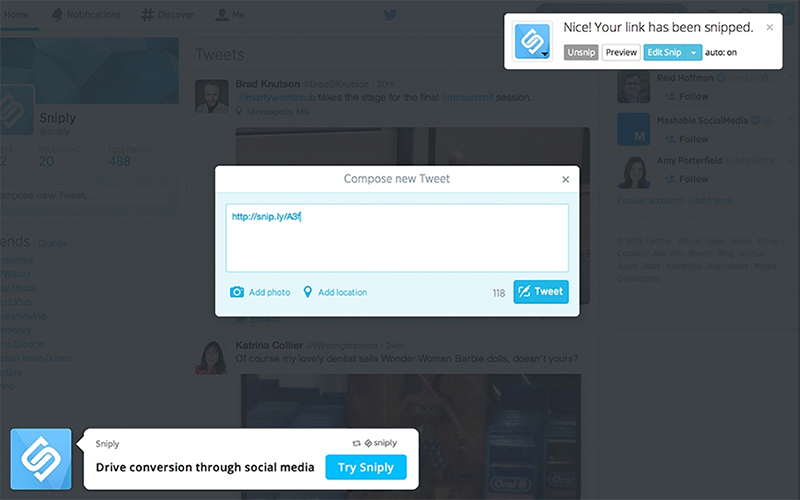 Have you ever wished you could promote your own website through popular content providers, like TechCrunch or CNN? Now you can! Snip.ly lets you snip links and add in your own Call To Action. When someone follows the link from your social media profile, they will see your CTA on the page.
So they will remember where to go for more related content, or to share through your profile and not directly from their site. It is a great lead generator that piggybacks on sites that already have plenty of their own CTAs and engagement.
It integrates right into social dashboards like Hootsuite and Buffer, or directly into social networks. So it is easy to use without any additional steps. Just use the extension as directed, and you will have a powerful tool at your disposal that will vastly increase the impact of your social posts.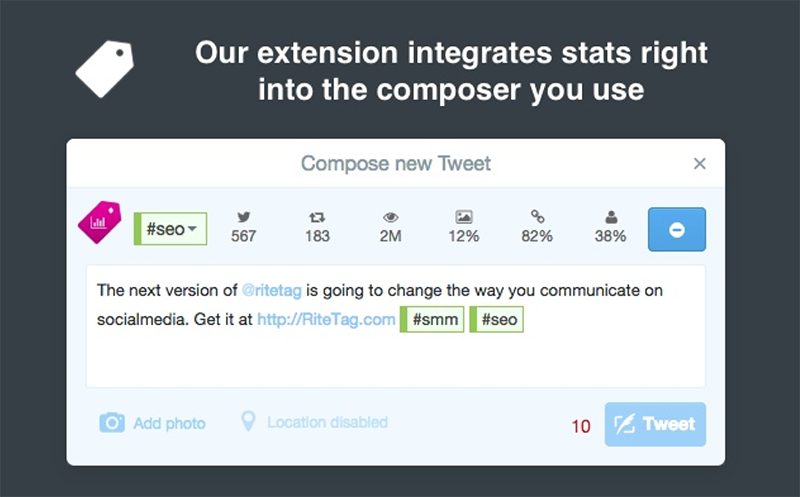 Have you ever found yourself wishing that you had a coach leading you through the social media posting process? Now you can have one that guides you with automated suggestions that will help you optimize your posting. It is the best thing next to having a physical consultant talking over your shoulder.
It also have time saving tool, such as network-specific emojis so you no longer have to copy/paste into your updates and a hashtag suggest feature for Twitter to help you take advantage of popular tags trending right now. All hashtags are even color coded based on their actionability.
So you won't be stuck looking them up and trying to reach old graphs that tell you nothing about their use now. RiteTag is compatible with Facebook, Twitter and Google Plus. It can be integrated to use with Tweetdeck and Hootsuite.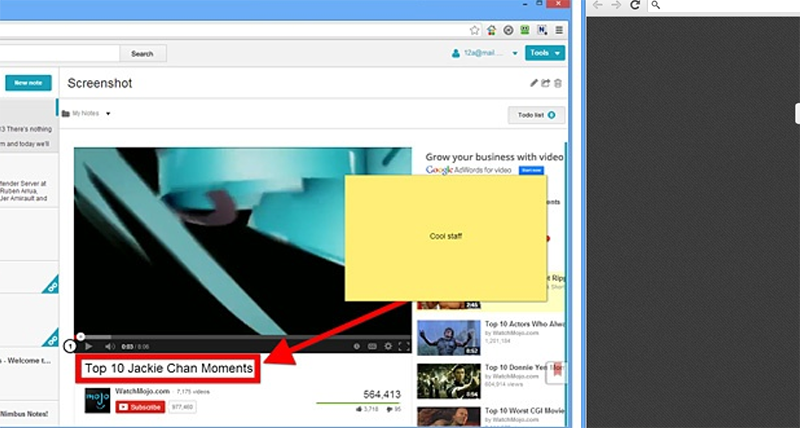 Using Print Screen just doesn't do it anymore. Wouldn't it be nice to be able to capture your screen and edit right in the same tool, with advanced tools for enhancing the picture? Good news! Nimbus Screenshot does just that, and for free. Not only that, but you can quickly record, edit and post screencasts from the very same tool.
Wanting to make a video tutorial of you using some kind of software? No problem. Rather do a step by step infographic to embed into your blog and social profiles? Easy! My personal favorite feature of Nimbus is that it allows you to record video from other programs.
So you aren't stuck just recording your browser, in spite of it being an extension in Chrome. If that isn't helpful, I don't know what is. The only downside is the Cloud compatibility. You can only save directly to your Google Drive, which admittedly is pretty cool. But it would be nice to be able to save directly into other Clouds, like OneDrive or DropBox. Otherwise, no complaints!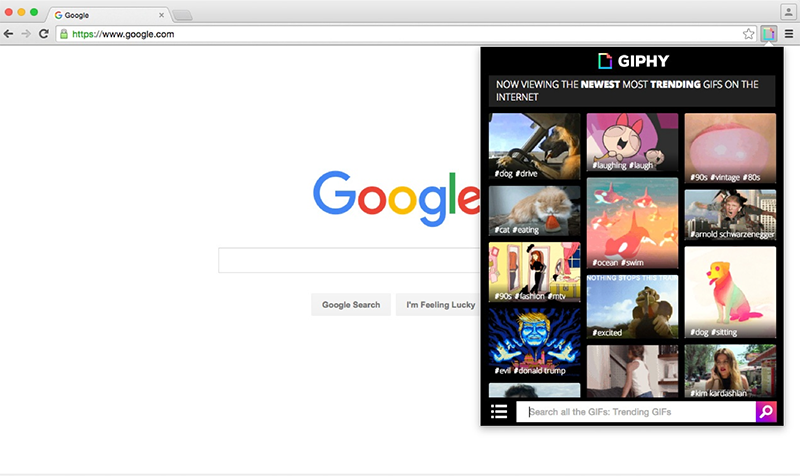 There is some statistic you should know. According to a study by Buffer App, tweets with images receive 18% more clicks, 89% more favorites and 150% more retweets. When you think of images your mind might go to photos, or maybe infographics.
But a very effective style of image for Twitter is the GIF, especially now that they autoplay gifs right in people's feeds. They catch people's attention, and quickly convey an emotion, provide context, and entertain.
Giphy has a Chrome extension that allows you to respond to tweets quickly using their GIF database. You can also embed in emails and other messages, and create your own GIFs on their site to include in their gallery or post into your own content. If you want to quickly enhance your tweets, this is a must have extension.
How do you diversify your social media streams? Please share your tips!