A couple of years ago I wrote an article for Mashable listing some of the most essential Twitter chats discussing social media marketing. The list has grown a lot since then, so I decided to create an easy-to-share Google calendar you can subscribe to.
A couple essential tips first: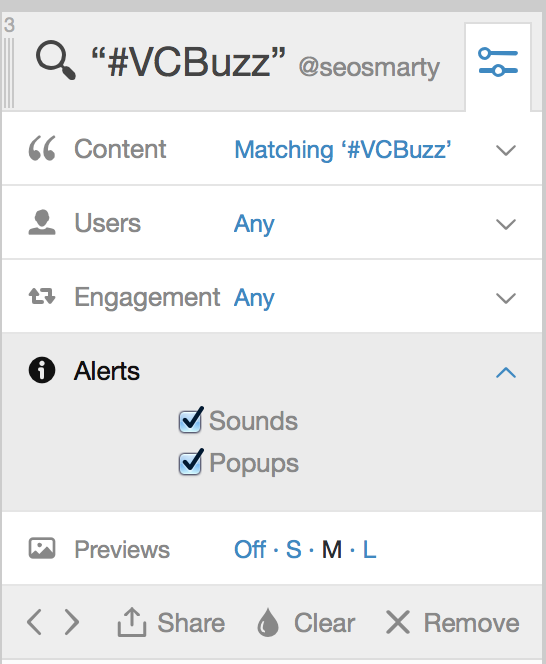 No need to try to be active in each and every Twitter chats in the calendar. Your Twitter stream will get impossible to follow / cluttered, plus you'll have no time left for anything else. Just keeping an eye and maybe adding something worthy from time to time will be enough
Create columns in Tweetdeck or Hootsuite to watch the chats and organize them. I prefer Tweetdeck because I can set any column to deliver desktop notifications; so I can decide which of the chats I was to watch closer.
---
Calendar
I have converted the whole schedule in EDT. Please use this converter if necessary. If you join the calendar, it will convert time for you.
**If any of the chats changed schedule or stopped or if you have started a regular Twitter chat and want us to feature it in the calendar, please share it in the comments or tweet to me @seosmarty**
Add this calendar anywhere -> Click this link
Now a few details about each included chat (plus a few more):
---
Monday
#EcomChat: 8 am
#EcomChat Q2. Do you think of 'content' as a separate entity? Should it be managed separately or as part of other projects & processes? — dan barker (@danbarker) October 15, 2012
  #SEOTalk: 10 am
About 244 Tweets with 577,301 impressions #SEOTalk — Malhar Barai (@MalharBarai) May 5, 2014
  #PoCchat: 11 am
Topic: "Power of Connection": Leadership, Relationships & Development
Host: @raehanbobby
New Power of Connection chat topic! Join us for "The Power of Mothers" on Monday 11am EDT for #PoCchat. #MothersDay #parenting @TodaysParent — Bobby Umar (@raehanbobby) May 10, 2014
#Mmchat: 8 pm
Topic: Weekly Twitter interviews with marketing managers
Host: @JeffAshcroftM
'Integrating Personalized Customer Experiences to Get It Right!' Transcript of last night's #MMchat with @ScottMonty http://t.co/mZHXKquDGO

— Jeff Ashcroft (@JeffAshcroft) May 7, 2014
#AtomicChat: 9 pm
Welcome to another edition of #AtomicChat! Tonight's topic is Creating Audience-Centric Content w/ our very own @irahaberman! — Atomic Reach (@Atomic_Reach) April 8, 2014
#SocialChat: 9 pm
Great post on how some brands show they care about ethnic holidays better than others http://t.co/lsXyeiGm5i by @ACTeeple #SocialChat — Alan K'necht (@aknecht) May 6, 2014
---
Tuesday
#VCBuzz: 12 pm
Topic: Weekly Twitter interviews with social media and content marketing experts
Host: @ViralContentBuz
Answers inside! Inbound Marketing Twitter Chat with Gianluca Fiorelli @gfiorelli1 #VCBuzz | Viral Content Buzz http://t.co/iWw3eqBACe — Ann and Gerald (@viralcontentbuz) May 6, 2014
#cmworld: 12 pm
10 Ways to Inspire Your Inner Content Creator http://t.co/Ot8LxOPTZv incl @michelelinn @dougkessler @RyMontano #CMWorld — Content Marketing (@CMIContent) May 8, 2014
#PPCChat: 12 pm
Topic: Everything about PPC
Host: @Matt_Umbro
A day early but happy Mother's Day to all the PPCChat moms out there! #ppcchat — Matthew Umbro (@Matt_Umbro) May 10, 2014
#BizHeroes: 2 pm
Topic:
Host: @smallrivers
Sarah will be sharing her thoughts on best practices & tips on advancing our LinkedIn marketing skills #BizHeroes. @sarasantacroce #Woot

— Paper.li (@SmallRivers) May 27, 2014
#SMXChat: 3 pm
A4: The internet has boundless capacity for good and no-good. I fear the no-good element. #SMXChat — Mark Salke (@marksalke) May 13, 2014
#LinkedInChat: 8 pm
RT @ajenkins My latest on @SteamFeedcom #SocialSelling and Social Profile Ownership http://t.co/r08QnNKtan #linkedinchat — Viveka von Rosen (@LinkedInExpert) April 30, 2014
#SocialCafe: 9 pm
Topic: Social, Blogging, Branding, Marketing
Hosts:  @socialwebcafe @theblogworkshop
Creating Valuable Relationships with LinkedIn #SocialCafe #TBW 6/11 9p EDT http://t.co/GDNcBpyAfS

— Deborah (@socialwebcafe) June 7, 2013
#GetRealChat: 9 pm
Topic: Real social media marketing
Host: @PamMktgNut @PamMktgNut @MktgNutz @JoshROINut
Hi All! #getrealchat is having a bye week as @PamMktgNut is speaking in Poland tonight. Feel free to do open mic! — Josh Moore (@JoshROINut) May 7, 2014
#RBchat: 9 pm
Good night #RBChat -ers! You guys are awesome and thanks for helping create some #UGC tonight! — RBchat (@RBChat) May 7, 2014
#SmManners: 10 pm
How to use Twitter Lists ~ Lessons in #SmManners http://t.co/krWxecauv1 for my #SmGirlfriends — Dabney Porte (@DabneyPorte) April 15, 2014
---
Wednesday
#BrandChat: 11 am
What would you include? Social Response Plans featuring #brandchat BRANDidos @SteamFeedcom @MarketingLand LI group – http://t.co/J5uD6V2Lhe — Maria Elena Duron (@mariaduron) April 30, 2014
 #SMChat: 1 pm
Topic: The evolution of Social Media and SM Marketing
Hosts:
 #CmgrChat: 2 pm
Q5) Are there tools available that measure users' satisfaction? If so, what are they and what do they do? #cmgrchat — Jenn Pedde (@JPedde) May 7, 2014
 #SeoPub: 3 pm
May have been 1 of the crazier #seopub chats we've seen in awhile. Thanks for engaging, folks. We had fun. Hope u all did too. Cya next week — #SEOpub Chat (@SEOpub) May 7, 2014
 #PinChat: 9 pm
Topic: Best Pinterest practices, new uses, tools, highlight brand usage, personal/professional use and share our passion for Pinning
Host: @tribe2point0
Pinterest Success stories (Case Studies) http://t.co/NsVa7XxqSN via @Pinterest #PinChat — Kelly Lieberman (@Tribe2point0) May 10, 2014
---
Thursday
#myblogguest: 11 am
Topic: Blogging and Content Marketing
Hosted by: @myblogguest
StumbleUpon Social Media Advertising for Small Budgets #myblogguest http://t.co/M53MOpJOSj — Ann Smarty (@myblogguest) May 8, 2014
 #smmeasure: 12 pm
MT @40deuce: Today's #SMmeasure questions ware posted at http://t.co/Exy8D65qrb Today we're talking "owned, earned and paid media" — Marketwired (@Marketwired) May 8, 2014
 #SEOchat: 1 pm
Topics: Educated SEO theories, Advanced SEO
Current #seochat Moderators:
 #Media_Chat: 10 pm
Topic: Featuring guests on social and online media, new apps and anything media related
Host: @kilby76
Next weeks #mediachat guest is @johnlkennedy from @IBM on the topic of "Creating in-depth customer engagement". #SmarterCommerce — #MediaChat (@Media_Chat) May 10, 2014
---
Friday
 #SEOGOFISH: 12 pm
If you DON'T USE Google Map Maker. You're doing it WRONG. https://t.co/7HhXpNgS98 #seogofish — Jeremy Rivera (@JeremyRiveraSEO) April 17, 2014
---
Saturday
Relax 🙂
---
Sunday
#Blogchat: 9 pm
Another change if I could start blogging today: Embrace imperfection in writing, waiting for perfection means never blogging #blogchat — Mack Collier (@MackCollier) May 5, 2014
---
24/7 chats:
#SmGirlfriends: Social media girls talking all day long! Great way to connect (official blog)
#wgbiz: Formerly a popular chat by @Tinu, now it's a great way to connect to fellow marketing experts!
#SMOchat: Formely a popular chat on Social Media Optimization, the hashtag remains active and you can use it to connect to SMO professionals]
#smbiz: This used to be a weekly Small business marketing Twitter chat and it's now a great way to connect!
#KloutChat: Formerly an official Klout chat, now this hashtag is a great way to read about social media influence, in general, and Klout tips in particular.
#InfluenceChat: I couldn't figure if it's a regular chat any more but looks like an active hashtag for sure!
#SocialMedia: This is a popular 24/7 hashtag and in the past a semi-regular Twitter chat (watch the schedule here in case it's back again!)
This list was a big help for me.
**If any of the chats changed schedule or stopped or if you have started a regular Twitter chat and want us to feature it in the calendar, please share it in the comments or tweet to me @seosmarty**