Inforgraphics are a lot of fun, aren't they? Utilizing the natural sharing abilities of the web in a more direct way than just endlessly listing off facts, they are as interesting as they are educational.
Because Pinterest is entirely based around images, it was only a matter of time before these visual data wonders started flooding in.
If you are looking for even more visual data in your streams and if you are looking for more connections on Pinterest, here are 15 more boards to consider:
---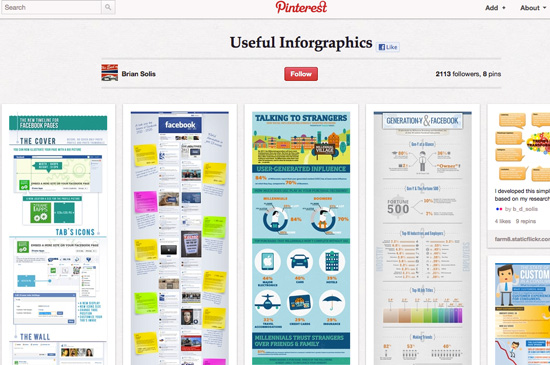 The term "useful" is pretty subjective but I can see these all being helpful for anyone in the modern age. They are primarily related to social media and technology, and are all very high quality. Several of them are related to Facebook, such as how to embed a mini sight onto your Timeline.
There are only eight pins currently listed. What makes this especially interesting is the fact that it also has more than 2,000 followers on the tiny board. That should give you an idea as to the quality of what Brian Solis has posted.
---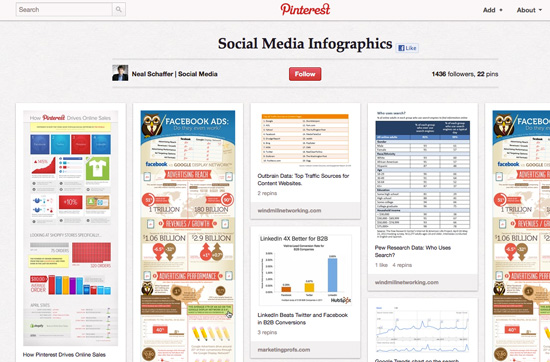 Here we find some of the best social media infographics on Pinterest. They are beautifully illustrated, relevant and full of tons of information in the different fields of the subject. It isn't all based on marketing, either, which is a definite problem with other boards on the topic.
The great thing about Neal is that he is an awesome conversationalist. If you love discussions, you should follow Neal's board. Most of his pins have great comments to read through.
---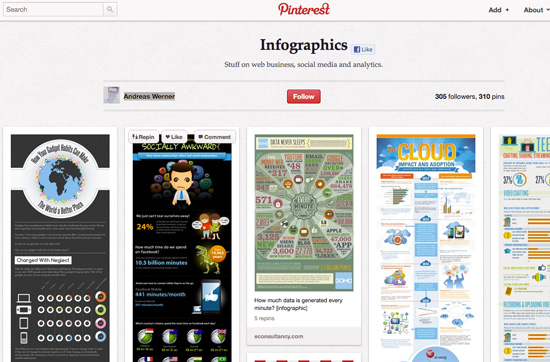 A much larger board, this one has over 300 current pins on topics all over the spectrum. At first glance I see one on social awkwardness, teens and video and the impact of the adoption of cloud technology on the web. Quite a collection of topics, and that only scratches the surface.
The only problem here is that it is so varied in subject that it isn't easy to find something specific. But if you just want to see a large collection of cool visual data, this is the place for you.
---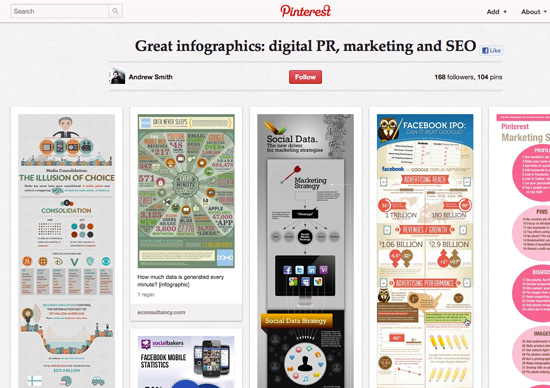 For those of you looking for SEO, PR or marketing infographics, this board has you covered. There are over a hundred of them discussing the topic, from social media marketing to the basics of advertising both online and offline for a balanced campaign. All accompanied by the kind of good graphics you have come to expect from the genre.
Some are kind of hit and miss, but I would say more than half are worth looking at.
---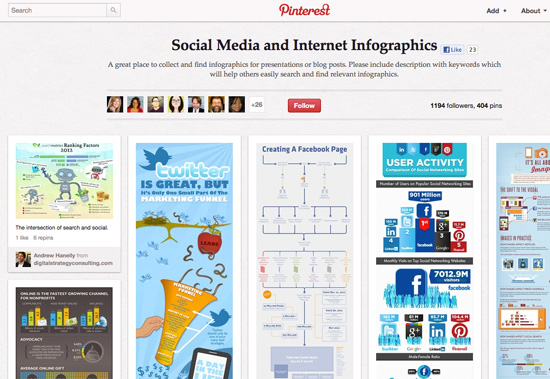 Because there are dozens of contributors on this board, there are hundreds of infographics all collected for you to peruse through. But since it is an open board with many contributors, there are also many different subjects covered – which is both a blessing and a curse when it comes to finding what you are looking for.
Each infographic there has specific tags, so it is faster just to do a search than try to go through them all.
---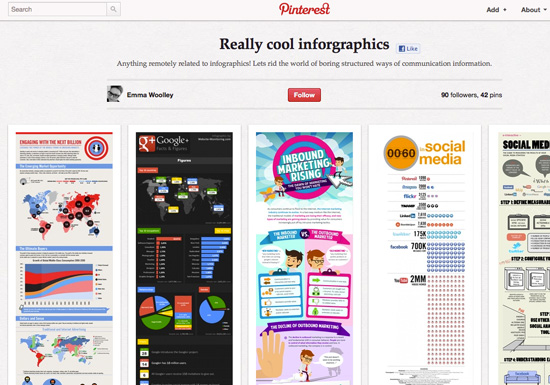 This board has been focused on finding "interesting means of communication" that break from the norm we have all come to expect. Most are about social media (of course), with some focused on marketing within this format. It also have a few impressive ones based around analytics.
All in all, this is a place for businesses that want to learn a bit more about social networking exploitation.
---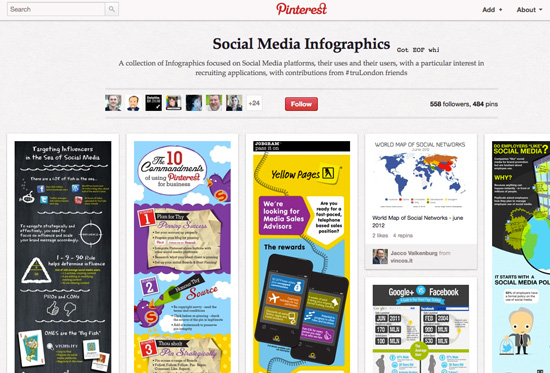 Another board which is run by a collective of people, hence the variety of sources is what makes the board worth a follow.
The focus of the board is social media recruitment and employment topics.
---
If you are a heavy Facebook user, be sure to follow this board. It has the collection of various Facebook stats visualized in different ways. You are sure to find something revealing about your favorite network there.
---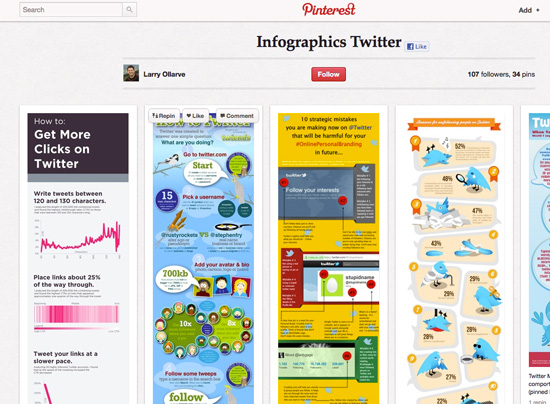 If you want to get more insight into how Twitter works as well as how to use it properly, be sure to check this board out. From strategic mistakes to Twitter manners, this collection will guide you through the whole process of getting Twitter right!
---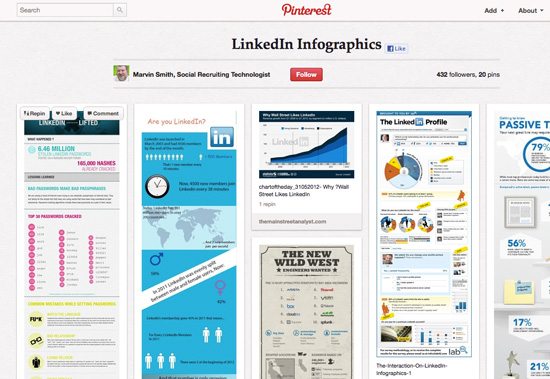 Another very useful board for social media recruiters and job seekers. Find here LinkedIn growth stats and trends as well as useful cheatsheets on completing your LinkedIn profile and improving your LinkedIn presence.
---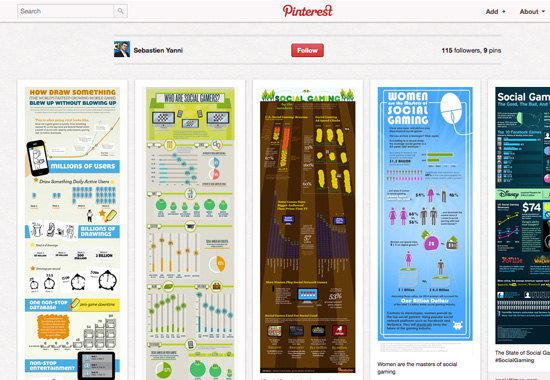 Social media is not only about communicating and sharing. It's a huge entertainment opportunity. The social gaming sector is one of the newest but it's growing fast. This board collects infographics visualizing social gaming stats as well as some interesting data on some specific social games (like this one).
---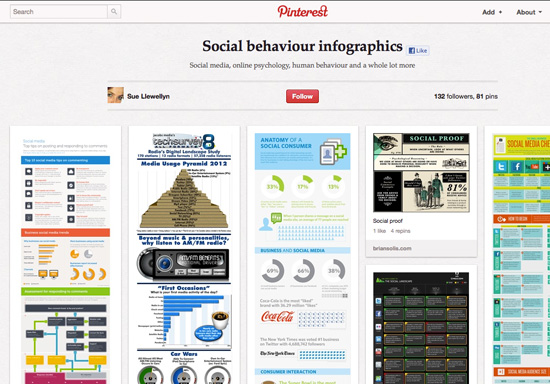 Social media is changing us. Would you like to know how? This board presents that data in an addictive visualized way. Find out who we call social consumers, how social-savvy contemporary journalists are and what is meant by "social timing".
---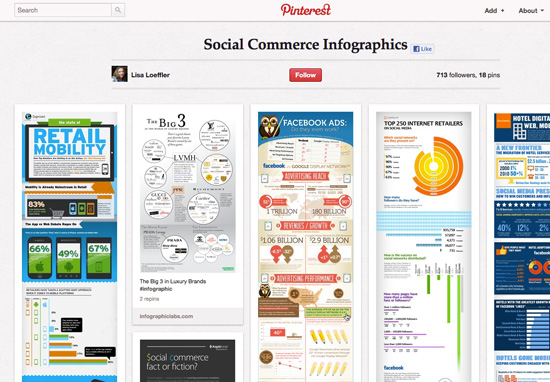 If you are into ecommerce, you must see these infographics. Lots of research and tips in the form of beautiful visualizations are collected here: Facebook ads tips, the social consumer and collaborative consumption phenomena and many more – everything to better understand and engage in social commerce.
---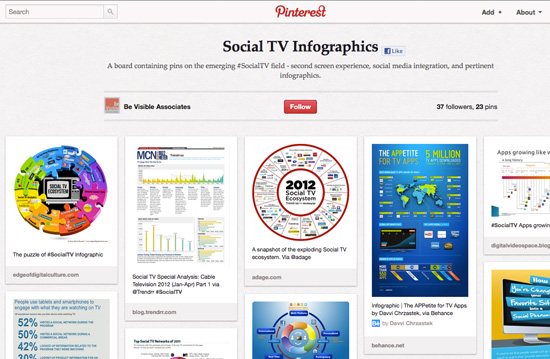 Social TV is getting really hot, so check out this board out to get a better idea of what it is and where it is heading.
---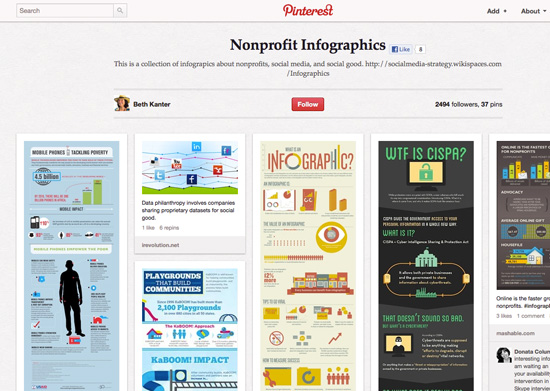 This is a collection of infographics about social good and how we can make the world better through social media sites. From social media tips for non-profits to the actual nonprofit campaigns – there's lots of info on social good here.
---
Conclusion
If you love visual data as much as I do, look no further. This is a fun and interesting collection of boards on Pinterest where you can find hundreds of awesome and specific visualizations to satisfy you. What are some of your favorites? Let us know in the comments.