Last year, Israel based company Smoyz worked on behalf of Kotex to come up with an innovative form of social media marketing. They went to the latest (and fastest growing) social media site on the web – Pinterest – and sought out the most influential female pinners. Namely those who they knew would be most likely to post photos of their product.
Going to 50 women, they took elements of their boards and put together high quality, customized and handmade gift baskets that they sent to them in real life. The result was to generate hundreds of thousands of posts, a ton of interest, and be named one of the most creative marketing campaigns on the web.
Now, most people look at this as a case study about the importance of keeping up with new social media trends. However, I think it speaks much more clearly to the way brands are looking at real people as influencers on the web.


You are no longer seeing celebrities courted by companies in order to advertise their business. Instead, normal people who have developed a presence on the internet are capturing their attention and getting offers for some amazing things.
Another example is LA based graphic designer and prolific tweetaholic Calvin Lee. He was given a free flight by Virgin for nothing more than having a huge following. All because they knew the value of his opinion, and his ability to generate social buzz on his Twitter account.
This is proof of a growing trend of building personal influence and power on the web. Having a good social media presence can make or break your career, give you opportunities you never thought you would have, and turn yourself into a brand – which is how we come to your Klout score.
So, the question is, what is Klout and how do you use it?
---
What Is Klout?


The simple answer is that Klout is a website. It allows you to connect to your social media profiles and determine your influence score based on various factors. These include how often you post, how many friends or followers you have, where you are signed up, how many retweets or shares you might get, the people you have on your friends list and their Klout numbers and more.
---
How Important Is Klout, Really?
This is a controversial topic, because for some people it doesn't matter at all. Plus, the way it measures could be pretty subjective and it is no real means of establishing worth in any context but social media. So how important that is will depend on how much you have riding on your influence within that world.
***To me, this has always been pretty much like Google Page Rank: note it, maybe compare it, never fully base your judgement on it.
---
How Do I Use Klout?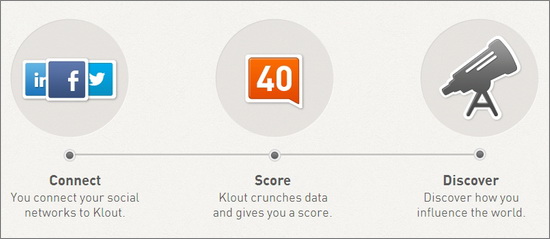 Besides actually evaluating your and your partners' / competitors' social media impact (and thanks to the recent major update within the platform), there are much more ways you can utilize Klout:
Discover and connect to social media influencers (as well as *get* discovered),
Identify your own most influential social media updates (and learn from it!),
Discover your friends' post popular updates (and catch up with important rules!), etc.
Do you use Klout?
Image Credit: 1.