There's one thing that makes Pinterest your must-join social media site: You may like the idea or fail to *get* it; you may be tired of seeing blog headlines that have "Pinterest" in them, but you can't deny one thing: Pinterest offers an innovative approaching to sharing and consuming the information.
Pinterest, in some ways, reminds me of how i-phenomenon started: there was nothing new in mp3 players or "smart" phones but iPod and iPhone created the new trend of how those devices should look and feel like.
That's the thing with Pinterest: if you are in social, you must be at Pinterest not to miss the future of social media sharing.
Now, if you are convinced, let's make it clear how you can do that.
I won't talk strategy here: it's been covered very well in numerous blog posts you can't have missed (even if you wanted to):
So let's not discuss the strategy, let's list some tools (I love tools!):
---
1. "Pin It" Bookmarklet (Any Browser)
That's the official bookmarklet that works in all browsers. To install it, simply go:
Visit Goodies page.
Right-click on the blue link that says ⚲Pin It and click "Add to Bookmarks" or simply drag it to your Bookmarks toolbar.
Now, whenever you want to share anything on Pinterest, just click the bookmarklet, choose an image from the page and Pin!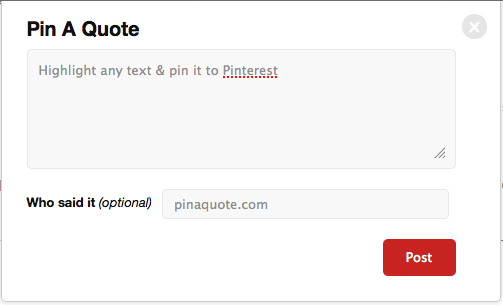 Ok, that was easy!
For browsers that support extensions, there are two more awesome addons that make pinning a breeze (if you are going to pin a lot!):
This one lets you pin using a keyboard shortcut Ctrl+Alt+P (Google-Chrome only for now);
The following two let you share any image from the context menu: Google Chrome version and FireFox addon).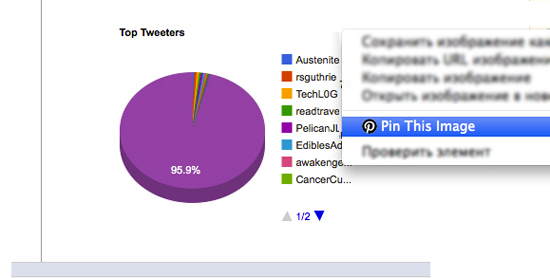 ---
2. "Pin a Quote" (Any Browser)
Now, what do we do if there's no image on the page, just some awesome text? Or what do we do if we don't want to focus on an image but want to highlight the text?
The genius mind of @adamrotman has come up with the solution: here's the bookmarklet that lets you turn any text into an image to share it on Pinterest (that's thanks to tools like that Pinterest will succeed, I think).
Again, simply install the bookmarklet to your toolbar.
Now, whenever you come across something really well-said, select the text and click "Pin a Quote".
Add the credit ("Who said that") and pin!
I wish it had a few options to "design" the image using some pre-built patterns and color schemes, but I hope that's something to come!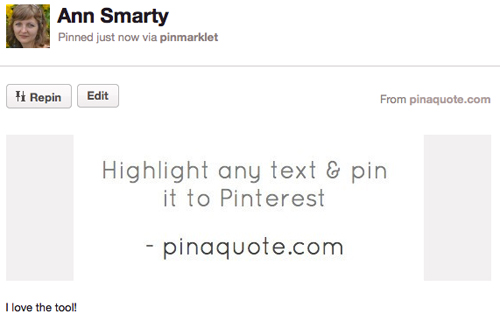 ---
3. "URL to Pin" (Web-Based)
Another absolutely awesome tool to turn text into an image is URL to Pin.
If you browse a lot, you'll love it!
Easily share funny ads;
Easily pin cool 404 pages, designs, etc!
Right now it makes the screenshot of the visible part of the page. I hope they'll add the ability to choose the area you want to see in the screenshot!
Update: Added from comments:
Here's another option for website screenshots, including full page: Snapito. In the near future it will offer a bookmarklet that will allow you to take a snapshot directly from the page you want to capture.
---
4. Pinboard for iPad/iPhone (Free!)
If you want to pin and re-pin while on the go, here's a simple and great iPhone/iPad app that lets you do that:
Like and re-pin your friends' pins;
Pin from your camera (!)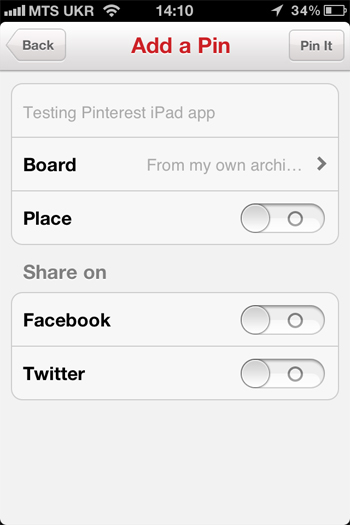 Here's what pinning looks like there: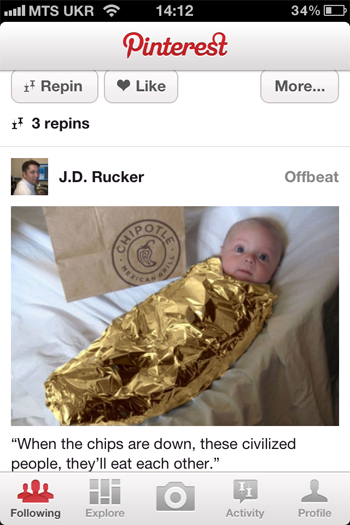 Here's also an awesome instruction on how to add "Pin it" bookmarklet to your mobile Safari (iPad and iPhone).
---
Let's Recap, Shall We?
Pinning Tool
Supported by
What Does It Do?
"Pin It" Bookmarklet
Any desktop browser (official)
Pin any images from any web page
Pin with keyboard
Google Chrome
Pin any images from any web page using a keyboard shortcut
Pin from Context menu
(1) Google Chrome and (2) FireFox
Pin any images from any web page using the context (right-click) menu
Pin a quote
Mind that in both the cases, your "pin" will link the sites as the source
Any desktop browser
Turn any text into an image and pin it
Snapito
Web-based
Easily create and pin screenshots of the visible part of the web page
iPhone/iPad app
iPad / iPhone
Pin from your camera!
Are there any other cool pinning tools I have missed? Please share them in the comments!