There's an old but still active thread on SEOchat forums discussing most useful link building sources.
Here are a few ideas described there (please add your own in the comments!)
Develop Your Own Site
Create great content: "in the Internet world, superior content creates a lot of luck". "Build it and they will come – this is most important. From experience, if your content is best in the industry (you know what they say about opinions)"
Build Links Using Social Media
Follow some niche influencers on Twitter (you may want a separate Twitter list for them) and watch what type of content then like. Then adapt your content strategy accordingly and tweet to them your articles, research, etc
Blog
Create a blog that has regular contributors, experts per se who will promote their own content – best of all the content in on you site. You are getting free content and free promotion!
Create crowd-sourced interviews, asking the group of niche influencers one and the same question. Turn it into a huge post and publish on your site. You'll get Tweets and links from those influences (example)
Try guest blogging (especially useful for new sites that have no contacts to start with). Use MyBlogGuest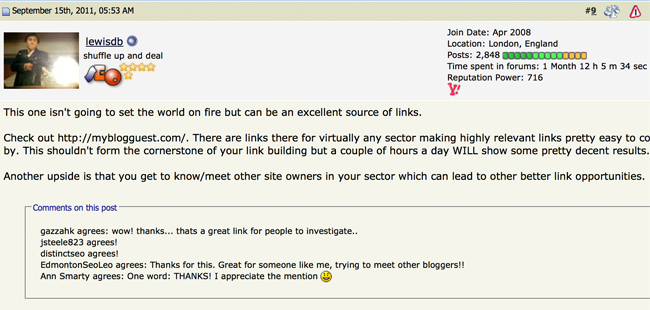 Provide Something for Free:
Work for free: Help non-profits and get their mentions;
Set up annual rewards or regular contests and brand them to be recognized in your niche. Reward niche bloggers and influencers and get links from them
Give away tools for free (plugins, apps, etc)
Reach out:
Fix other people's site: Find broken and redirected external links on high-authority resources and offer your content to link to instead.
Research your competitors and learn their best tactics (while not making their mistakes);
Create exhaustive research as to web site decision-makers in public and higher education libraries, then vary approaches as to SUPER personalized e-mails to see which approaches worked;
Sign up to Google Alerts to be alerted of new link opportunities by email
Lastly:
The Best type of links come from people who have no idea about SEO but are passionate about their niche/content.. #ninja
Tools and Resources:
Please add your own working link building sources in the comments!