Have you been a little lax on your link building lately? Uninspired over search queries, or maybe feeling discouraged thanks to a lack of results from the ones you have previously employed? It can be easy to feel this way, or just let your link building fall to the wayside in favor of other marketing strategies that show more immediately – or just visible – results.
But don't trust the rumors from some circles that the practice is dead. That just isn't true, and failing to properly find and use quality search queries and build viable links is a good way to squander a lot of potential. So next time you are feeling lackluster in your attempts, try these three tools to inspire you.
Tip! Using the below tools you are going to open many links in a type (each link will be a search results page). Use one of these extensions to open multiple links with one click: Multi Links (FireFox), Linkclump (Google Chrome)
Now back to the tools:
---

I really like this tool, personally. It works on the same level as LAA, as far as results go. So it is pretty general in what it brings back, not allowing you to target results. However, it is a two fold generator that works for both Google and Bing. It is also very quick to use, and doesn't require as many details to run as LAA. If you want to integrate results into an app, you can download an OPML file from the Bing search.
Provide:
Your product category
Your product market
Up to two keywords
Your Brand Name
Your website
Up to two Competitor websites
Get search ideas and links for:
Guest posting opportunities
Directories
Product reviews
New pages in Google (good one! but some of those are deprecated.)
Conclusion: I am pretty sure this one can be expanded a bit but I love "fresh" page search idea and I also love that you can export any section into OPML file and then import it in your favorite RSS reader. I also wish they opened search link in a new tab.
---
2. SEOmoz LAA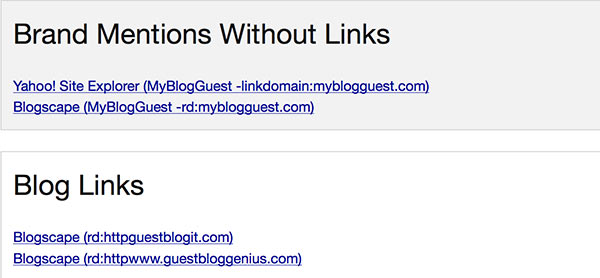 SEOmoz has some of the best tools in their labs on the web. This one is a beta release, and so not nearly as impressive as some of the other toys you can find there. But it is still a good, if general, link acquisition tool. I am eagerly awaiting an updated release with hopefully more features.
Provide:
Your site details (URL, name, topic)
Your competitors
Your keywords (up to 5)
Get search ideas and links for:
Directories (why do these go first?)
Competitors' link (broken! as it runs on yahoo!)
News and press releases links
Social media sites
Local directories (I wish there were more)
Industry directories
"Unlinked" brand mentions
Blog links
Conclusion: The tool gives you lots of ideas but it doesn't look like really updated (as it places way to much focus on directory links and some of the parts of it rely on deprecated Yahoo! linkdomain: search)
---
3. SoloSEO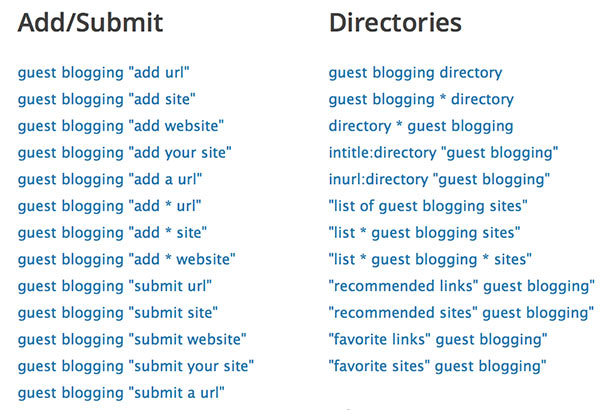 The oldest of all of the generators on this list, it covers all major search engines.. Anyone who wants a really quick link search tool will like this one. It is a one step search box. You put in the keyword and it provides you with the categories Add/Submit, Directories, Blogs and Forums, and Advanced. You will be able to choose between seeing results for Google, Bing and Yahoo.
Provide: Your search term
Get search ideas and links for:
Add / Submit type of phrases
Directories
Blogs/ Forums
"Advanced" (allintitle:)
---
Conclusion: It's a quick and easy tool but I expected it to offer more ideas to search.
Do you know of any good search query tools? Let us know in the comments.