Backlink research has long gone beyond anchor text analysis. Nowadays any backlink research should contain thematic, placement, neighborhood, etc insight.
Today we are looking into one type of backlink profile analysis: backlink categorization.
You'll see some rating for each tool: please bear in mind that those ratings are very personal (that's my subjective opinion) and that they reflect only one single feature, i.e. backlink categorization (it may or may not be the main feature of any of the tools. and it should be a smart idea to check other features of the tools as well). The ratings also don't reflect the price differences (obviously, the more expensive tool, the more advanced the feature is).
---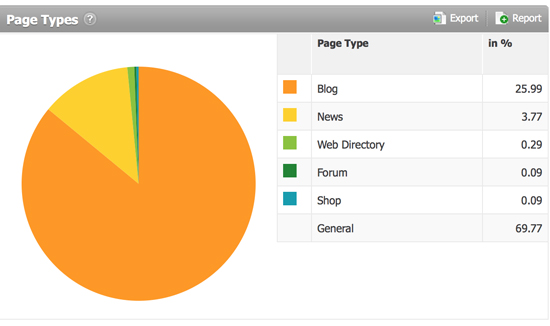 Link Detective is a very affordable tool (can be free for low volumes) that categorizes your backlinks by type. It works *only* with CSV reports generated by Open Link Explorer.
The bad thing about the tool is that it failed to identify the majority of backlinks (most of the pages fell under "Unknown" type).
The good thing about the tool is that it has very flexible filters: You can filter results by type AND anchor text which makes it very easy to play with results (can be very addictive too!)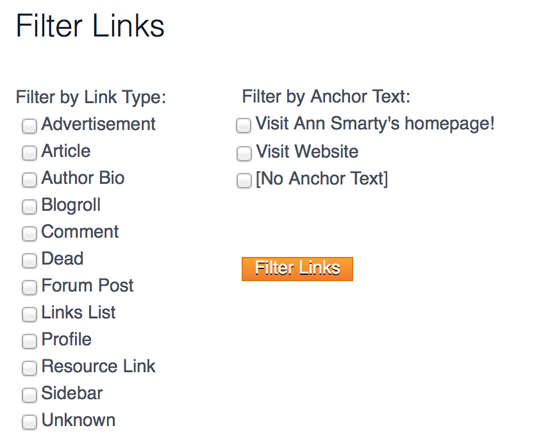 For example, I tried filtering results by "Bio" to find my guest posts and made sure none of my byline links was nofollowed or dead: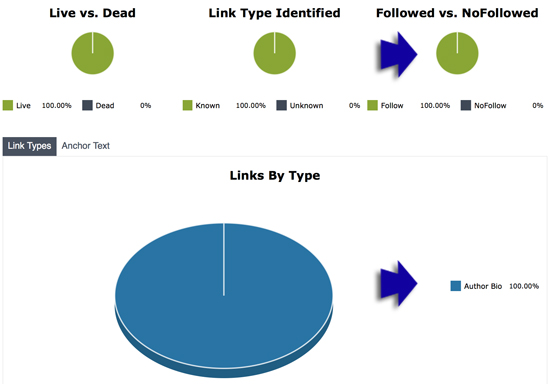 There's an easy export feature too for more playing in Excel.
Some of the links were falsely categorized in the weird category but the overall experience was very pleasing.
---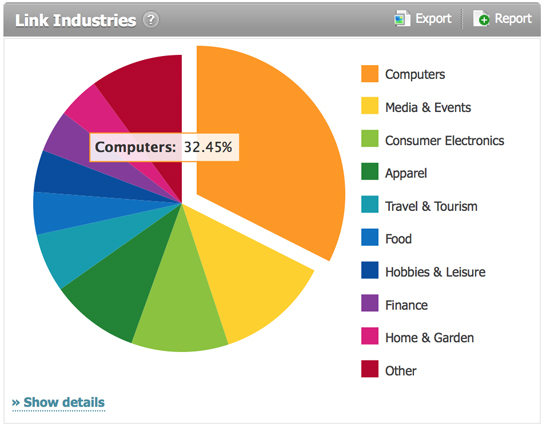 The analysis is well-visualized but somewhat lack details: I really felt like clicking the "type" to be able to see at least some examples of which of my backlinks fell under this category
Also, the majority of my links fell under "General" category of links which is not really informative.
Besides, while I do enjoy the way the tool outlines the analysis and makes it easy to figure (especially the "Dashboard" feature that makes any data easy and fast to access), some of the explanations are somewhat questionable. E.g.:
"The link from a news page is weighted higher by Google than from a web directory or from a blog."
I'd stay away from straightforward generalizations like that when it comes to backlink analysis…
---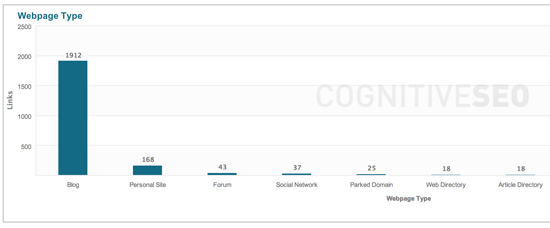 This tool has different levels of categorization. Your backlinks are categorized into:
Webpage type (blog, personal site, forum, social network, web directory, article directory, press release, ecommerce, news site)
Link positioning on a page (blog / forum post, short paragraph, image, blog comment, link list or group, banner, blogroll, copyright paragraph)
Linking page theme (tech, business, recreation, career, art, travel, relations, home, etc)
Clicking any data within the visualizations brings you the list of actual linking pages: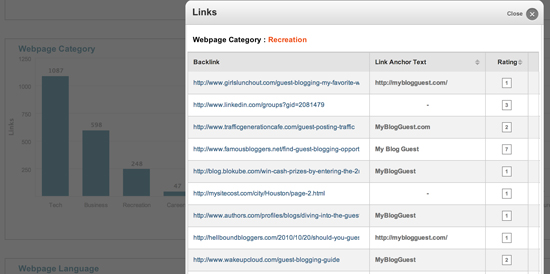 I haven't used the site long enough to get the real feel of it but I am still discovering new and new features daily!
---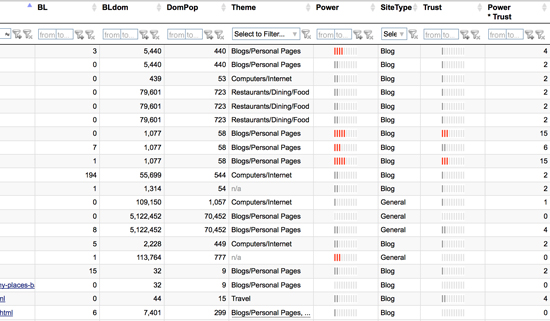 LinkResearchTools is the most expensive tool in today's list for a reason: no other tool will give you such an insight!
The feature we are looking at today is behind the "Backlink profiler" tool. There also several layers of categorization:
Type (Article directory, blog, bookmarking, CMS, content farm, feed, forum, free hoster, link directory, social network, social news, video/audio, wiki and general)
Theme
You can easily filter several themes and / or types and then sort results for various kinds of insight. For example, you can first check most important categories and then sort by its Trust: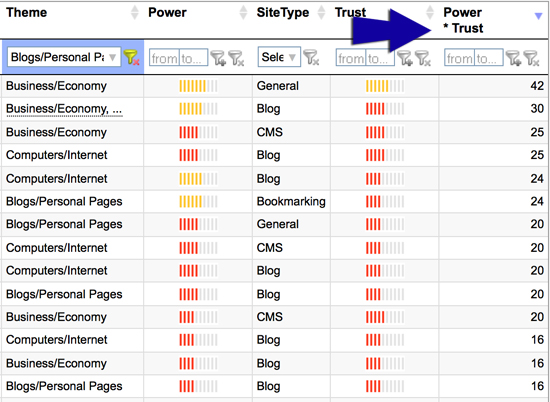 This way you can keep on playing!
Other features that allow for even more flexibility:
Export results into CSV or pdf;
Reset all filters with one click of a button;
Hide extra columns;
Filter results by the *range* of data (for example, you can only see linking pages with from 1000 to 10000 backlinks of their own);
---
To sum up:
| | | | | |
| --- | --- | --- | --- | --- |
| | Min. Price per month | Data source | Link categories | Best feature |
| Link Detective | Free! (one project + 2500 links) | Open Link Explorer (via CSV import) | Advertisement, article, author bio, blogroll, comment, dead, forum post, links list, profile, resource link, sidebar | Combine various filters for different types of insights |
| Search Metrics | $99 | Self-run (?) | Blogs, news, web directory, forum, shop, *general*. | See different kind of data using customizable dashboard |
| CognitiveSEO | $19 | MajesticSEO, SEOmoz.org , ahrefs, SEOkicks | Blog, personal site, forum, social network, web directory, article directory, press release, ecommerce, news site + MORE | Enjoy many levels of categorization |
| Link Research Tools | $269 | MajesticSEO, SEOmoz.org, SEMrush | Article directory, blog, bookmarking, CMS, content farm, feed, forum, free hoster, general, link directory, social network, social news, video/audio, wiki, empty | Lots of flexibility in terms of filtering |