If you are like me, an email is still the most efficient way to have an update delivered to me. Therefore I am always on the lookout for new email notification tools to make sure I am aware of important news even when I am too busy or my Twitter feed is too overwhelming.
Tip: You may want to create a separate email address for all the automatic updates you are subscribing too. Or at least use labels to easily filter automatic updates out whenever your inbox gets too cluttered.
Receive an Email Once Someone Changes a Bio
A brilliant idea turned into a tool, Bio Is Changed is a great free tool that monitors people you follow on Twitter and captures whenever they change their bio or profile picture. If you share your email address, the tool will send you email alerts of each tool.
Bio Is Changed can be a great networking tool. Think about congratulating your Twitter friends on their position change, complementing them on the new profile picture or making a humorous comment on their tiny bio change (taco versus pizza?)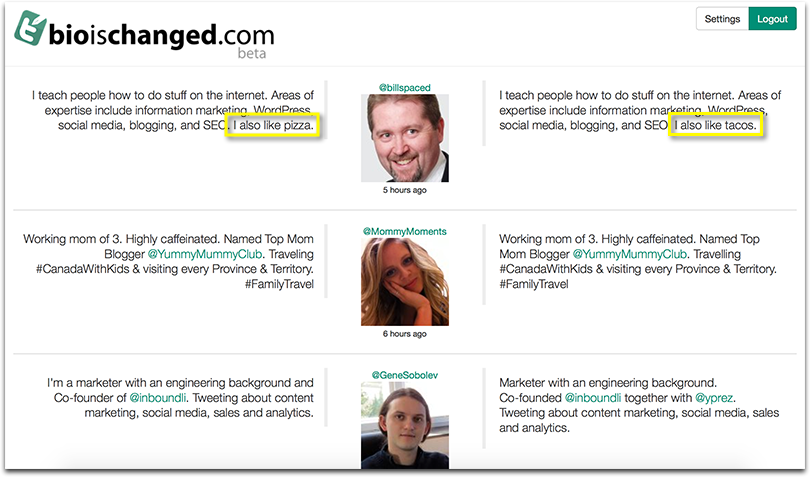 Your Twitter friends will be amazed and I am sure there will be some great conversations to follow. This is the personal touch that is able to have a huge impact on your career and business!
Receive an Email Once Someone Unfollows You
T.U.N.S (Twitter Unfollower Notification Service) is a web app monitoring your Twitter account unfollows and alerting you of each one via email.
While there are many similar services, I think this is the only one that sends email alerts.
Disclaimer: I am personally not a fan of tracking who unfollows me. I think this instills some daily sense of negativity that I don't appreciate in social media networking. However I have nothing against people being interested in who unfollows them and why and can totally see how this can be useful information.
Receive an Email Once A @Username Becomes Available
Tweet Claims lets you monitor Twitter @usernames for when they become available. That's a great idea for those who failed to claim their brand names on Twitter.
Tweet Claims lets you monitor up to 10 usernames for free. I don't think you'll ever need more.
Receive an Email of New Twitter Search Results
Zapie is a great premium tool that lets you combine two apps for increased productivity and new automation opportunities. For example, the following Zaps let you create email alerts of Twitter activity:
Send email alerts for any tweet mention via Gmail (send an email for mentions of certain keywords on Twitter to yourself, a teammate, a friend or family member)
Send an email notification when a specific user tweets


---
An alternative to the above Zaps can be there two free tools:
Are there any other useful Twitter to email tools? Please share them in the comments!