One of the biggest rules of social media marketing success, no matter what the context, is to post consistently. On some sites that means a few times a week, on others multiple times a day. It is no secret that regularly updating your profile is enough to gain attention over time, and while that isn't the only way to boost your follower numbers, it is a good foundation for that aim.
Like any social media network, Google Plus requires consistency. But how can you do this? You have things to do and not a lot of time on your hands. You can't keep jumping on Google Plus to constantly update your profile.
Luckily, it is possible to schedule posts, so you can prepare them all at once (even for an entire week, month or year, if you like), and set them to publish at certain times. Here are a few ways to do so.
[Note: Scheduling should only be PART of your social media marketing strategy that would allow consistency. Real interactions happen in the real time!]
---
Get a Social Media Dashboard
Limitation: Works only for brand pages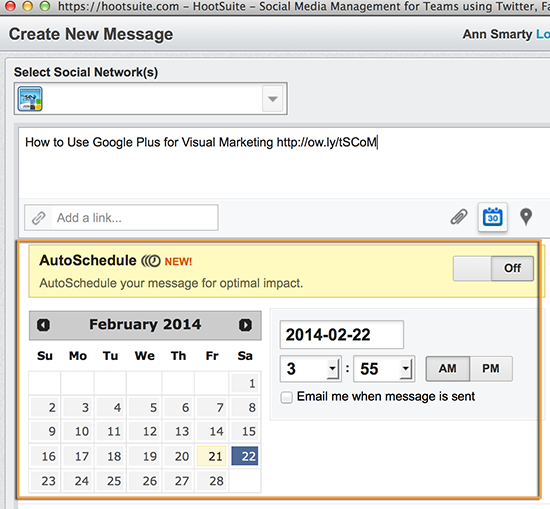 The most efficient way to maintain your social media profiles is through a full dashboard. These fantastic tools work by monitoring all of your social media accounts, connecting them all together with one source. Through that source you can answer comments, track replies, get analytics and a lot more.
One such feature that is especially helpful is the status update scheduler. Because most third party apps are blocked by Google's API, you can't schedule posts using most of them. But dashboards like Hootsuite and SproutSocial are authorized for such use.
---
(Google Chrome)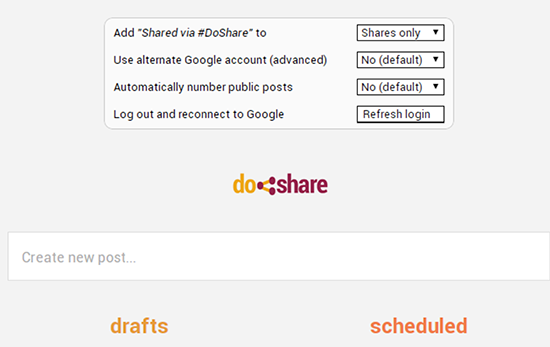 Another great tool is Do Share. This is a Chrome extension that allows you to write and schedule Google Plus updates from your browser without having to have your profile up. This is great, because you can schedule a post any time a status occurs to you. But you don't have to worry about getting lost in the hole of procrastination that social media generally provides.
Other features include hashtag autocomplete and drafts, so you can go back and finish or edit updates later.
---
Limitation: Works only for brand pages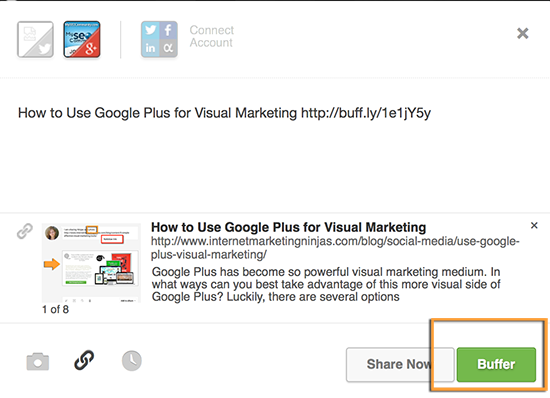 You can only sign up for Buffer using Twitter, Facebook or LinkedIn. But once you have an account, more profiles can be added from a wider array of networks. That includes Google Plus, though unfortunately you can only post onto pages and not profiles. It is a downside, but this still provides the perfect service for Google Plus page owners, which is often what you will be using for marketing in the first place.
This program works by allowing you to add updates in a large list, then select how often you want them to be released. It then slowly publishes them. You can also schedule specific updates for specific times, when you need things to be a bit more thorough than that. Plus, they have an analytics feature.
The Google Plus scheduling options are not plenty, but with enough playing, they can come very useful, especially for business pages!