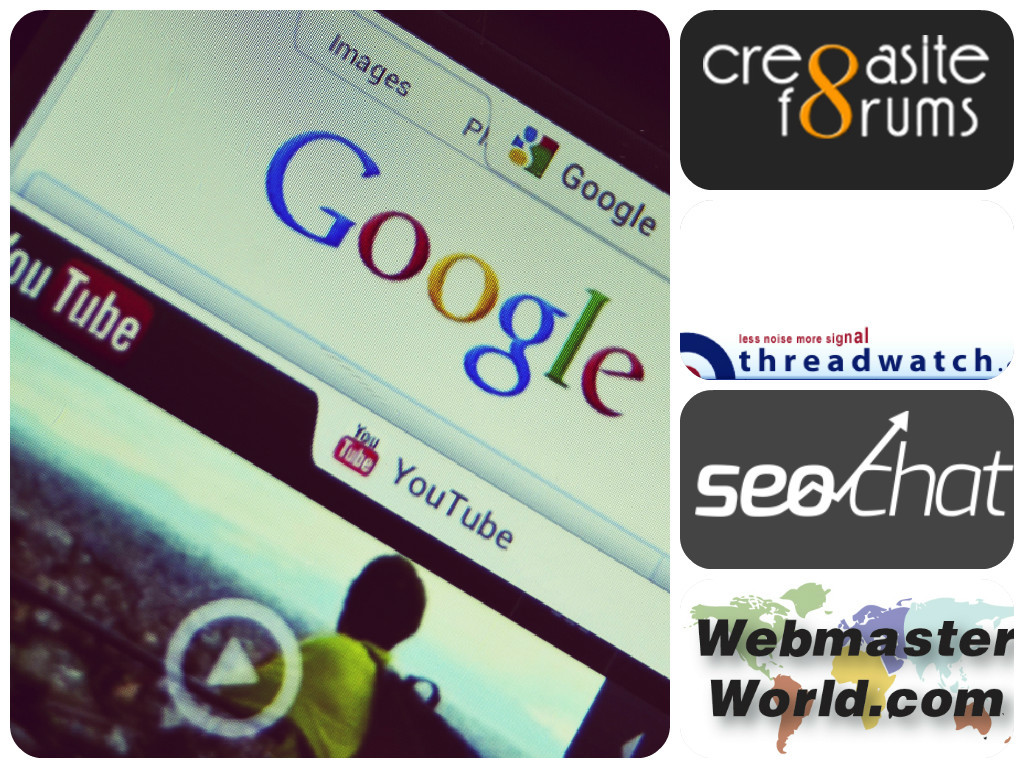 This week on the forums, it's eyes forward to the future in several of the threads. From current trends like mobile usability to how our past may affect the future through the "Right to be Forgotten". With a proliferation of predictions and musings on what may be to come, January 2015 continues to be a popular time to reflect and forecast what the next step may be for people from all walks of digital marketing. If you're not looking at where the 8 ball will be, you might just find yourself behind it.
Google May Split Traffic By Device
Communication from Google about Mobile responsiveness launched threads in a few different communities this week. It seems Google has been sending mass notices to Webmasters informing them that their sites are not "mobile –Friendly" and instructing them to address these issues. Even though the heads up may be an exercise in redundancy, telling site owners what they already know, the move does indicate the growing importance of mobile usability to the Google juggernaut. These messages are just one more word in the writing on the wall that mobile responsiveness may affect rankings in the days to come.
Facebook's Newsfeed To Show Fewer "Hoaxes"
Seeing as many people don't fact check articles before sharing them socially, Facebook has taken steps to address growing complaints about "hoaxes" infiltrating newsfeeds. The new Facebook update will take into account the volume of individuals flagging a post as false and these posts may now appear annotated with warnings as a news story may have reported as false. This move may help address the rampant spread of blatant deception, but the onus is still remains on users to report false stories. This change also will not address subtle misinformation that may be skewed by bias. So while we may see fewer hoaxes, it's still up to us to sort out half truths for ourselves.
Google Is Not Extending "Right to be Forgotten" Outside of E.U.
The "right to be Forgotten" ruling in Europe has pushed Google to begin removing pages from its index on several European based versions of Google like google.fr and Google.de. However, the spirit of the ruling may be somewhat lost in translation as those entries may still appear in Google.com meaning that they are still accessible for those who care to look. The half measure of compliance as many urging that the execution should be global, considering the ease of accessing Google.com from anywhere. This particular subject is multi layered and raises a number of issues worth discussion from Google's selective implementation to what the world may look like 20 years from now for a generation who has lived their lives online from birth.
The Future Of Ux Design Shops
Speaking of looking ahead, a thread on cre8asite ponders what is to come for Usibility agencies. With more companies growing in-house departments to focus on user experience, does that reduce the opportunity for outside firms to do this work? It also raises the question, are companies fully prepared to take on this work themselves?
Twitter buys Indian mobile marketing start-up ZipDial
Twitter's latest acquisition of ZipDial indicates their growing interest in markets like India and Indonesia where user adoption remains low. The goal of ZipDial is to help build brand equity through on-going engagement and centers on reaching potential customers world-wide. ZipDial capitalizes on a "missed call" phenomenon in India that has developed as a result of many mobile users having pre-paid phone plans where each connected call and out-going text costs money. The service provides access to numbers users can intentionally "drop call" in order to receive texts with deals and promotions in response. The goal on Twitter's part is to help make the mobile internet experience more available to more emerging users to make content available to more people without it coming at a cost.
Predictions and Ideas for 2015?
A new year brings with it a wave of "Prediction" blog posts many of which often look stunningly similar to last year's predictions. Does this indicate that logical, user based developments are a theme that will never go out of style? Even so, from year to year there are always a few changing factors that make us wonder which marketing tactic is next on the Google chopping block and which "new" strategies are the hot new trend of the future. As the January days wane, grab your crystal ball and make your predictions now, it will be fun to look back I n2016 to see how right (or wrong!) you were.