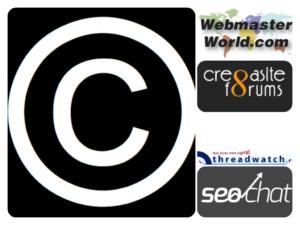 A new year always brings opportunities and surprises. In the communities this week there are already plenty of interesting revelations, indications and predictions coming our way. The past and future of link building are in discussion along with other timely topics like copyright protection, mobile consumption and the ever evolving question of what factors are at play within the Google Algorithms. If you've got your own theories, the communities are talking.
John Mueller talks Panda and Penguin Penalties on Hangout
SEO and Blogger Barry Schwartz recently shares a video of a Hangout with Webmaster trends analyst, John Mueller that got into some interesting details about Panda and Penguin Penalties. This discussion between two big names in Search on 12/30 dropped a lot of knowledge regarding proportions of content, comments recovery times and more. The conversation in the community on the complexities and implications of it all, is still going on.
Google receives and processes 6 million DMCA complaints per week (345 million in 2014)
Copyright infringement and the right of content ownership have been battles many webmasters have had to fight over the last few years online. A report this week on torrentfreak.com shows a staggering increase in the number of DMCA takedown notices in 2014. The requests themselves aren't that surprising, but Google taking swift action in honoring so many of these requests may have implications from a few different angles. While the protection of copyrighted information is an important issue, the bigger questions surround the process for validating these requests. If an honor system didn't work with respect to copyrights, will an honor system suffice with requests for their removal?
On a related note don't forget to update your Copyright Year! The update is a good sign that when it comes to your site, there are regular updates. But as one commenter notes, it's important to make sure your past content stays covered too.
Mobile Video Viewership up 200% Year-Over-Year
Mobile interaction is growing in just about every way imaginable, so it is right on trend that mobile video viewership is on the rise. What does seem notable is the significant rate of mobile video views in 2014 compared to 2013. This fits right in with any 2015 resolution to make all website content a better fit for mobile including videos.
SEO Experiment Alert: Co-citation busted?
Co-citation has been a long standing part of the conversation about what factors are likely to support better rankings in Google. One experiment using non-link URL citations was underwhelmed with the results. But though this may be an exploration of how non-linked repetitive content could affect ranking, it's only one variation on the co-citation theme.
Always a favorite subject, the future of link building is examined anew for 2015. Prevailing themes in the discussion so far surround links vs. citations, branding and brand mentions, even how guest posting may still fit in the bigger picture. As we move into another 12 months that are sure to bring even more changes to search, we'll all have to get creative to stay ahead of the curve.