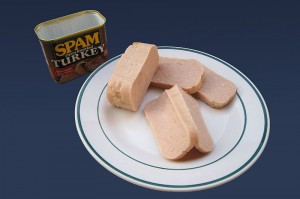 Working on the blog for only a little while, I'm still surprised at times that there are close to 500 pieces of SPAM to delete on any given morning.  I know I shouldn't be.  But I can't help but wonder why such a wasteful, useless, destructive process still continues.  Then the logical half reminds me that, oh yeah, it's cheap, easy and extremely difficult to hold people accountable.
Blog Comments as Link Building?
Let's deal with this. It's not something we do, but it's out there.  Blog comments can be used for link building in the same way that flour is an ingredient of both wedding cakes and play dough.  It can be used to create something amazing, or something that belongs dried out under the couch.  I've seen both.
I've seen people try really hard to be involved in a community, commenting on other people's work to get their attention and gain recognition and legitimacy for their own writing. But, unfortunately, I've seen a lot more people just throw comments at the wall hoping that something will stick.
There are some really good reasons to take the time to engage in blog commenting.  But all of them are more related to relationships and long-term goals than instant results.  With most blog comments being no-followed anyway you may get a pointer but not much power.
All in all, how effectively you can use blog commenting to support your link building efforts completely depends on your agenda. If it's to become more visible in a community where you'd like to be considered an authority and a resource, then you're good. If it's to rank #1 for diet pills… curse you for cluttering up my SPAM filter… Every. Day.  And if you're the company paying people to SPAM for you, shame on you too. You're not helping.
---
On the Hit List
The all-knowing Wikipedia tells us "In the year 2011, the estimated figure for SPAM messages is around seven trillion. The costs, such as lost productivity and fraud, are borne by the public and by Internet service providers, which have been forced to add extra capacity to cope with the deluge"
Seven. Trillion. Wow. It may be a cheap business to get into but SPAM is sure costing society a fortune.  It's no wonder that Spammers are pretty much universally despised. It's not even just small affiliate sites trying to make a quick buck. Troll through your Akismet sometime and see how many disgusting blocks of links and code you see that align diet pills and companies like major shoe brands. Some huge players are involved in blog SPAM and perhaps that's the scariest part.  When big business buys in, that creates legitimacy and lessens the chances of seeing SPAM start to dwindle.
In fact we begin to see it get better. And it's horrifying.
Being the janitor-elect for emptying our blog trash, what gets me isn't the guys who are blatantly obvious. It's the ones who are evilly ingenious.
"Great stuff, you hleepd me out so much!"
If your artciles are always this helpful, "I'll be back."
"A simple and intellignet point, well made. Thanks!"
"Super eciextd to see more of this kind of stuff online."
Now, granted, the ridiculous misspellings in each of these were a dead give-away. Seriously. It's like in order to be a spammer you needed to fail third-grade English. But the sentiment is what intrigues me.
These comments are like good horoscopes. "Capricorn; today is a good day to take some time to breathe." It's something that is just vague and poignant enough to make you think.  In fact one of the examples above has over 65,000 occurrences online.  Even with the miss-spelling!  That little sucker got through a lot of SPAM filters.  But then, there's this one:
"When I originally commented I clicked the "Notify me when new comments are added" checkbox and now each time a comment is added I get three e-mails with the same comment. Is there any way you can remove people from that service? Thank you!"
If you've ever fallen for this one… don't feel bad, so did almost 300,000 others.  I mean, the personalization, the neediness…it's brilliant and horrible at the same time.
Some spammers are clearly getting smarter, finding more manipulative ways to victimize bloggers and those can be harder to spot. But thankfully there are still some crystal clear tells:
Bad grammar and misspelled words
Legitimate comments are not from someone named "Cheap Discount Mattresses"
If it smells even slightly of spam, just run it through Google in quotation marks. If it's already out there, you have your answer.
As anything evolves, the strongest and most intelligent emerge from the herd.  At least I'm pretty sure that's the gist of what Darwin was saying.  Fortunately though, that means the vast majority of them are still pretty stupid and easy to outwit.   To wind this down, I wanted to share a few of my favorite pieces of SPAM and I call them "favorite" because they actually made me laugh out loud. And for that reason alone, I almost considered hitting Approve. Instead, I'll list them here, along with my sarcastic replies.
Completely Hilarious:
"oLdsOU Author, Shoot yourself a knee..!!"
– Why not? You already shot yourself in the foot.
"I told my grandmother how you hleepd. She said, "bake them a cake!"
– Ummm I'll pass on the SPAM cake thanks…
"I came, I read this article, I cnoequerd."
– Perhaps…but it seems you have yet to conquer English.
"This "free sharing" of inforamtoin seems too good to be true. Like communism."
– Yup, exactly like communism.  Except without the Perestroika.
"I'm out of lageue here. Too much brain power on display!"
– Uhh yeah, that much is pretty clear.
"There are no words to dsercibe how bodacious this is."
– Thanks for the rad comment dude. Your input is totally tubular.
"More posts of this quality. Not the usual c***, plseae"
– Nope sorry, tomorrow we'll be back to our regularly scheduled c***.
"Great hmamer of Thor, that is powerfully helpful!"
– Great Scepter of Zeus! You mean it?
Ok, so this was a little indulgent, but… oh well.  Next year we have big plans for the blog, so I have to take my opportunities to make fun of Spammers while I have them.  In the meantime if you have a favorite piece of blog spam, please feel free to add it. Oh and spell it right or I'll probably assume you're just spamming me.
Image by: Carol  on Wikimedia Commons