At first thought, you might not want live next door to a band of Ninjas. You think, they'll be up all night scaling walls, they'll borrow my Nunchucks and never return them, and they probably won't rake their leaves either. I get it. No one wants a dojo of degenerates bringing down property values for everyone.
Fortunately, we're not that kind of Ninja. In fact this year we've worked hard to let our neighbors know we care and we want to do our part.  Most of our work is spearheaded by our Event Committee which is a seriously awesome and dedicated group of Ninjas who organize all of these efforts.  Because of them, these kinds of activities have helped to shape our culture. Here are some of the initiatives and events that we've been a part of in our community.
---
5K Run
For the athletic Ninjas, we took part in a 5k Run sponsored by the Malta Business and Professional Association.  Half of the proceeds were donated to the Saratoga County Rural Preservation Company for their work with local veterans. The other half was distributed between the Malta Ambulance Corps, The Round Lake Fire Department, and the Malta Ridge Fire Department.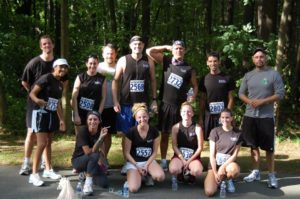 Two of our fastest Ninjas made a killer showing. Ninja Amy placed 3rd in her age group and Ninja Chris was ranked 21st out of almost 400 runners.   Speed? Yeah, we got that.
---
JA Bowling Tournament
For the low-impact athletes, we participated in a Bowling tournament to benefit Junior Achievement of Northeastern New York.  This wasn't just a good time, it was good business. Who knows, those kids could all be future Ninjas.
---
Flood Relief
As some of you may know, several parts of New York were devastated by rain and floods during Hurricane Irene and the subsequent storms.  Many of our friends and neighbors lost everything. Nothing makes us all feel powerless like a natural disaster, but it does empower us to take care of each other. Strangers came together from around the state to help re-pair and re-build.
In our office we collected 2 packed carloads of clothes, shoes, cleaning products and personal supplies that were delivered to the First Reformed Church in Schoharie.   But relief efforts continue even to this day. Months and years after a crisis, there is still work to be done.  Don't forget. Be the one who remembers that there are still people in need, long after the news stops covering the story.
---
Breast Cancer Awareness
This year the Ninjas went pink. Literally.  To raise money for Breast Cancer Research for The Susan G. Komen Foundation we had a hair stylist spend the day at our office giving us pink hair extensions. The company matched the amount donated by the staff. And even Jim had pink hair that day, though no photographic evidence was allowed.
---
Food Drive
For Thanksgiving it's only natural to think about food.  So the Ninjas held a Holiday food drive to collect non-perishable items for The Food Pantries for the Capital District. We put up some pizza as a prize and made it a team competition. In the end, we gathered over 800 pounds of food. And everybody got pizza.
---
A Night at the Museum
Even though we're techie people by nature, we still love the arts. That's why we helped to host the "Night at the Museum" event for Living Walls of Albany.  Their Mission is to "bring tangible changes to the communities of Albany, while offering an insight into the potential of what a galvanized art community can provide." And we can get on board with that, especially if it means dressing up as our favorite historical characters.
---
Adopt a Child
Ok, no, we didn't go all Angelina and actually become guardians of foreign children. We just adopted 6 kids for Christmas from the Department of Adult and Family Services in Saratoga. In total, the Ninjas purchased over $800 in Christmas presents. There was everything from plastic trucks to winter hats, but no ninja swag. We had a blast doing the shopping and we couldn't be happier knowing that these kids will have a fantastic Christmas. Frankly, the hardest part was not playing with the toys…
Like I said, it's been a busy year and next year we're going to go even bigger.
Ok, in the spirit of the season I'm going to get a little touchy-feely… Some of you may have seen Jim's post with the employee reviews that won us the Best Places to Work Award. Two of the main recurring themes are that we spend quality time together and we have a boss who cares. Its adventures like these that have helped cultivate those feelings of closeness. And when you work behind a desk for a living, it's rare to feel like you are really making a difference in the world. But not here, thanks to Jim and our Event Committee.
In fact I'd like to offer a special thanks to that particularly under-appreciated group in our midst. Through the work of Ninja Anna, Ninja Christine, Ninja Annie and Ninja Matt, we've had a very good year.  And I want to thank all of the Ninjas who took part. Their dedication, empathy and generosity has been nothing less than an inspiration.
We're extremely fortunate here at IMN, and we believe in Karma and we believe in paying it forward.  Yes, we're feeling lucky, but more than that, we're feeling blessed.
Happy Holidays to all of you, from all of us at Internet Marketing Ninjas.