Your brand is everything. It is the name of your business, the face of your company, what people turn to and recognize and trust. It is also one of the most difficult parts of having a business to begin with. Establishing the correct branding tone and making it work for you is a painstaking process that takes a lot of time and effort.
The very last thing you want is to lose all of the progress you made because it turns out someone else has hijacked your brand name. This is something that happens a lot, especially when someone starts a small, local business and then tries to expand. They may come to find someone got there first, and they didn't know it.
Before you settle on a brand, you need to make sure the name is available to you. You also have to protect it. Both are a big part of making sure your brand name remains your own.
Have The Right Tools For A Thorough Check
---
First, check that the brand name is yours and yours alone. This should be the first step before even naming and registering your business. A simple Google check won't do it, as your brand name could be used on anything from businesses, to websites, to social media profiles.
Probably the most thorough tool out there at this point is KnowEm. It checks all potential sources for both your direct brand name, and any similar iterations that might impact your branding strategy.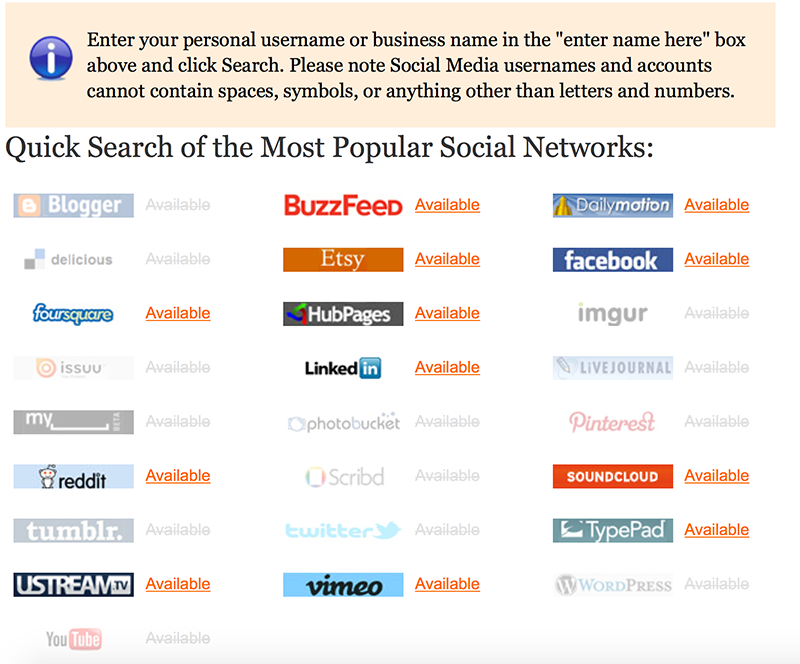 What makes it such a great search tool is that it even looks through more obscure sources you may not have considered, like Scribd, TripAdvisor, Buzzfeed, UStream, and BlogTalkRadio. So no matter what your brand represents, from a physical products to an ebook to a podcast, you are covering all bases.
Get Regular Alerts When Your Brand Is Mentioned
---
Brand monitoring is a good idea anyway, but doing it early on will make sure no one is trying to muscle in on your territory (even if unknowingly). Google Alerts is a nice, simple way to do this, yet not ideal.
A better option is BuzzSumo – its "Content Alerts" feature totally rocks! You just put in the brand name as a keyword, decide how often you want to be notified, and now strict you want the mentions to be.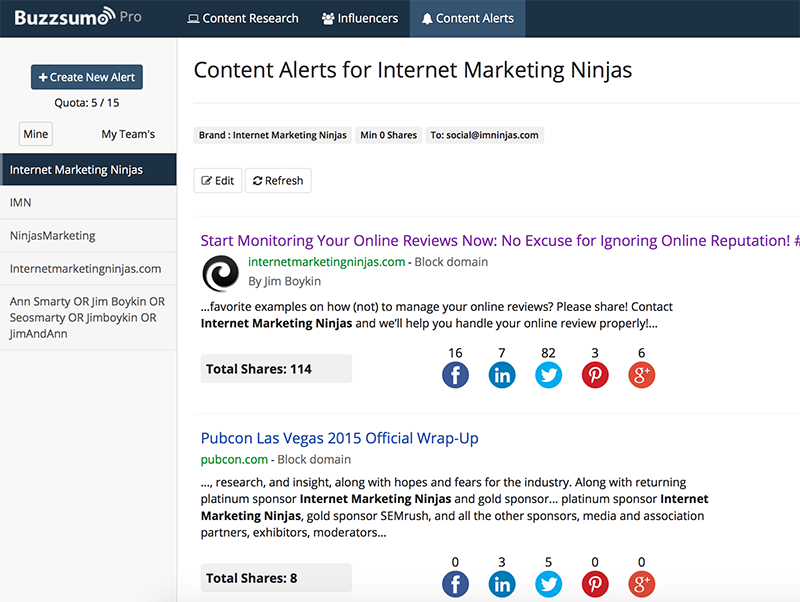 You should also set up alerts to monitor similar brand names, competitors, and industry search terms. Just to make sure you are getting all the information you need on a daily or weekly basis, and you keep in touch with everything going on. Which isn't a branding tip, so much as a good practice for internet businesses of all types.
Know The Moment Accounts Are Compromised
---
Did you know that a single day of a compromised account can completely ruin your brand image? The longer someone else has access to your accounts, the more damage they can do. A single errant tweet left up long enough for followers to see can be disastrous.
Know the moment you get hacked on any account user a suspicious activity monitor. LogDog is a free tool that keeps tabs on several platforms, including email accounts, social media accounts, and productivity platforms like Evernote.
If you get a hacking alert, make sure you take care of it immediately. That includes any notifications of suspicious sign in activity. Passwords should be regularly changed to limit risk.
Domain Taken? Monitor It For Expiration!
---
When someone takes your domain, it can be incredibly frustrating. But just because a domain is taken, doesn't mean you can't eventually get it. You can contact the owner by finding their WhoIs information, and try to negotiate a sale.
But if they aren't selling, or the price is too high, you may want to just wait for expiration. Domain Monitor will let you see when the domain license lapses. If they don't renew it within 30 – 40 days, it is up on the market once again.
So if your domain is taken, don't fret. Create a different one, then wait to see if you can eventually snatch up the real deal.
Request Inactive Twitter Accounts
---
Twitter will often have names taken that you really, really want. Often those accounts will be abandoned, leaving your brand name vulnerable. At that point, it is prudent that you get access to that account, even if only to protect your brand name from being misused if someone hacks the account.
You can request that you be given access to this account if it has been inactive for a long time. Go to this form and say that you are being impersonated, or your brand is being misrepresented. You will have to provide proof of your brand, such as registration of a trademark.
Now, a lot of articles online claim this process only takes a couple of days, with access to the account when approved within 10 business days. This was not my experience.
When I requested an account that had been inactive for four years, I did not hear back from Twitter for several months. However, I did gain access to the account. If it takes awhile, don't lose hope.
Have you had to change your brand name because it was already taken? Let us know in the comments!