Co Citation – A major search engine ranking factor that few SEO's understand.
What is Co Citation?
I found a nice page on sourceforge.net that gives a nice definition of co citation.
Bibliographic Co-Citation is a popular similarity measure used to establish a subject similarity between two items. If A and B are both cited by C, they may be said to be related to one another, even though they don't directly reference each other. If A and B are both cited by many other items, they have a stronger relationship. The more items they are cited by, the stronger their relationship is.
Now it's past 11:00 pm, and my designer has gone home for the night, so here's my chicken scratch of co citation.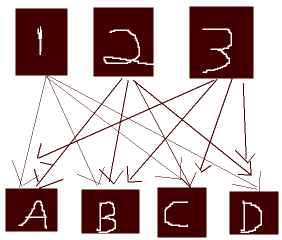 Sites A, B, C, & D are said to be related via co citation. They don't link to each other, but sites that link to them, tend to link to the other sites.
Let me try to put this in more SEO english by showing you Good and Bad examples of co citation.
Let's pretend you have a site about sunglasses and you're on the hunt for backlinks. Let's say you bought a link on a page where you're link looks like this:
Paid Advertisers:
Sunglasses
Cheap Viagra
Casino Betting
Online Gambling
Online Casinos
Gambling online
Cheap Drugs Online
Phentermine Cheap
Prescription Drugs
By doing this, the search engines will think that your site must have something to do with prescription drugs and gambling. Why? Well, because the search engines look at the pages that link to you, and they say "Who else does that page link to" because they figure they must be related. So your sunglasses sites is now thought to be related to gambling and drugs. That's your neighborhood you're putting your site in.
Now let's say that you buy lots of links…and let's say that the gambling sites also buy lots of links…and let's say that on lots of pages where you buy your links, they also buy links…now you've got some serious co citation going on…even though you never link to each other, your backlinks keep appearing together on other sites…now you're considered similar to the gambling sites (this is bad for rankings).
Now let's look at some Good Co citation:
Getting a link from a directory page, like say a Yahoo Directory page for Sunglasses, is Great for your co citation….why? Because the other links on that page are all about sunglasses, and if you're listed on that page, then the search engines will give you the co citation of "sunglasses" (by looking at the other links on that specific page that links to you). Now let's say that you're also in DMOZ with a lot of the same sunglasses companies are were in the Yahoo Directory pages…now you've got some serious co citation…and this time, you've got it with the right types of sites (other sunglasses sites), so you're getting into the "Sunglasses Neighborhood" via lots of co citation with other sunglasses sites (this is good for rankings).
Want to know your websites co citation?
Hey, it's actually pretty easy….the engines actually show you. It's one of those things that people see every day, it's just that most people don't know what it is.

Yea…it's that that "Similar pages" link next to the "Cached" link (You can also search in Google using the Related command (related:www.your-site.com)).
You ever wonder what those Similar Sites are? That's your co citation! That means that the web pages that link to you, tend to link to those sites as well. More often than not, the top ranked sites have good co citation (related sites as their "Similar Pages").
If you're trying to rank high, keep in mind your linking neighborhood and your co citation. On the pages where you're getting links from, who else do those pages link to? Are the other links on those pages related to your site? Is that co citation something that will help or hurt you?
What are your thoughts on co citation?
——————————–
[tags]links, link building, google, yahoo, seo, sem, search engine optimization, internet marketing, search engine marketing, link popularity[/tags]