There are some days when trying to be productive sounds about as appealing as repeatedly slamming your face into your desk. Other times you would love to be productive, but you just can't wrangle your mind into submission. Your minds seem to have a mind of their own as you type "cats with sunglasses" into Google images. Suddenly, there goes another quarter of an hour you could have used finishing off those budget reports.
We have talked about productivity a lot recently: take a look at "Social Media Versus Productivity" and bookmark cool productivity charts.
Today's one wasn't written to teach you how to be more productive. It was written to make fun of it. So let's take a step back, stop taking the issue so seriously and have a few laughs at efficiency's expense.
---
The Productivity Cartoon
Fans of dark humor should get a chuckle out of this. The video creator has come up with a ludicrously bad "productivity plan" for increasing the profits of the US at large. This includes putting everyone on zip lines, making older people work for less and installing "end it all" buttons in the homes of the elderly. Tasteless? Very. But if you can find humor in what is essentially Brave New World in quickly scribbled marker cartoons, you might enjoy it.
---
Cycle of Productivity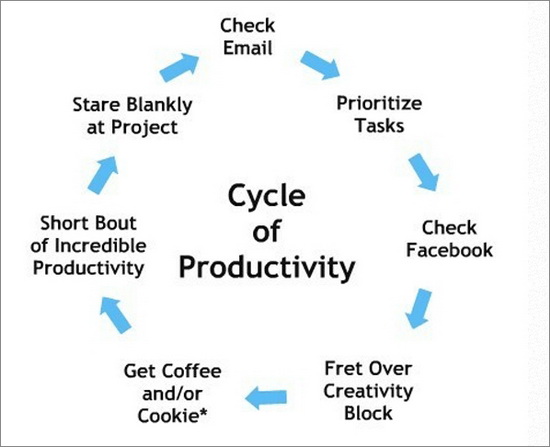 This honestly makes me laugh every time I see it. Just because it is exactly what I do every single day. The only difference is you could add "Watch YouTube", "Read Cracked" and "Fly Into a Deadline Panic" in, as well. For those who are interested, my 'delicious treat' is vanilla wafers. Mm, vanilla wafers….
---
Meetings VS Productivity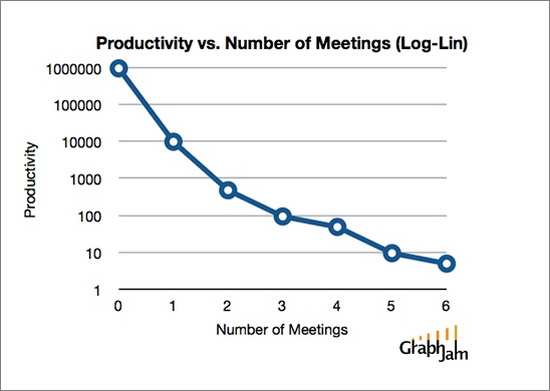 Office meetings are such a hassle. They seem to come just when you manage to start getting some real work done, and they waste more time than is ever necessary. Some bosses think it somehow boost morale, others are just trying to exert some authority over their workforce. Still others have forgotten what it was like before they entered the management world and had to attend the same pointless meetings again and again. This chart shows productivity versus staff meetings. Notice when the figure starts to go down.
---
Periodic Table of Procrastination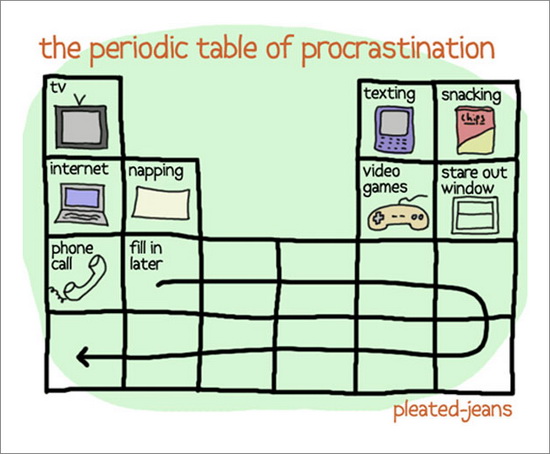 I love a good periodic table joke. But then, I am a massive geek of which little can be redeemed. Still, this one is funny even to those who don't find the elements that make up our world to be amusing. It shows all the different particles that make up screwing around instead of working. These are especially true for those of us who work at home at least some of the time. Honestly, I think they should have added "Looking at Chuck Norris jokes" in there somewhere, but maybe they couldn't fit it into the tiny boxes.
---
Bermuda Triangle of Productivity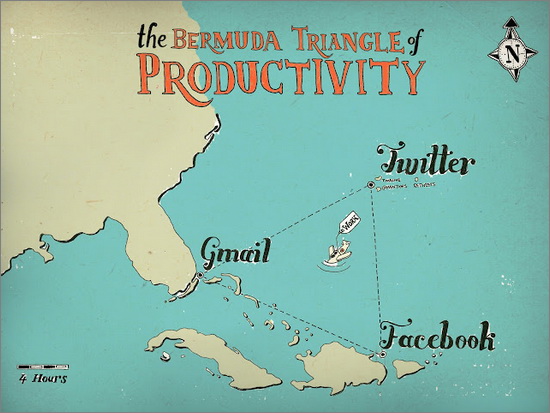 Have you lost your productivity and wondered where it went? Maybe you are in shock, because out of nowhere it seemed to disappear. Much like the Bermuda Triangle seems to swallow up cruise ships and fighter jets, so to does the sinister Bermuda Triangle of Productivity. Which could also be called Social Media.
---
Tomorrow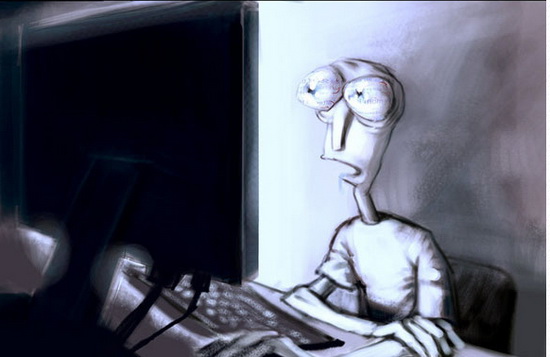 Does anyone ever do everything they claim they are going to do tomorrow? I have given up on making any promises based around the next day, because I know that I am likely going to be just as lazy when I wake up as I was when I went to sleep. Maybe even more so. This little comic is the story of my life. They even managed to get my likeness in the second frame.
---
Pets Preventing Productivity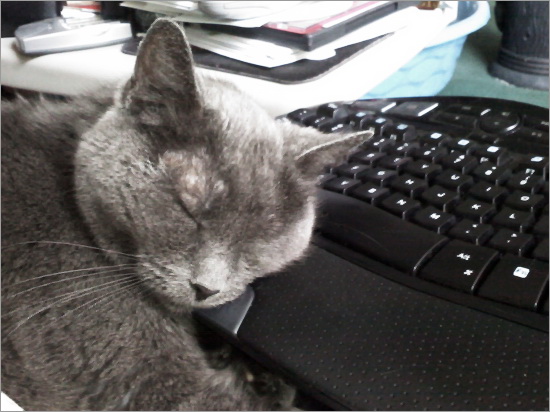 Another problem with working, studying or trying to do anything at home is the interruptions commonly stemming from pets. Somehow, animals are able to sense when you are reaching the peak of concentration. Then they use their furry wiles to break it. This is a hilarious collection of examples, showing the true mastery of pets skills in this regard.
There you are: we just cut into you productivity a little more by making you laugh at it. Now get back to work!