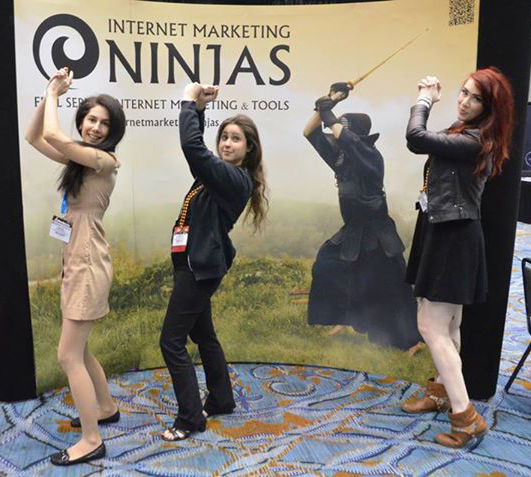 We're less than a week away from Pubcon Las Vegas and as a Platinum Sponsor; it's going to be another year of Ninjas everywhere! This time we have 5 speakers covering 11 Sessions and, for the first-time ever, we're having an all Ninja Panel and an informal Ask a Ninja session!
The Ninja Panel, happening on Tuesday, the first day of the conference at 1:10 in the Exhibit Hall Demo Theater, will feature 9 Ninjas and more than 18 Ninja tips. Our session will be filled with unique insights, ideas and tons of inspiration. You'll almost never see this many ninjas in one place outside the office or happy hour so don't miss it.
On Wednesday at 2:45, join us back in the Expo Hall Demo Theater to wind down the exhibit hall and Ask a ninja. Right before we close down the booth, hang out with Jim and other senior staff for casual talks on everything from the best sessions to catch on the last day (Ninja Speakers of course!) to specific strategy questions for your business.  If you've been looking to have a one on one with a particular Ninja, this is a great chance to do it.
As usual we'll also have our booth set up front and center. You won't be able to miss us so stop by grab some swag and say hi to one of the Ninjas.  If you're playing along with Pubcon Bingo this year, you may need to visit us to have a chance at the prize.  There's also the PubCon Labs where there's still one spot left to chat with Jim Boykin about Manual Penalties from Google.
Of course, if you miss us in our sessions or on the Expo Hall floor, you can certainly catch us at the night time events. We'll have Ninjas at EpicDinner, and most of the other networking events as well. So find us, buy us a drink (or not) and pick our brains. We can't wait to meet you. If you wanna see any of the Ninjas speak, here's the Cliff's notes on when we're up and what we'll be talking about. There's a lot going on in Search these days and we've got plenty to say.
See you there!
Tuesday October 7th
11:30 – 12:40 Interactive Site Reviews: Focus on Organic –  Ann Smarty
1:15 – 2:20 – IMN Panel – Jim Boykin, Ann Smarty, Jen Van Iderstyne, Chris Boggs, Kris Jones, Bonnie Stefanick, Thom Craver, Frank Bauer and Neil Marshall
3:55 – 5:00 Interactive Site Reviews: Focus on Local Search  – Kris Jones
3:55-5:00 Google plus and Google Authorship  – Ann Smarty
Wednesday October 8th
11:35 – 12:35  Google Updates – Jim Boykin
11:35 – 12:35 Advanced PPC Tools and Scripts   –   Moderator: Chris Boggs
2:45 – 3:50  Beyond the Filter Bubble for SEOs   – Chris Boggs
3:55 – 5:00 Who can online marketers Trust?  –  Chris Boggs
Thursday October 9th
11:00 – 12:00 SMB Business Issues Moderator: Kris Jones
12:40 – 1:35 SEO and SEM Tools and Services   – Jim Boykin
12:40 – 1:35 Local Search 2014  –   Kris Jones
1:40 – 2:40 Link Building 2014  – Jen Vaniderstyne