The 29th Annual WWE Survivor Series is on the horizon, and there's no better way to watch than with a Legend of the Squared Circle.
On Sunday, November 22nd, Internet Marketing Ninjas will be Tag Teaming with WWE Hall of Famer "Hacksaw" Jim Duggan for a fan-engaged event that will be live-streamed on IMN's YouTube Channel, with Twitter being thrown into the action as well.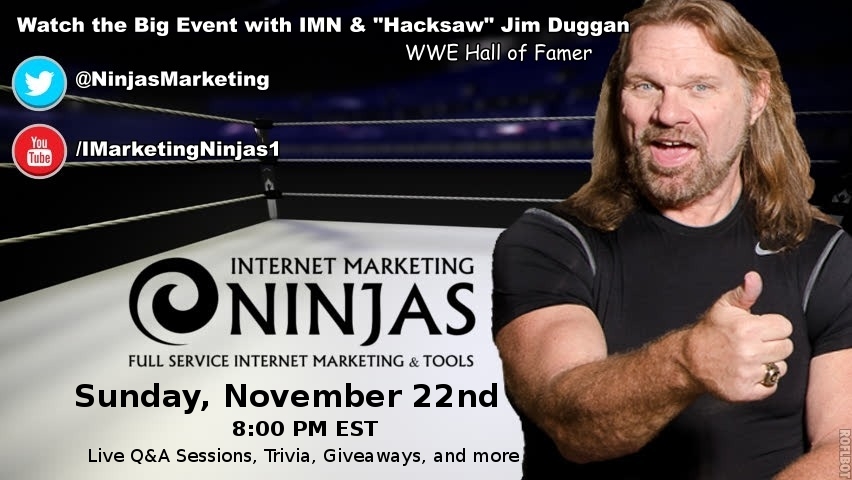 While watching the big event on your television, also tune in on your computer or mobile device to follow along with "Hacksaw" Jim Duggan, as he offers thoughts, discusses past Surivor Series events, and interacts with fans via IMN's social media channels.
Get your questions answered by this WWE Legend via Twitter (@NinjasMarketing). They'll be answered live on the stream.
Follow along for giveaways live on Twitter, including a signed 2×4 by WWE Hall of Famer "Hacksaw" Jim Duggan, signed photos, and much more. Through WWE trivia, clues throughout the event, and more, you'll be eligible to win great prizes.
From Glens Falls, New York, "Hacksaw" Jim Duggan began his professional wrestling career in 1979, after spending time with the NFL's Atlanta Falcons. He would go on to spend several years with both World Wrestling Entertainment (WWE) and rival World Championship Wrestling (WCW), and can put claim to winning the inaugural WWE Royal Rumble Match in 1988. Duggan was inducted into the WWE Hall of Fame (2011) in Altanta, Georgia, and still continues to entertain fans around the world today.
Join us at 8:00 PM Eastern on Sunday, November 22, and watch the big event with this WWE Legend, in this fan-engaging, live-streamed social media event that you won't want to miss. It's going to be No Holds Barred when Internet Marketing Ninjas tags with the 2×4 wielding "Hacksaw" Jim Duggan.
To follow along and be eligible for prizes, follow Internet Marketing Ninjas on Twitter at @NinjasMarketing, and subscribe to our YouTube Channel. Also follow "Hacksaw" Jim Duggan on Twitter at @OfficialHacksaw
*Join the official event page on Facebook to receive reminders and updates!*