A Google representative Gary Illyes confirmed last week that Google Penguin would take a few months to be updated. That means it will be at least a year (or more) between the last year's and this one.
@mrjamiedodd No. Penguin refresh is months away

— Gary 鯨理/경리 Illyes (@methode) July 11, 2015
(Penguin 3.0 in 2014 also took more than a year btw)
By refreshing Penguin once a year, Google is making webmasters' lives very difficult: Let's discuss what Google Penguin Update means and why website owners are so much looking forward to each one.
Manual Penalty versus Google Penguin Update
What's the difference: Manual Penalty versus Google Penguin Update
Click To Tweet
If you have been involved in dubious link building practices, you can be hit by two types of Google Penalties:
Manual Penalty (there are many types but a more popular one is the one that states that you have bad backlinks)
Penguin Refresh (Which is an algorithmic update).
---
In case of a manual penalty, what you should do is:
Analyze your backlinks to identify those Google found violating their guidelines
Contact everyone you can to ask to remove the bad links you identified
Disavow the rest (what you couldn't remove)
Submit a reconsideration request carefully describing what you did in #2 and why you couldn't remove links listed in #3
Then you wait for Google's reply and you know whether your penalty is lifted or whether you need to do more work in 1-4.
If you were effected by Google Penguin, you also do steps 1-3 but instead of sending a letter to find our whether you did everything right, you wait for another update to see if your traffic goes back to normal (or at least increases to some extent).
If you see no improvement, you'll need to work more on 1-3 and wait for yet another update.
That means, if the update happens once a year, that may take you 2 or more years to recover.
How Do You Know if It's a Penguin?
How to Diagnose Google Penguin?
Click To Tweet
The manual penalty is easy: You get an email from Google within your Google Webmaster Tools that clear states the problem.
Google Penguin is diagnosed by looking at Penguin update dates to see if your traffic decline happened on one of those dates. Penguin update was not a sudden decline but a very long one so it was a bit harder to decline.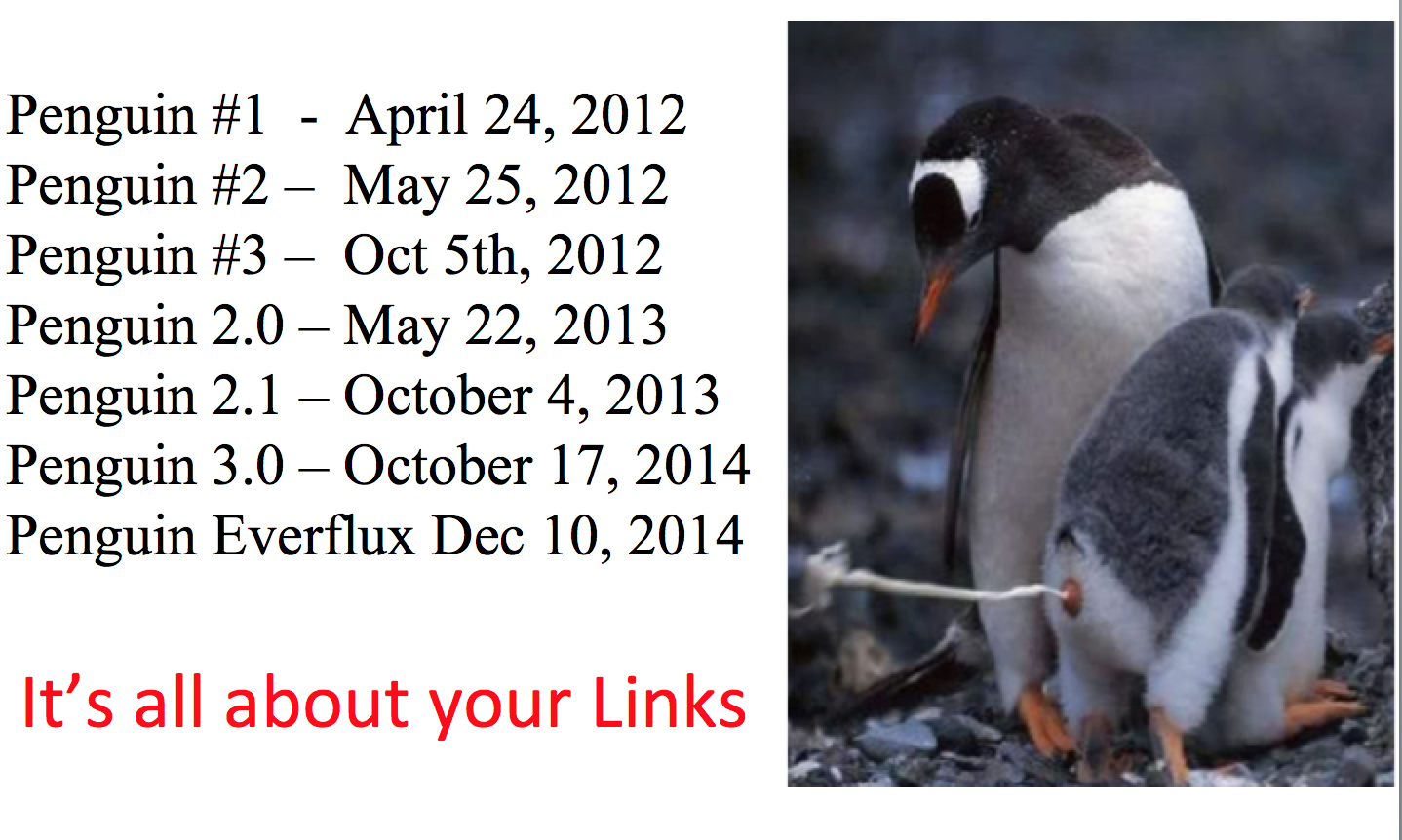 You should also look at other tools like SEMrush and SpyFu to see the rankings decline and whether any of changes happened on the identified dates.
Now, both Google Penguin and Google Panda have been announced to eventually become part of the algorithm, so there will be no updates and instead they will be happening continuously.
While this is not the case yet (and Gary Illyes seems to think updated would continue rolling as he said that it was their goal to update Penguin more often), there's a huge possibility that would become true at least to some extent in the future. That will mean that updates will be harder to identity and this fix.
Watch the whole video here: Next Google Penguin Update? Jim and Ann Show
Are you worried of Penguin coming or are you looking forward to that?
Are you worried of Penguin coming or are you looking forward to it?
Click To Tweet