Google's Penguin Update, and some Jim ramblings about search terms of interest and asking if Google is God….
I was doing some reading last night when I came across the url, the site that was selling payday loan links within spun content that didn't make sense that was mentioned by Matt in his post about the Google Algorithm Update, now named Penguin…or the Google webspam update….
I then ran that site through our crawler tool (which also finds broken links and redirects), and reviewed over 3443 external links on the site (the public version will stop at 1000)….
All pages with 2-3 external links on them…every link on there is a $ phrase.
Those 3443 sites consist of about 1500 domains who were buying links there…if I were them, I'd be shitting in my pants now and going into overdrive to get my links removed from there…. there's other sites too…. I've been hearing a lot in the forums about Google sending the "your links might be bad" notices…and sometimes they're giving 2 links as examples of bad links…
If you got one of those emails, I'd love to see the 2 example sites they gave…. I can run a pretty big link map via finding all those forward links from each of those sites, then checking the backlinks of each of the buyers, then find common backlink sites…if you got a notice like this, feel free to send it to me… luckily I don't have to worry about blog networks as we actually don't get links from blogs….but we did have a few clients who did a lot of their own link building, or also hired others…and now they come to us and say "We hired this guy on freelancers ….he got us 1000 forum links, 1000 articles spun for 1000 sites, 1000 bookmark links, etc, etc etc..and all by hand…all in one week…but he said he was white hat."
…ummm yea…
…but in other news, there's the new Google update going on, Google now wants to call it the "Penguin Update"…yea…pandas and penguins….make an update sound like a cute animal…. awwww… so like Brett Tabke said, "They're giving us the bird"…. I think SEO's should name these update, not Google…. Years ago Google updates were named by the first person who spotted the update…then Brett at webmasterworld was naming them for years…now, somehow, it's now Google who gets to name them…hey Google, if you're going to be the ones naming the updates, name them the day you release it…not a few days later like you keep doing….remember farmers update later changing to the Panda Update?… now we have the Over Optimization Update, then the Webspam Update….and now Google wants to call it the Penguin update…gee, now that it's named Penguin it kinda makes me feel all fuzzy inside…not!…. I think we should still call it the "Over Optimization Update"…but oh well…Danny's already changing the name everywhere to penguin….
So how good is this update..did it clean up the Spam?…well, whenever I want to see what some of the black hats are doing, I always like to run searches in Google for prescription drugs to see some of the things that get past Google…. Do a search in Google for "buy phentermine online"
Not sure what you see, but here's what I see:
site #2 hacked,
site #3 hacked and has a virus
site #4 exact match URL
site #5 Hacked EDU
site # 6 Hacked site, but says "This site may have been compromised"
Site #8 Hacked site, but does say "This site may have been compromised"
Site #10 Hacked site, but does say "This site may have been compromised"
Doesn't look like much of a cleanup on their part…but it's searches like these….and maybe for things like "payday loans"…could be "Search Results of Interest" to Google…I know every few months there's major upheaval with several searches…ie, run the search for "buy phentermine online" in 6 weeks and you'll see major changes….run a search for payday loans today, and run it again in 4 months….. I'm betting they let the dice roll with the algo changes, then they see what people do to get into the top 10 for several monitored searches..then they write the algo to combat those methods….I'm almost thinking it's wise to make sure that you never get linked to from a site that also links to payday loan sites.
It also explains why the payday loan site mentioned by Matt, and talked more about on this WMW page still ranks….they're collecting data….
But hey….Google's not perfect….and neither am I…. but someone asked me earlier if Google was God…so I decided to Google it.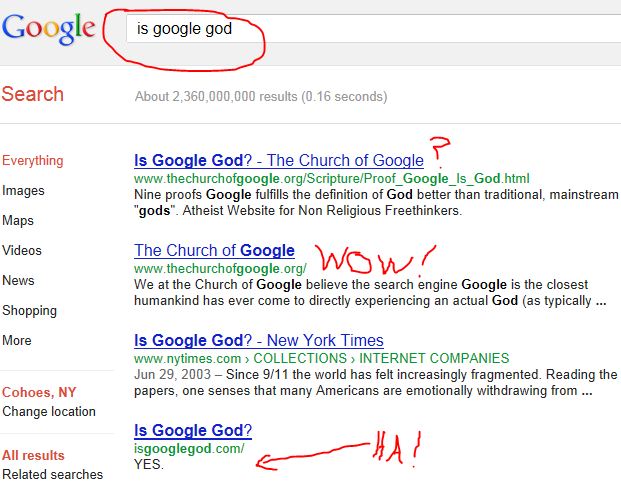 I don't mean to bring up Religion on my blog….but … The Church of Google??
#4…see what a good title tag and url can do… this page ranks above Time.com with the only text being "Yes"..Not bad for a site, that according to ahrefs, only has 13 backlinks.
What are your thoughts?