Getting your name out is crucial: Your brand name is your biggest most reliable asset.
Whatever happens to your business, your name will remain yours.
1. Make Your Brand User Centric
---
Your ideas may be great, your graphic artwork, technology and services may be outstanding, but, if you are talking to the wrong crowd: your brand will not grow.
Everything about Apple's marketing and branding is targeted toward someone in particular. It is targeted toward a demographic. They know exactly who they are speaking to and what appeals to that target audience.
Think about Red Bull. Their brand, its design, its vocabulary and its positioning in the market place are all the result of a user-centric approach to branding.
Red Bull are male action orientated. It's that simple.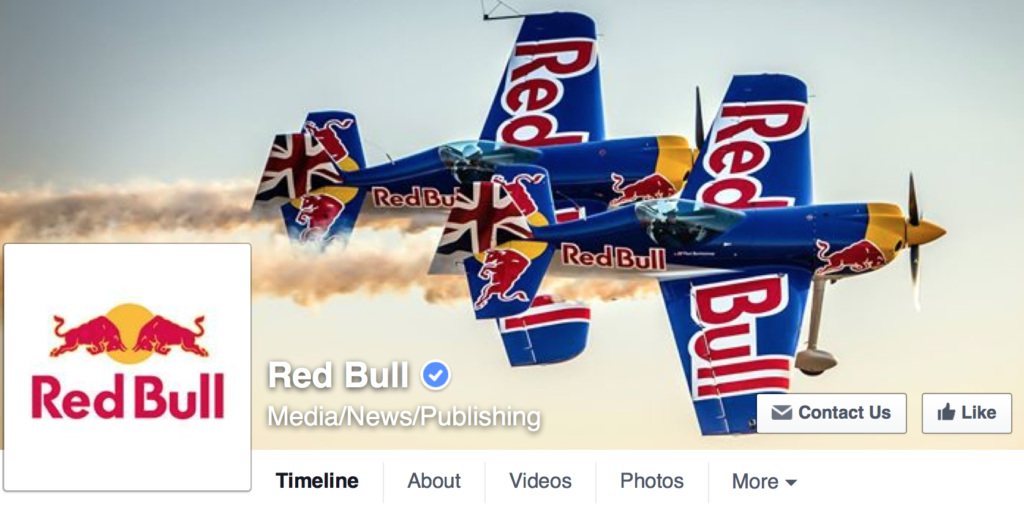 They aren't just "doing" content marketing. They are creating and delivering content to entertain and engage someone in particular. In a nut shell, Red Bull are a publishing empire that just happens to sell drinks.
Do you know your ideal customer or client? Do you know what entertains them, what captivates and motivates them… and do you know how to get in touch with them online?
Do you know your ideal customer or client? via @MalleeBlue
Click To Tweet
Time invested in shaping your brand according to the discernible goals, interests and desires of your users is where all good branding starts (Thanks to David Trounce for Red Bull example!)
Whether you are brand new to any niche or you just need to do a little reinventing, here are five ways to build your online brand online:
Have a clear definition of your brand.  You should understand your mission as a brand and let it shine through your communications.  You need to know who you are before you can get others to follow you.
2. Be an Active Social Media User
---
Platforms like Facebook, Twitter and other social media websites have emerged as the fastest, easiest and most efficient ways to connect with colleagues and potential clients alike, and this leaves you with no excuse to experiment with each to see how it can benefit you.
Remember that your social media presence is often the first place that potential customers will turn to, so build it accordingly, turning your Facebook business page or Twitter account into a source of contact information and an overview of who you are, what you offer and how you wish to brand yourself.
Pick the social media channels that make the most sense for your business.  There is no need to have a presence on all channels any longer, especially if you cannot actively maintain your presence.  Be selective so you can be a great brand on the channels you select and not a medicore one everywhere.
3. Become a Blogger
---
While social media can do a great job of giving people a taste of your personality and professional talents, allowing them to get a bit more in-depth with you will require something more than a status update or a 140 character tweet.
It's time to become a blogger.
Grab an appealing domain name, install WordPress or another blogging platform of your choice and then get writing – there really is nothing more to it. Blogging gives you a soapbox from which you can remind readers of your expertise and experience.
Whether your blog is an extension of your existing website or a standalone effort, it doesn't need to take up an unreasonable amount of your time. Even adding a new post once or twice per week will be enough to keep both search engines and readers happy and you'll find that it will quickly grow into an online hub for your professional outreach marketing.
Gary S. Aviles has a good point here:
Remember, blogging should be about the reader, and not your brand.  You want to be careful when blogging that you do not pitch your customers, but instead walk them down a path that helps them visualize a problem they did not realize they har, or a solution they did not know they actually needed.

If you can convert a blog visitor this way, they will move to your brand first for their solutions and they will keep coming back.
Blogging should be about the reader, and not your brand via @garyaviles
Click To Tweet
Keep in mind that your blog content needs so be REALLY good, detailed and expansive to engage your potential audience and to make that audience turn into loyal subscribers and eventually loyal customers.
Spend time developing your content and don't just publish because it seems like it's the right time. Make sure that you answer every question that a reader might have about the subject your writing about; even if you are directing them to the next installment of your blog. It's fine to split a really complex subject up in to sections and go into some serious detail to keep your readers "turning the page" and wanting more.
4. Be Compelling When Being Public
---
Keeping in mind that everything that you add to the web at large is publicly accessible by anyone at any time and that it will remain so forever, make every single word count!
Think about your market.  What is its size? Who is it made of?  Where is it located?  No one knows this better than you.  These people want your brand to help them.  The easiest way to do this is to deliver information that is relevant to them.
Whether you're blogging, tweeting, updating statuses or conducting a podcast, never waste your time on content that falls under the "same old, same old" header; focus instead on providing your fans, readers and future clients with something compelling and worth consuming, pulling them into your inner circle and ensuring that your name and expertise come to mind when they're ready to hit the market!
People are bound to "google you" to find out more about you or simply to find you online, just because they can;t remember that URL you gave them months ago or that they saw somewhere. They will, however, probably remember your name.
Make sure that when people search for you that your content comes to the top of google. It's not that hard!
Secure "yourname(.com)" on all op the social media platforms you can find. Write a detailed profile page on your website and copy that across the social media sites. Make sure that you have a recognizable headshot photo and name the file with "YOURNAME.jpg" and post that image to any image site you can find especially the popular image sharing sites like Flickr, Pinterest, and Instagram.
Your name IS your Personal Brand – Use it! (Thanks for adding this tip, Steve Counsell!)
Your name IS your Personal Brand - Use it! via @stevecounsell
Click To Tweet
5. Join Related Communities
---
These platforms present a glorious opportunity for you to connect with people who already have one foot in the market, providing them with friendly information while promoting your own brand at the same time.
As is the case with any social media marketing, be careful to walk securely on that fine line between self-promotion and spam, keeping your efforts to a subtle level that all readers, present and future, will connect with.
6. Be the Brand
---
It may sound cliche, but simply "being the brand" is excellent advice when it comes to promoting solo services like a real estate agency or a local barber shop. Always remember that everywhere you go, literally and digitally, you are the sole representative of your brand and act and speak accordingly.
David Leonhardt has put it very well:
This is the most basic aspect of branding. Your brand is not your logo. It is not your slogan. Your brand is how your target audience perceives you – what they think about you and how they feel about you. Everything you do or say forms your brand in their minds.
Everything you do or say forms your brand in the minds of your audience... via @amabaie
Click To Tweet
Treating every person that you meet as a potential client, be sure to keep your professionalism and expertise handy, just in case you happen upon a brand building opportunity!