Aaron's been busy creating even more buttons for the new Google Toolbar.
They're really pretty cool, here's a screenshot of how it lists post titles under the button when you click the button.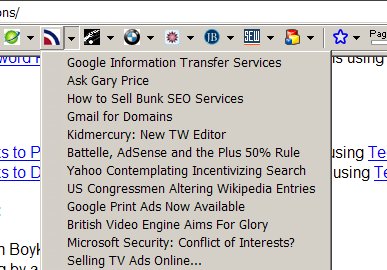 —-
I can't quite make out what the picture is for Matt's blog…can you tell?
Want fast access to see what I'm jabbering about? Click on my name here Jim Boykin – and you'll get my button for your toolbar. Want faster access to the webuildpages tools? click on WeBuildPages .
I bet if you offered Aaron a nice backlink, he just might build a button for you too.
So tell my guys, are you afraid of the Google Toolbar? Should we be afraid?