We used to have MySpace templates, then Twitter backgrounds, now we have Facebook cover photos. You are most likely to already have one but that doesn't mean you should stop there.
Love it or hate it, Facebook's Timeline is here to stay. Providing users with a pretty creative way to set up their profile, as well as a unique method of cataloging events and past activity, it has its advantages. Especially when it comes to the top picture and the possibilities for customization.
There's no right or wrong answer: What should be on your timeline cover? Your logo? Your contact info? Some basic details about your business? Definitely not all of that at once. We want it to be minimal and clear, especially when it comes to a business page.
Your page timeline cover affects your conversions (especially if you are running Facebook ads). It's crucial when it comes to new following acquisition. So, like with your website designs, never stop experimenting with new designs and layouts of your page cover photo.
Here are few great tools for your inspiration. Start experimenting now by using those free resources, including generators, galleries and roundups.
---
Free Tools
I'll be honest here: don't expect too much from online image editors. None of them will have lots of features or let you create an outstanding design. What they are good for, though, is to get inspired. See what you can put and where. Play with color effects, add your logo, etc.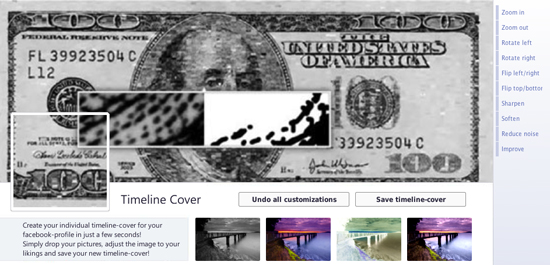 This is a fun one to use, though it's not really reliable on Mac. It makes it easy to play with your own image:
Change the color palette and feel (make it black and white, saturate, solarize or add glow);
Rotate, zoom, flip horizontal;
Add effects: sharpen, soften, reduce noise and improve.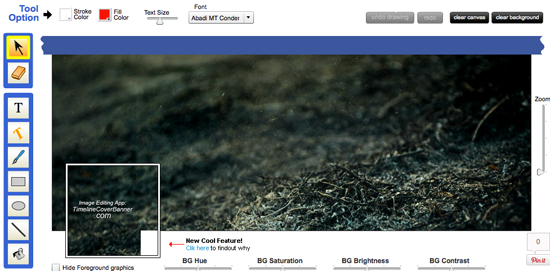 They already have a bunch of free, pre-made templates you can use. But if you want to make your own cover, just go to the top and select the banner editor. You can upload a background photo, edit the background, or use the paint tools on the left.

You have to register to use this editor. Aimed more for professionals who want to make a Timeline for a business page of some kind, this is a basic editor that can give you a good idea of how to position your information. You can use pre-made templates or upload your own picture to edit it.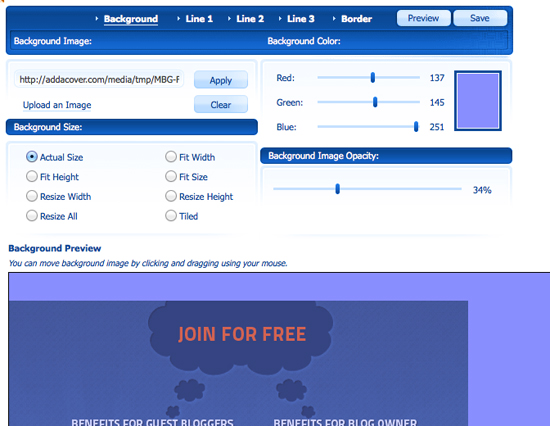 A lot more thorough than most basic generators, you can really play around with this one. You upload photos or graphics, or make something completely from scratch. The tools are a bit more advanced but easy enough to figure out.
---
Gallery
Sometimes the less you do, the better. You may find an awesome, minimal, ready-made design here and get an awesome response. You can experiment with a few and choose the best. Luckily, we have a choice!
Another advantage: all the below images and photos have the correct resolution and format (You know, when you upload your own design, Facebook might make it blurry? This won't happen if you use these tools).
Note: I didn't include any gallery that can work for personal profiles only.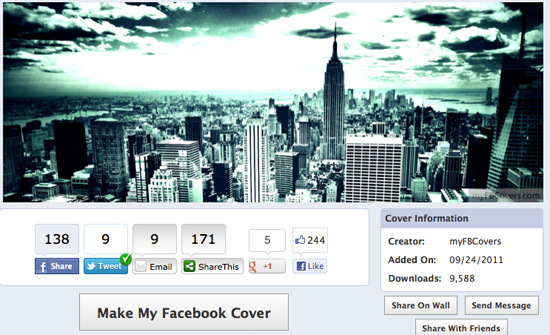 That's no more than a huge collection of awesome images, all rated and sorted. You can easily see how popular each cover is.
---
Tutorials and Round-ups
Guide To Creating Timeline: This is technically aimed at non-profits who want to make a cover for their organization. But the process is the same, regardless of the content. While there are a number of guides, this one is pretty-well explained.
18 More Creative Tips to Fire Up Your Facebook Page Cover Photo: Some awesome ideas here on what can or should be on your page cover photo.
HongKiat Round-up: If you scroll past the 40 unbelievably creative examples, you will get to a section where they provide you with a super simple Photoshop template to create your own cover. Honestly, anyone with Photoshop and a basic understanding of how the program works can use this.
10 Online Marketing Brands Using the New Facebook Pages with Timeline: Another awesome one to get inspired!
There you have it. I am sure, if you decide to give a go, you'll get plenty of new exciting ideas!