That's something we have to deal with often in online reputation management: cleaning out fake accounts, getting the online information right and sometimes starting afresh.
Sometimes old outdated profiles clutter the name search results. Sometimes they prevent you from creating a new account (or even get your new фссщгте banned as Facebook has always been pretty hard on duplicate accounts.) I've seen people who don't remember creating Facebook accounts but they desperately want them deleted now. Sometimes old Facebook accounts have dangerous personal information…
A lot of things may happen…
Deleting outdated Facebook account is absolutely doable. You can easily handle that:
---
Recovering Your Account
(This step is for those who don't remember their login information which is mostly the case for old accounts)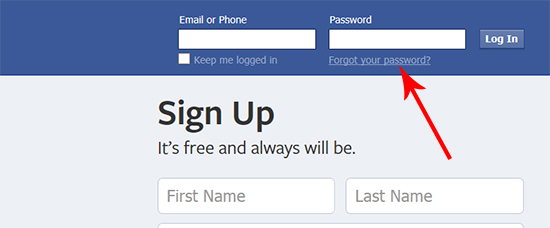 Start with a general recovery by clicking on the "forgot my password/reset my password" button on the log in page. You will have to identify your account by one of the following:
Your email associated with the account
Facebook username (get this by going to the profile URL and seeing in as the end tag in the address bar)
Both your name, and the name of a trusted person on that friend's list.
Once you identify which one is your account, it will give you the options you originally provided with the account for recovery. This will be one or two email accounts associated with the profile, and possibly a mobile number you used for notifications and mobile updates. You choose which of these you still have access to, and Facebook will send a password reset link to either the email address or mobile number you selected.
Don't have access to any of these? Select the button that says so, and Facebook will ask you for another email address where they can contact you about recovering the account. It will also give you security questions you can answer right then, but you will have to wait 24 hours for access if you answer them correctly.
Can't answer the security questions? You can select a friend on that account to help you to recover it. Facebook will lead you through the process.
---
Deleting The Account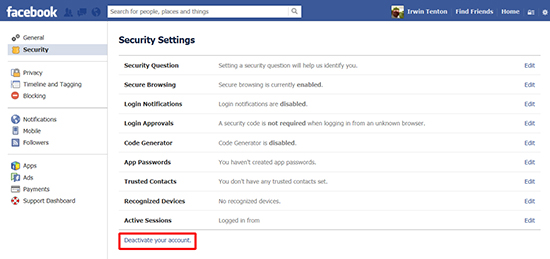 Once you have accessed the old account, go to the gear button in the top right hand corner of the screen, and select Account Settings. On the left hand sidebar, click on Security, and then deactivate your account (Tip: You may want to download your profile data first just in case in "General" tab).
This will take you to the deactivation page. Here it will ask if you are sure, and ask for your reason for leaving. You will be able to close all of your open groups, and opt out of getting any further emails from Facebook. Then you just confirm, and it will but you in queue to be removed. This usually takes 24 to 72 hours to complete, and you can cancel the deletion within the given time frame.
---
Reporting An Account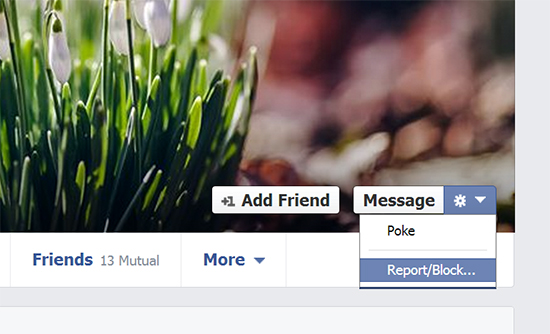 If, for whatever reason, you still cannot deactivate the account, you can always report it. Go to the profile page and select the little gear icon on the bottom of the cover photo. Select Report/Block, then select Report and the reason.
This is not a very efficient way of doing things, and there is no guarantee it will lead to the removal or the profile. But you can follow up on it by contacting Facebook directly at [email protected].
---
What To Do If Your Account Has Been Hacked
Whether it is an old or a recent Facebook account, when your profile is compromised by hackers – a regular occurrence on any social media site – it has to be reported and dealt with.
You start by going to the page for hacked account retrieval, which will ask you to put in a current or past account to prove your identity. It will then help you to take the account back over and kick out the spammer's access. You can then choose to keep or delete the account, as you wish.
---
Conclusion
Facebook was made with issues of account deletion in mind, and they pulled out all the stops to give you access to lost accounts, and to help you to close them. So if you have lost access to a profile over time, and you want to take care of it, try these many ways to do so and you should be fine.