This is one of the most frequent questions I get in my email inbox. Obviously, the question of course is not as simple as it may seem. What's "followed" in the first place? Passing any value? Sadly, you can never be sure if any given link makes any impact on search rankings.
What you can more or less be sure about is if Google is able to use the link in its algorithm (i.e. if the search engine is not blocked from doing so).
Here's the simple two-step way to check that:
---
1. Does Google Know About The Page with the Link?
The first step in making an assumption about the "usefulness" of the link is to define if Google is actually aware of the page and if it is able to crawl it.
My favorite way to do that is by using Google's INFO: search operator. It will let you know if Google actually knows about that link and if it has any issues crawling it. It also lets you quickly click through to the "cache" and "text cache" of the page.
So:
Search [INFO:full page URL here] in Google. If that search returns nothing, you may want to check if Google is blocked from accessing the page via robots.txt file or if it is blocked from indexing the page via NOINDEX meta tag.
Click through "Show Google's cache of" link below the main result;
From there, click through "Text-only" version of that page (and find that link there).
(Step 2)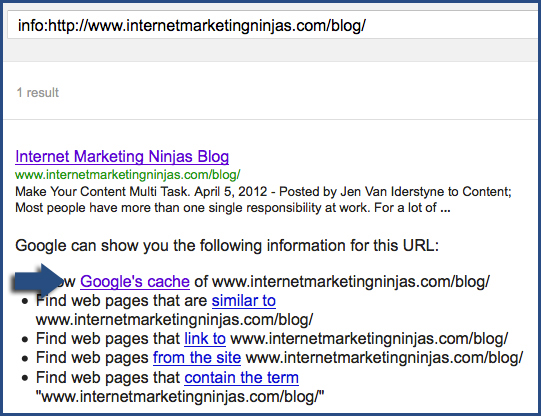 (Step 3)

(The "Text-Only" cache has been my favorite SEO browser for ages)

Tools!
Here are a few useful tools you can use to easier access the Google Cache of any page to find your back link there:
| | | |
| --- | --- | --- |
| Tool | Support | What does it do? |
| Google Cache Continue Redux | FireFox (through Greasemonkey), Google Chrome | This is an invaluable user script that lets you browse the whole website using Google Cache. It adds a yellow "cache" icon to each link in the Google cache. "Text- only" view is also supported |
| | | |
| --- | --- | --- |
| Tool | Support | What does it do? |
| Google Cache Tool | FireFox | This one automatically checks each page you are visiting to see if it was cached and when. It's a bit slow though (and with the recent update not always reliable but it seems to be supported, so let's hope all the issues will be fixed). |

| | | |
| --- | --- | --- |
| Tool | Support | What does it do? |
| Cache | Google Chrome | The extension adds a toolbar button that lets you quickly go to the cache version of he current page. |
| View Link in Google Cache | Google Chrome | As the name suggests, the extension lets you access the Google Cache version of any link from the context menu. |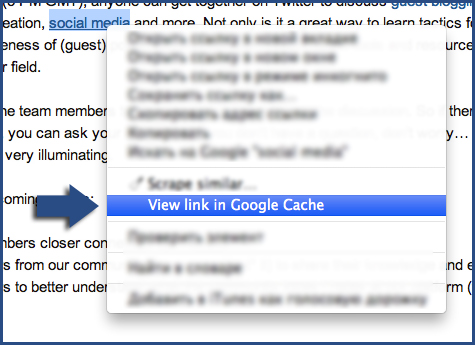 ---
2. Is There a "Nofollow" Attribute or Meta Tag?
The rel="nofollow" link attribute has been the reason for never-ending rumor and FUD in search and social industry. I for one have never done my own experiments but I am sure that nofollow links are used for discovery (which has been confirmed by Google reps). Whether it is used to influence rankings is questionable but the official statement is that it isn't:
And I am quoting:
"When we see a nofollow link going from one page to another page, we say: this link won't flow PageRank, it's dropped out from our link graph, it doesn't flow any anchor text as well, so essentially it doesn't contribute anything in terms of search engine rankings…"
A nofollow meta tag acts in a similar way but it does so for *all* the links on the page. Basically it says to a search engine: feel free to read the text but don't go where links are going.
So making sure the link is free from a nofollow tag AND the page is free from "nofollow" meta tag is my second must-take step in determining if that link is capable of passing any value.
What you can essentially do here is simply check the source code of the page (here are a few addons that make it easy and fun) or use the tools:

Tools!
Tool
Support
What does it do?
SearchStatus
FireFox
Detects both rel="nofollow" attribute and nofollow meta tag and highlights links where it finds them
Nofollow Eyes
Google Chrome
SEO Browser
Web-Based (ANY browser)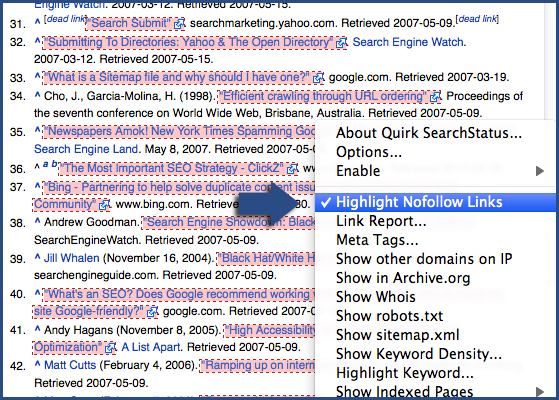 As simple as that!