A few weeks ago Chuck (my COO) and I were fishing out back with Stuntdubl until the wee hours of the morning while downing a few drinks, and one of the things that was brought up was the Domain Roundtable Conference that's in Seattle on Aug 12-15th (official info here). Todd had also blogged about this conference. I think he's hoping to make it…but last I knew he wasn't positive….
I know I'd love to go to that conference….Almost all of the sessions sound like music to my ears. Check out some of these excerpts from the agenda page.
"The Adventure Begins" This "must attend" class for new internet businesses and private domainers will explain all the tricks and tips you need to know about buying, managing and selling your domain. If you're new at this game, this session you don't want to miss!
Speakers: Nate Curran, GoDaddy.com; Matthias Mueller, NameDrive; Sean Stafford, DNZoom.com

Why you need to know SEO basics if you're going to build and maintain a successful website. A mandatory session to attend for those who want to know the true secrets of Search Engine placement and how they help you win online. For SEO professionals, consultants and business services. This event is for the beginners and the best of the best in SEO secrets and information.
Speakers: William Flaiz, VP, Avenue A | Razorfish; Aaron Wall, SEOBook.com; John Tompkins, Trellian.com; Dave Bascom , SEO.com; Dustin Woodard, AllRecipes.com; John Andrews

"Taunting the Big Kid or Keeping Your Lunch Money" The future of fighting TM C&D's and UDRP's, and how far the big corporations can go in claiming domain property.
Speakers: Brett Lewis, Esq.; Aaron Kornblum, Esq., John Berryhill; Microsoft Senior Atty; Jeremiah Johnston, General Counsel, COO, SEDO;

Monday night there's a Trafficz Wild Party night with a "body painting contest"….sounds wild!

"Content and How To Make It Work For You" Building out your domains can be a very lucrative auction if you have the right tools and direction. Having a website with powerful content and achieving repeat customers is a recipe for revenue! Learn techniques and get advice from some of the best experts in their field on domain buildouts.
Speakers:
Joe Davison, TechAnalyst.com; Stuart Wood, WIFI.com (Salient Properties); Frank Michlick, SharedReviews.com

"The Many Paths To Making Revenue" All domainers and website owners will discover the multitude of revenue paths available to them. You can and you WILL make money off your domain! From SEO and Buildouts to how to use auction and domain listing sites, this session will cover all the ways to make money with your domain!
Speakers:
Matt Griffith, eBusinessbroker.com; Joe Davison, TechAnalyst.com; Hal Bailey, Google.com; Ofer Ronen, Sendori; Frank Michlick, DomainCocoon; Chris Ambler, Enom; Yossi Goldlust, LookSmart.com;

"Marriage Made in Heaven" How SEO techniques include domains, and how domains add power to SEO.
Speakers: Todd Mintz, SEMPDX; Aaron Wall, SEObook.com; John Andrews
Also on the 15th Domaintools is holding the largest live domain auction ever.
The following week is Search Engine Strategies in San Jose California (I'll be on one of the linking panels)…and I'll be gone almost a whole week for that…..there's no way I can be gone the previous week as well…..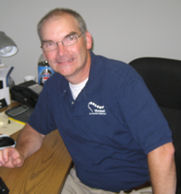 ….but I'm sending Chuck to represent We Build Pages there. Chuck has a handful of experience in domaining over the last several years. Chuck is also a Link Ninja, as well as he's my "right hand business man" and COO at We Build Pages.
If you're attending, and you see this guy, be sure to say "Hi Chuck!". Buy the man a drink and have a chat about SEO and/or domaining….you'll be glad you did!
Chuck also noted the Party on Monday night…as he IM'd me (from 15 feet away):
Chuck: See the Party? – "We are happy to announce TRAFFICZ's wild "Body Painting Contest" Party at the trendy SUGAR nightclub in downtown Seattle! The party is for a good cause, because it's a charity event for Michael Mann's Grassroots.org charity. Everyone will be bidding on the opportunity to paint 10 beautiful models and then vote on the winner! "
Chuck: this looks like a good cause – how much are you willing to contribute in support
Chuck: Of course the words We Build Pages will be prominent!
HaHa!….hum…could I pull some linkbait out of that? It is a business expense…..We'll see Chuck…man, I Really wish I could go.
Are you going?