Videos work great for content marketing for three reasons:
Certain demographics of users LOVE watching videos;
Videos open up more marketing channels (Youtube, Vimeo, etc)
Videos are highly engaging: People like sharing videos
Social media networks give your update an organic boost when there's a native video in them
Videos get your message across much more effectively than text
Your customers expect to find you on Youtube


---
Now, the days when video content was so hard to create that most people were just shying away are over. Videos are no-brainer now. When it comes to video tutorials and mashups, I am simply using iMovie (free easy time-saver). However, in many cases, you won't even need any desktop software.
There are some awesome online tools that allow you to create professional videos that will diversify your video marketing and let you experiment with genres, styles and types. The first one that comes to mind is of course Youtube Hangouts on Air.
But it's not the only one!
The following four tools are all freemium, so you'll have a chance to play for free first:
1. Animoto
Price: $8 per month (billed as $96 every year)
---
Animoto is a huge time-saver! Grab your screenshots and videos, choose (or upload your own) music, add text breaks – you are done! A new video is ready to distribute.

I like using it for screenshot showcase (for tutorials) and for summing up discussions, hangouts, etc but I am sure there can be lots of other ideas (this about weekly user photo showcase, testimonial showcase, etc. etc.)
The cheapest plan allows you to  create custom videos that will have Animoto logo at the end.
Animatron was the first tool I ever used for creating videos and content re-packaging, therefore it is listed #1 in my list.
2. Powtoon
Price: $19 per month ($228 billed annually)
---
Powtoon is a freemium tool to create animated presentations and video instructions. The best thing about this tool is that it lets you create video instructions that grab attention and have huge viral potential as opposed to traditional step-by-step video guides.
It has lots of templates with different mascots:

There are lots of available elements inside: Characters, animations, text affects, image holders, etc. The free version will keep its watermark on the final version.
Powtoon is awesome for creating concept explanations, fun tutorials and even promo videos.
The PRO package gives you 2 GB of storage. There are higher-tier plans available if you need more.
3. Wave.video
Price: $39 per month
---
One of my recent favorite tools, Wave.video by Animatron has one of the easiest and user-friendly interfaces. It claims to have 200 million stock video clips, lets you import your own assets and allows you to instantly resize your projects and ads to 30+ popular formats to fit your favorite social media platform. You can mix and match stock content with your own media and add stunning transitions between the clips.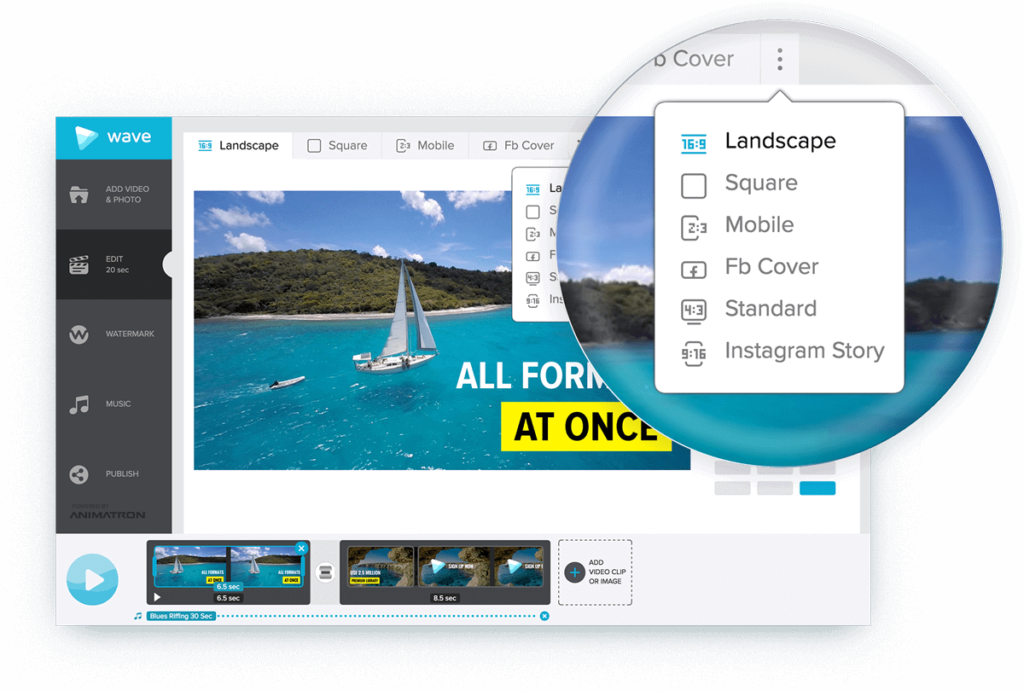 The PRO package allows you to create videos which are max 5 minutes long (which will be enough for most cases). If you need to create longer videos, you'll need to select a more expensive package.
4. Biteable
Price: $23 per month (billed $276 annually)
---
Biteable is a new tool that allows you to easily put together all kinds of videos, like ads, explainers, presentations and social media content. They offer a solid collection of templates, backgrounds and music allowing you to create original videos "in minutes". You can also upload your own images to customize the look and add your own branding.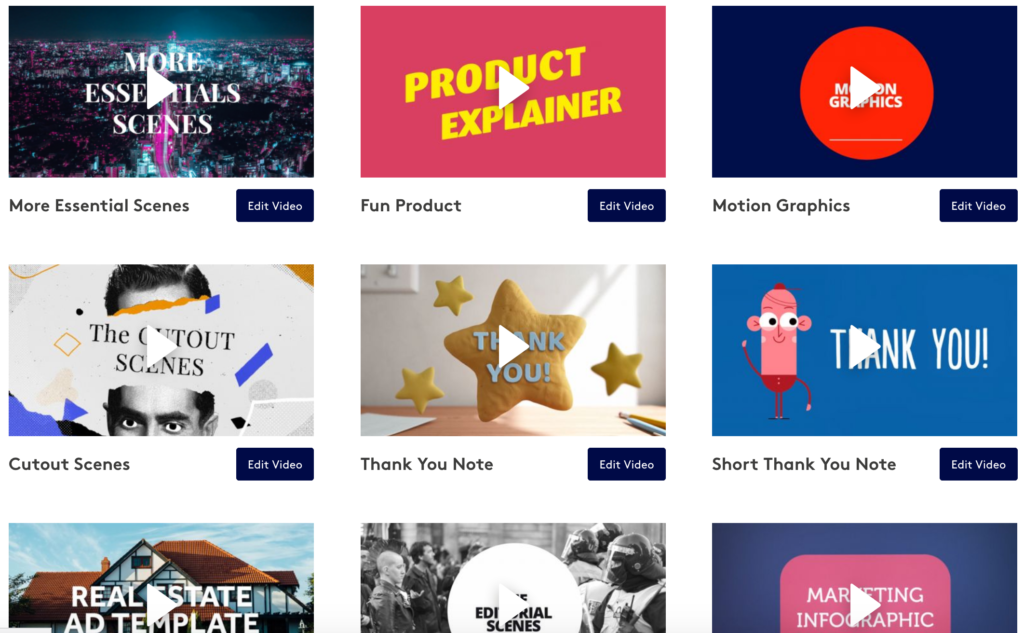 Are there any other time-saving video creation tools you are aware of?