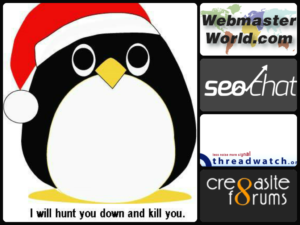 It's been a snowy week for the Ninjas in upstate New York, but the conversation's been heating up on our forums.
According to Google: Penguin 3.0 is continuing
One of the most engaging threads on the board, with over 50 comments there is little in the Search World more interesting that what Google is doing with Penguin updates now and in the future. The latest iteration, Penguin 3.0, seems to be continuing to roll out causing after affects good and bad for many sites. Whether the latest iteration brought good news or bad for your site, after seeing over a year hiatus between the last Penguin refreshes, there's something oddly "refreshing" about seeing so much activity after such a long waiting game.
Google Penguin is Confirmed to Be a Continuous Thing Now
On another Penguin related note and more good news about no more waiting, Penguin has been confirmed as continuous. As Penguin become more integrated into the regular algorithm there's a chance that remediation efforts have a better shot at working more quickly. On the flip side of course, any risky link behaviors have a good chance of being caught and punished faster too. Because of the rolling nature Penguin related losses can now be harder to spot and diagnose. So for safety's sake, it's still a good idea to keep those link building campaigns above board.
Bing Talks Content Quality as Primary Ranking Factor – what can we learn?
Bing has come out talking about how they determine Content Quality and what kinds of content they are looking to rank well. While Bing may not be a huge focus in your online marketing, a lot of what they consider valuable sounds strangely familiar. It feels as though authority and usefulness have come up before in the discussion about improving traffic through organic search… hmm… Get the more insight on how Bing is treating content here, and through the links included to the Official Bing Blog and an article on Search Engine Land examining the topic further.
Bots: Not just killing your CTR but also your PPC budget
Apparently there have been some bots on the loose wreaking havoc in the PPC world. A Association of National Advertisers (ANA) public study reports that "advertisers could lose as much as $6.3 billion to bot fraud next year". With marketing budgets always under close scrutiny if you have any invested in display ads, this drone activity should definitely be on your radar.
Trapit & Addvocate merge while SugarString is killed
Some activity in the world of content marketing this week as two platforms merge to expand their offerings while Verizon's SugarString takes a dirt nap after only 2 months . The question remains whether smaller entities can capitalize on content marketing if big brands are struggling to make it work. In any case, a big Mozel Tov goes out to Trapit and Addvocate and RIP to SugarString.
Google Survey: 56 pct of All Ad Impressions Are Not Seen
A new survey from Google indicates that just because an ad shows up, that doesn't mean its seen. It also shows that the most visible positions are not surprisingly above the fold, but in an interesting twist, perhaps the very top spot is not optimal either. If you're spending ad dollars on Google PPC check this out to get a clearer picture of where you want to be for the best chance at getting eyes on your paid ads.
Negative SEO without Backlinks
Ann Smart comments on a lees common type of negative SEO that doesn't involve links. With negative SEO being a sort of Chupacabra in search (Is it real? A lot of people have claimed to see it), it's startling to see yet another way of going after competitors. Something like this can be incredibly difficult to diagnose, so if you've recently seen some crazy activity, see if these trends match what you've experienced. But seriously, isn't time we all took the high road? How about being the best we can be instead of trying to bring others down. Simple Playground rules here people.