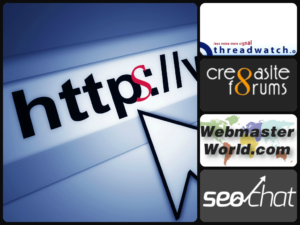 Security pops ups as a common theme in discussions this week on a few different levels. Talk of website security has been on the front burner since Google wrote about HTTPS as a ranking factor. Other issues of security, choice and prosperity have emerged this week as interesting topics for debate and discussion.
Google Proposes Chrome Browser Marks HTTP Site it Shows as Non Secure
The distinctions between secure and non-secure can be as innocuous as an S in the URL and a lock icon in a browser. This proposed change for Chrome would introduce a much more obvious delineation between Secure vs. Non-secure sites. But if Non-secure" does not mean the same thing as "unsafe" could this new move frighten off users without good reason? That seems to be the general concern of commenters who question how slippery this particular slope could become.
Not-for-profit Lets encrypt advocates for methods for encrypting web traffic to be free and easy
With security changes like those proposed by Google for chrome in the mix, a not-for-profit is offering encryption options that might work for many. According to the "let's Encrypt" website, their program "automates away all this pain and lets site operators turn on HTTPS with a single click or shell command". With some big name sponsors on board, this kind of service could contine to garner support.
Polygraph Tests For SEOs
With a whole different angle on security one SEO Company has introduced a polygraph test into their employment process. The concept continues to hornets nest that surrounds the of establishing trust and ethics in the world of SEO. There are numerous opinions on both sides of the debate and this action represents one more wasp in the hive.
The difference, or lackthereof, between ads and content
A step away from the issues of security but solidly in the realm of issues worthy of healthy debate comes a question of Content vs Advertising and the question of whether or not advertisements can be considered content. The conversation is sparked by an article in marketingmagizen.co.uk that posits "What is content, what is an ad, and is it possible to draw a clear distinction?" Can advertisements rise to the level of quality content? Can content be as insubstantial and annoying as advertising? In a search market flooded by both, with the stream only growing could the line eventually become blurred beyond recognition?
Facebook Introduces New Call To Action buttons for business pages
As Facebook develops different ways of dealing with business pages, a new option has arrived that will allow businesses on Facebook to include more direct Calls-to-Action in their profiles. With options like "Book Now", "Contact Us" and "Sign Up" among others, companies have another exciting way of looking for a return on investment from this channel of social media marketing.
Facebook Drops Microsoft Web Search Results
In other Facebook Related news, the juggernaut social network has decided not to include Bing's Search engine results on their site. This comes with a along with a re-vamp of Facbook's own search offerings that include a tool allowing users to more efficiently locate past comments and posts form friends. Many find this latest move as a further indication of Facebook's growing interest in the expanding their own search technology.
On the international stage it looks like Google news could be taking a permanent siesta in Spain. A new Spanish law requires publications to charge services like Google News to even show small snippets of published content. The new policy is not sustainable for Google News, who currently makes no profit on their News service causing them to close down Google News in Spain. As of December 16th, It seems no news really is no bueno news for Googlers in Spain.
If any of these issues got you thinking, be sure to drop your comments on the thread. Here's hoping everyone has secure and happy Holidays!