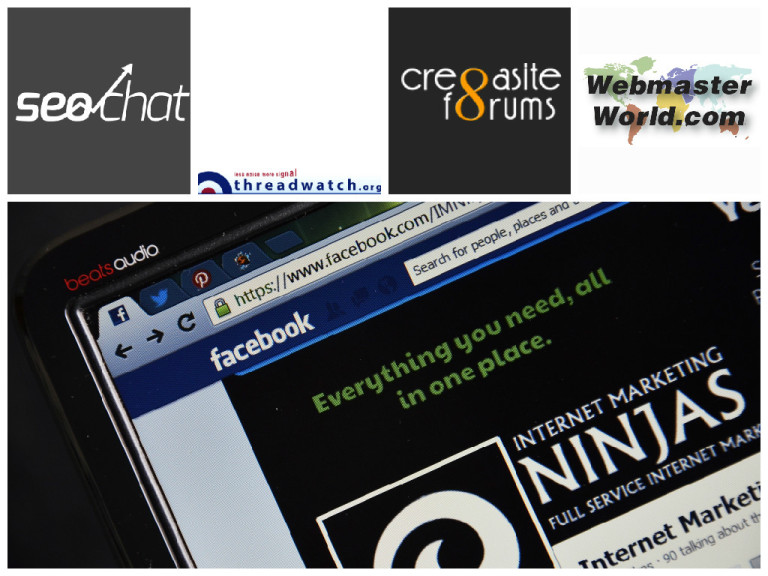 Welcome back to another update from our amazing communities!
If you took a break from the news this week then, phew, you missed a lot! But don't worry, we can get you caught up.
DMOZ, a household name among SEOs, will be shutting down on March 14.
Google has been busy as well – they released some new benchmarks for mobile bounce rates and discovered a new vulnerability in Microsoft Internet Explorer and Edge.
On Threadwatch, we have news highlights from Aaron Wall's blog about the future of organic search and the recent drop in DA that many SEOs noticed. Let's dig in!
RIP DMOZ
DMOZ, or The Open Directory Project, will be closing down on March 14. It stood for years as the "last bastion" of big directories. Directories used to be all the rage back in the day – but DMOZ closing kind of makes it seem like that light has finally been snuffed out.
Even DMOZ today isn't what it used to be, though. Link-building via directories has been an exercise in futility for a long time. Still, writes SEO Chat member KnowOneSpecial,
"That is a shame…a hallmark directory closing…end of an era."
But they also write,
"Now who is going to buy it and resurrect it from the ashes. That is the question…a ton of authority and links tied to that site."
ThomasHarvey points out that Moz once attempted to buy it. Dzine speculates that
"It can hardly have been the cost of keeping the domain and hosting up,"
that led to DMOZ being closed.
"So…it must have been the cost of abundant…traffic. Hmm, I wonder if someone could have done something with that…"
Chedders has the last word, though:
"The writing was on the wall for directories 15 years ago, it's just taken longer than I thought at the time to actually happen but nobody is going to go to a site just to look up a telephone number any more, they will simply use Google…It's a changing world and if users don't use these sites then there is only one outcome."
Mobile Page Bounce Rates and New Benchmarks
Google has a new tool that will tell you exactly how mobile friendly your website is. You can compare yourself to a variety of industry benchmarks – it's quite comprehensive! Google also released some interesting statistics about the relationship between bounce rate and load speed. If your site takes more than three seconds to load, the odds of a user bouncing increase dramatically. WebmasterWorld's admin, engine, writes
"It was also interesting to learn that Google discovered that 70% of pages were more than 1 MB, 36% over 2MB, and 12% were over 4MB."
Forum member aristotle writes that it's dumbfounding that pages could be so big.
"Some of these sites deserve a high bounce rate if their creators do such a lousy job."
Dimitri plugged some big ecommerce sites into the new tool and found that many of them had poor scores.
"I wonder how it's impacting their sales from mobile…"
Smilie speculates,
"Not by much. Mobile traffic is, essentially, two-fold: look but not buy, and 'fake users' bots."
What do you think? It sounds like even after Mobilegeddon, and with the release of so many new tools, mobile browsing is still not respected, understood, or cared for by many webmasters and normal viewers alike.
AMP Update: Yes? No? Maybe So?
Ah, here's Google's other mobile darling! The members of Cre8asiteforums are talking about whether they've made the jump to AMP yet. You'd be surprised – it sounds like AMP is just terrible overall.
"I am not touching AMP," writes EGOL. "When I use Google News from my iPhone the AMP pages work badly. Backbuttoning often doesn't work. They often load blank and I am snarling. If my site worked like that Google would drop my rankings."
Grumpus says that it depends –
"Unless you are dealing with a news or syndication service – the answer is no."
And, of course, iamlost has some great data and statistics that you need to see!
Aaron Wall on Google Squeezing Organic Out
One of our Threadwatch contributors recently shared an older article by Aaron Wall. They write that it's worth reading again, in light of recent changes to Google SERPs and other Google updates.
"It is not an accident that Google funds an ad blocker which allows ads to stream through on Google.com while leaving ads blocked across the rest of the web,"
writes Wall. Definitely check this one out – and share your comments with other Threadwatch readers!
Google Exposes IE and Edge Vulnerability "Type Confusion Flaw"
Microsoft has some major bugs on its hands! Google discovered them, and under their 90-day disclosure policy their report has now gone public.
That means that the bug has not yet been fixed – so, if you're curious, take a look at this thread on WebmasterWorld all about it! Microsoft delayed their February patch for unknown reasons – some are wondering if it was because of this very bug.
Large Recent DA Drop? Possible Causes Explained by Rand Fishkin
Here's another Threadwatch report! A bunch of webmasters noticed a big drop in their DA scores recently. Fishkin explained it in two ways – first, the index is getting bigger and so, naturally, scores are becoming "stretched" and decreasing naturally for some people. He also said that
"We crawled some weird stuff in this index, by mistake (or rather, because spammers built some nasty, deep crawl holes that Google probably didn't fall for but we did). A ton of odd domains on strange ccTLDs were seen, and crawled, because they gamed PageRank with lots of sketchy links."
On Threadwatch, member GrowMap also speculates that
"…keep in mind that Huffington Post went nofollow in mid-November 2016 so the impact of that would have hit around this update. Huge sites going nofollow…would have a domino effect."
Facebook Tests Ads in Publisher Videos
Mid-roll ads are being tested by Facebook with a small group of U.S. publishers. The revenue from these ads is actually being split between Facebook and the publishers, 45 – 55 with publishers taking home the larger portion. There are two conflicting opinions on WebmasterWorld. Forum member mack writes,
"I think this is something Facebook need to do if they want to host video content…If a content creator can get paid via AdSense for putting his/her videos on YouTube, why would they use Facebook?"
Meanwhile, thedonald123 writes,
"I can't imagine Facebook paying smaller publishers…I think it goes against everything Facebook stands for which is essentially that FB, Instagram, Messenger, and whatsapp are the Internet and you pay to reach our users…Why are videos worth money and creating a meme on your FB page and having it go viral…is worthless?"
What do you think?