We all know how making the good first impression is important for everything; in search and social marketing a search snippet is what makes that first impression.
A snippet is what we first see in search results and social media streams, it's what makes us click or re-share…
Since many people don't realize what a search and social snippets consist of, here's an all-in-one guide for you to hand to the clients or use for yourself:
---
Google Search Snippet
[Update: Just a week or so after this post Google tweaked the snippet a bit. There's no longer "More articles by" link]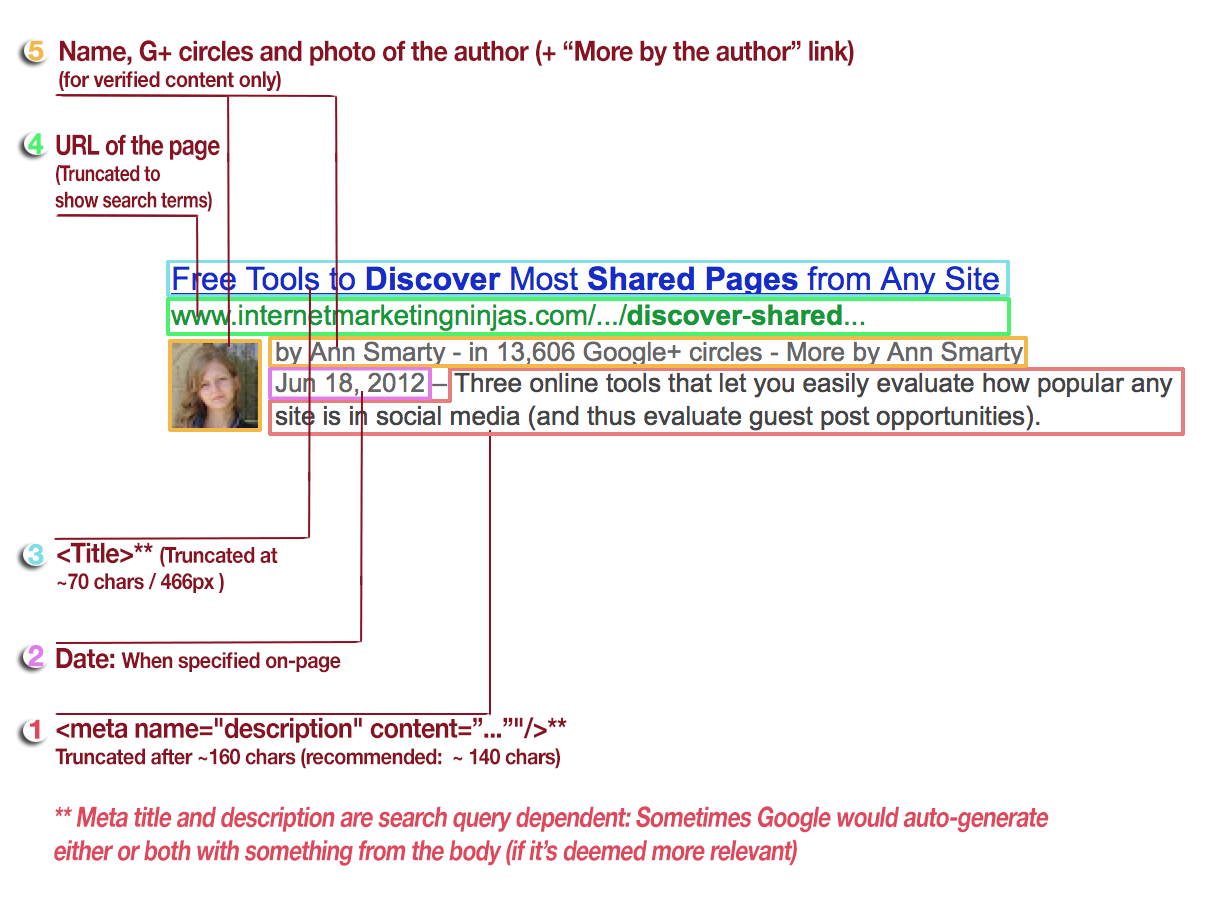 <Title>** (It's truncated at ~70 chars / 466px )
<meta name="description" content="…""/>** (The description is truncated after ~160 chars (recommended: ~ 140 chars))
URL of the page (It's usually truncated to show search terms which is an argument in favor for "meaningful" URL structure)
Name, Google Plus circles and photo of the author as well "More by the author" link (for verified content only)
Date is generated from the page (not always correctly)
** Meta title and description are search query dependent: Sometimes Google would auto-generate either or both with something from the body (if it's deemed more relevant)

Tool alert! By testing, it has been identified that Google doesn't count characters when deciding which part of the title to truncate. Instead, it's counting pixels. Use this tool to see how long your title is in pixels
Note: "Jump to"
A more seldom case is seeing "Jump to" links within the description of the listing. This is an "Additional" link that brings you down the page straight to a more relevant section of the web page (depending on your query). These links are triggered from on-page "Anchored links":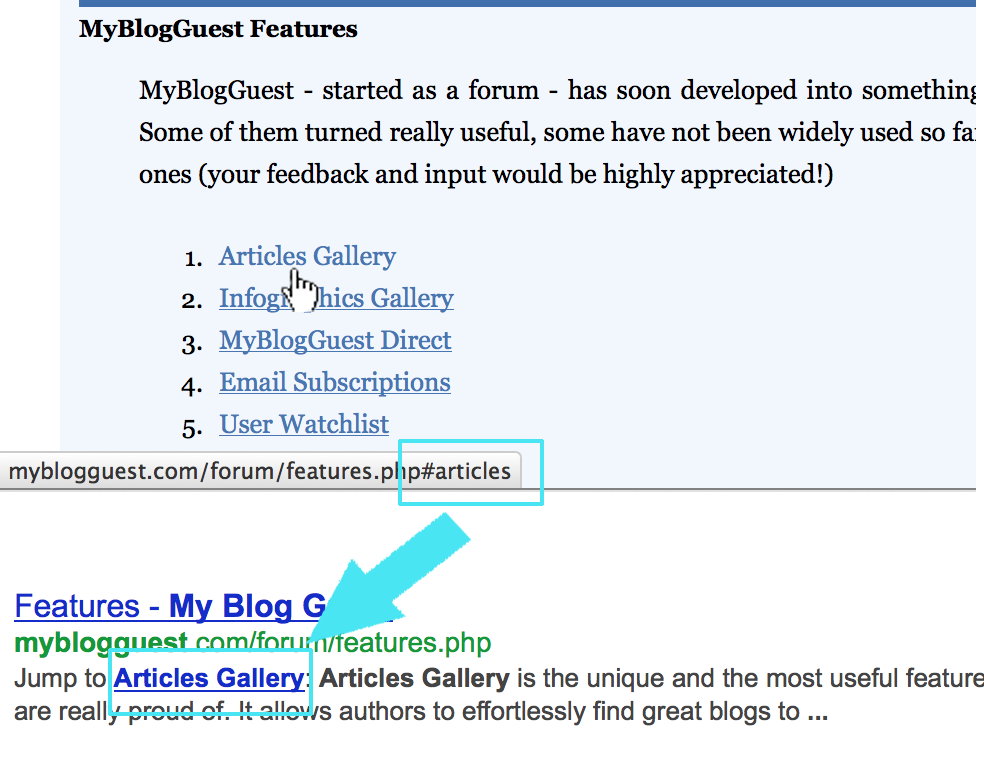 ---
Bing Search Snippet
Bing claims to support all sorts of structured data for rich snippets but in reality rich snippets are not that often in Bing: Mostly rich snippets are generated for huge sites like Youtube, Yahoo! Answers, etc. Regular listings are rather plain (even dates in search results are much more seldom than in Google).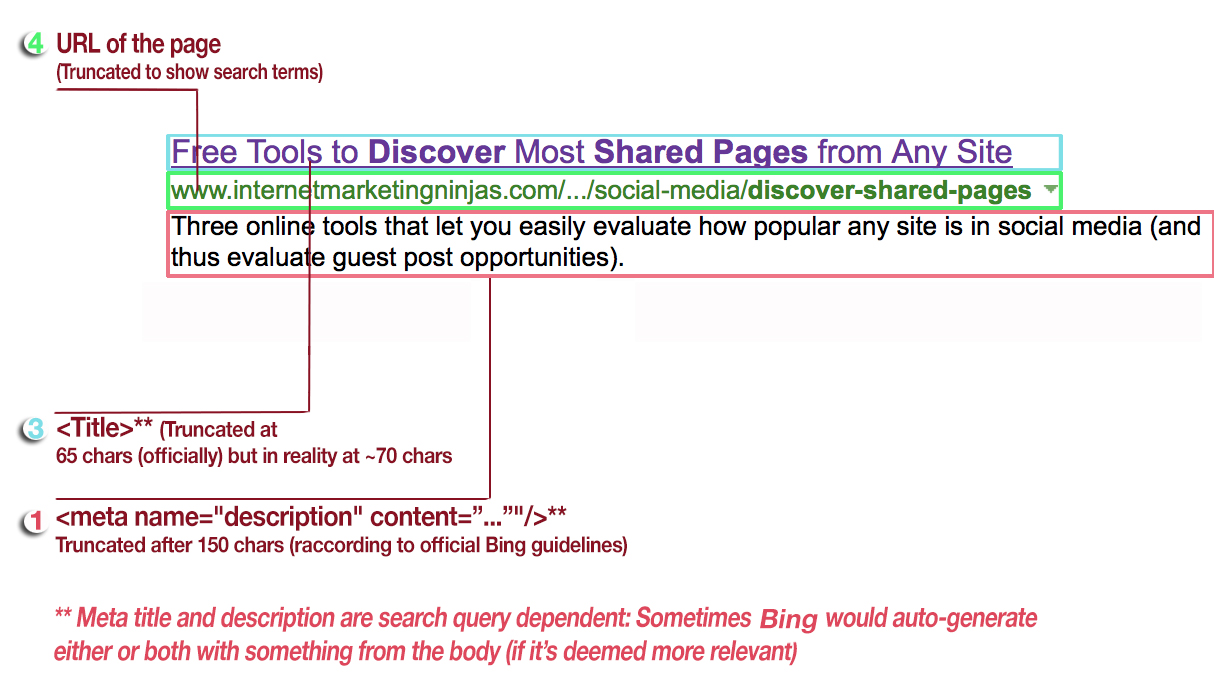 Bing has also started showing faces in search: But those faces belong to the people the articles are about rather than the authors (Photos for the "Subject of the article" in Bing versus "Authorship" photos in Google).
---
Search: Rich Snippets
Both Google and Bing rely on structured markup trying to give their users more information within the SERPs.
Google supports rich snippets for these content types:
Reviews
People
Products
Businesses and organizations
Recipes
Events
Music
The recommended markup for rich snippets is Microdata.

Tool alert! Both Google and Bing have tools helping you preview your rich snippet (warning neither of them guarantees your search snippet will look that way. They simply scrape the structured markup from your page and show if they can read it):
Schema.org generators at SEOchat
Bing markup validator (available after you sign in to Bing Webmaster Tools)
Here are a couple of examples of rich snippets:



---
Social Snippets: Google Plus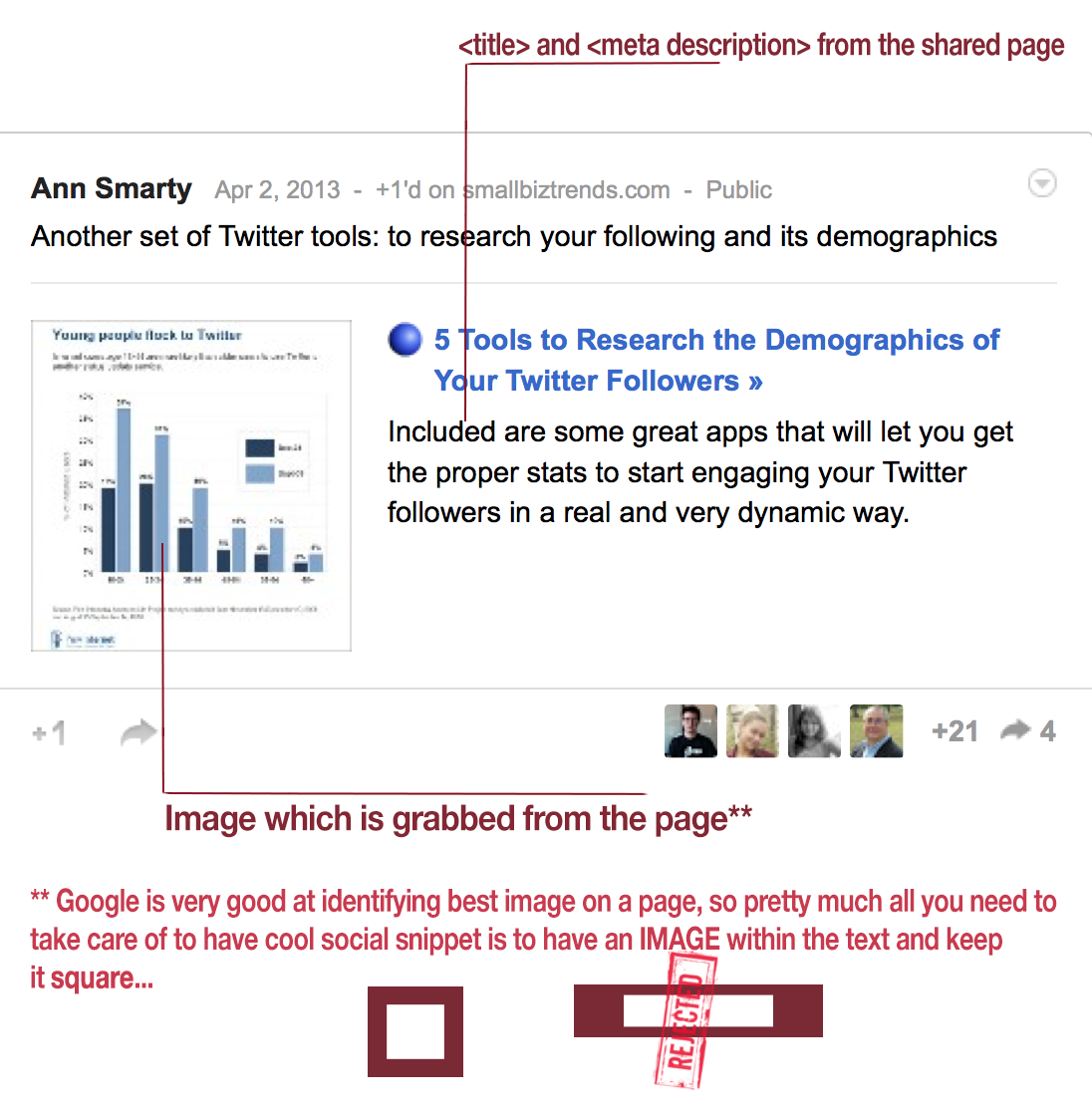 Google supports a wide variety of markup when generating Google Plus snippet including Schema.org, Facebook's Open Graph protocol and regular meta description and title.
---
Social Snippets: Facebook
Facebook is not that good at finding a good image, so unless you take care of pointing it to one, you may see some random button or banner make it to your users' Facebook updates.
I did a post some time ago about WordPress plugins that force Facebook to grab the best image from your articles, so just pick one and you are good to go!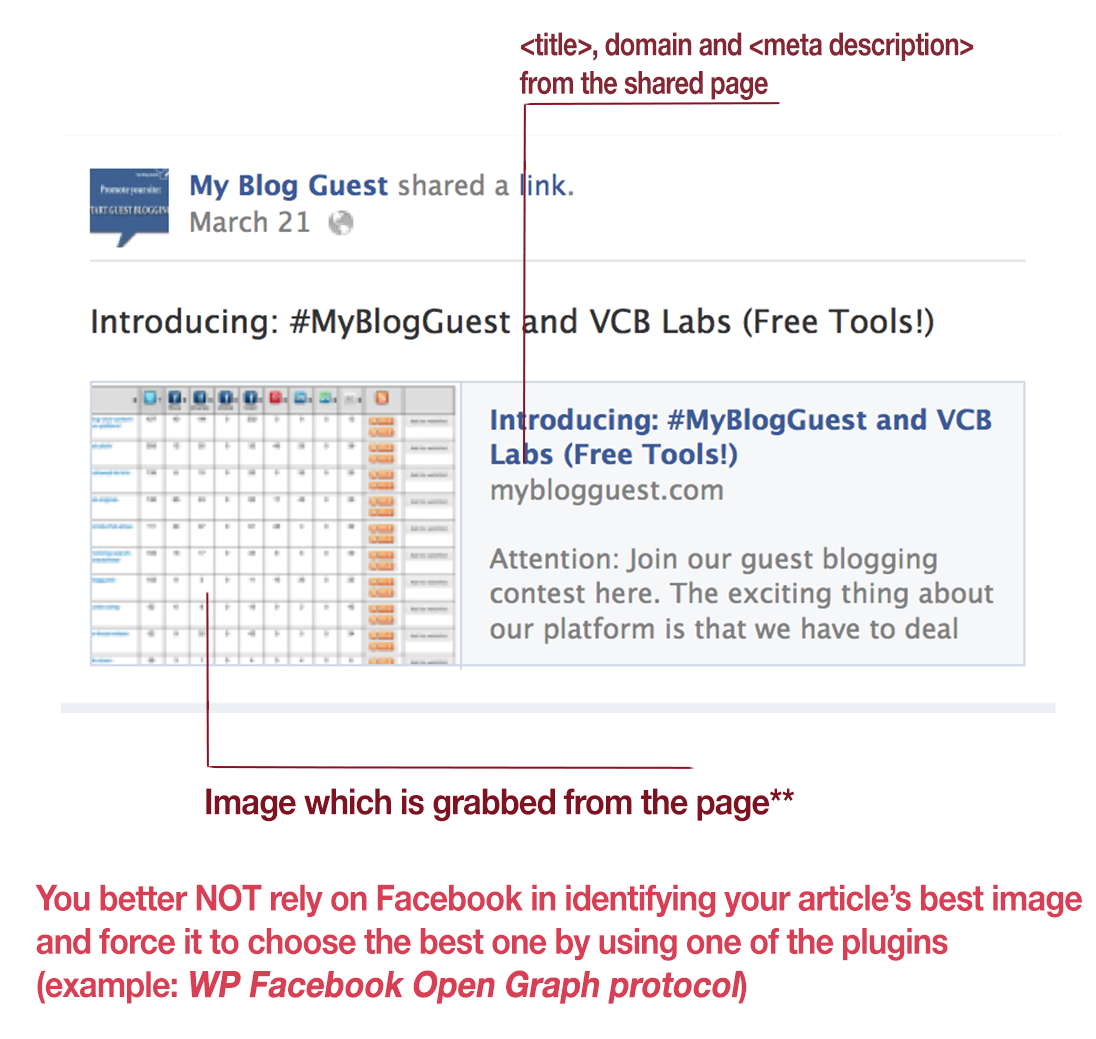 ---
To sum up: