The search engine optimization landscape has changed significantly since I originally became an "SEO" about fifteen years ago. The "good old days" of the late 1990's, which were remarkably profitable to me as an early affiliate marketer, have been replaced by increasingly more complex algorithms and constant updates (think Flo-ri-da, Panda, Penguin and too many more to type).
Despite the perceived obstacles and land mines, the SEO industry continues to evolve and thrive. Indeed, there has never been a more critical time for businesses of all sizes to invest in SEO as a primary and quinessential Internet marketing strategy.
For those of you that are not familiar with my work, I'm the founder and former President and CEO of Pepperjam (acquired by eBay) and the Chairman of Internet Marketing Ninjas (detailed bio here). I'm the author of the best-selling book "SEO Visual Blueprint" (Wiley – 2008, 2010, 2013), which has sold over 50,000 copies. Most recently I wrote a digital-only book on Local SEO and founded a technology company called ReferLocal that focuses on local internet marketing and e-commerce.
This post kicks off a new monthly series here on the Ninja Blog focused exclusively on "Local Search Engine Optimization" or LSEO as I like to call it. My primary outcome for this series is to help you better understand and benefit from higher local organic search rankings. My writing style is step-by-step or how-to, which tends to resonate best with novices and intermediate-level Internet marketers and SEO's. Based on experience my approach also fetches very positive feedback from business owners and entrepreneurs that don't have the time to read one of my books or spend the requisite time to become an SEO Ninja. As for my fellow SEO Ninja's I won't forget about you as I intend to do my absolute best to keep your interest by sharing some advanced tips and strategies that I hope will add meaningful value to your business or career.
"Repetition is the Mother of learning." – Tony Robbins.
Let's get started with an introduction to Local Search Engine Optimization…
Local Search Engine Optimization or LSEO for short is the process of optimizing your Web presence for local search engine ranking. Note that I specifically use the words "Web presence" versus "Website" to distinguish one of the unique aspects of LSEO strategy versus traditional search engine optimization – namely that LSEO is driven primarily by Google's emphasize on "blended" search engine results, which incorporates a number of non-website characteristics, including user reviews and business information into Google search results. That's right – you don't even need to own a website to get ranked on Google – all you need is an optimized Google+ Local page.
Yep – that last statement is fact. I'm not recommending it per say (you'll need to read future posts to better understand why), but the truth is that Google has created its very own Internet ecosystem called Google+ that allows anyone, including businesses, to create their very own Google + page and essentially have all the bells and whistles (almost) that a small business needs to generate business online. More on Google+ and how to set it up and optimize it in a future post.
Understanding Google's "blended" search algorithm is a really big deal if you want to rank well on Google for local search.
Here's a quick example of Google's blended search results for the keyword "attorney" searched from Wilkes Barre, PA in late August 2013.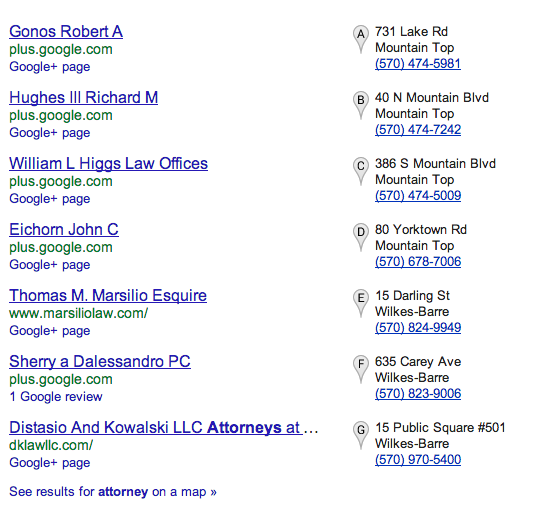 Let's make a few observations about the above local search results from Google.
The top 4 results are all Google+ Local pages. I'm not kidding – take a looksie. These folks don't have websites just Google+ Local pages. Go figure!
If the business has a website Google will list both the website and its Google+ page. It's interesting to note that all of the above listings have a Google+ page. That's not always going to be the case, but it is here.
All results include local phone numbers and local addresses. Note that a (consistent and accurate across places) local # and local address is essential for avoiding the Google penalty box. I'll share some additional introductory best practices on avoiding negative ranking factors below.
All of the results are within about a 20 mile radius of the location I performed the search (Wilkes Barre, PA).
Google indexes reviews and highlights them next to local search results (if they are available)
Google provides access to see all businesses on a Google Map. (Think about implications on mobile, which is growing much faster than Web let alone the importance of your local business showing up on the map exactly where it's supposed to show up).
As you can see, getting ranked in local search requires that you think differently about SEO. The rest of this post focuses at a high level on the topic of Local SEO and sets the stage for the specific LSEO sub-topics that will be covered in more advanced depth in future posts. I know I keep saying "future posts" but I'm doing that strategically because I don't want to lose you in this initial "introductory" post and want to keep those of you that are more advanced committed to sticking with me through this series.
---
It all starts with a Google+ Local, not a website
If you do not have a Google+ Local page (formerly a Google Places page) click here to get one right now!
Having an optimized Google+ Page is central to ranking high in local search results on Google. If you want to rank at the top of local search results you must commit to building and optimizing a Google+ Local page for your business. In my opinion, an optimized Google+ Local page is a top three most important factor used by Google for purposes of ranking your business in local search results. For purposes of ranking your business Google takes into consideration the content you have on your G+ page, including place / geography information (name, location, phone number), the category you select to define your business, reviews (native Google+ reviews and 3rd party reviews like Yelp and CitySearch), engagement with your page (by effectively telling your story through well written copy, sharing content and links, uploading interesting photos and value videos), and more. Post #2 in this series will provide you with specific instruction on how to create and optimize your Google+ Local page, but don't wait for me to claim your listing!
---
Generate Lots of Quality Business Reviews
One of the most important ranking factors for purposes of local search is the quantity, velocity (how often the reviews come in), and quality (score) of your business reviews. Business reviews – what! Yep – taking active steps to generate (high quality) reviews is not likely on your immediate "to do" list, but I'm confident ranking higher on Google is. Therefore, we must learn some tips and strategies for getting more reviews on Google (referred to by local SEO's as "Native" reviews) and other relevant 3rd party review websites (Yelp, Citysearch, etc). The good news is that I will share some strategies with you that won't require you to do much more than you are already doing. For instance, I'm fairly certain that you have many clients that absolutely love your products or services and tell anyone and everyone that is willing to listen how awesome you are! Client evangelists are great folks to ask to write a review for you. I'll get into some detail about generating lots and lots of quality reviews later.
---
Don't Ignore Social Media Signals
Google appears to be increasingly looking at "conversations" (aka signals) taking place about your business in social media (Twitter, Facebook) for purposes of search ranking. Let me be clear – in my opinion, social signals have not yet become a top three (3) ranking factor (feel free to debate in the comments below), but there does appear to be enough of a basis to make absolutely certain that you aren't ignoring social. In fact, for purposes of doing everything you can to rank higher on Google you need a smart and active social media strategy. I intend to help you with social.
---
Links and Local SEO
There's a lot to talk about here, which I intend to cover in an in-depth upcoming post in this series. However, for now and as a precursor to a larger and more meaningful discussion later, Local SEO links do indeed matter, but not as much as they do for purposes of ranking in Google's general (non-local) search results. At the same time, links (especially from high authority websites local to your business like your local newspaper, Chamber of Commerce, Educational Institution, etc.) can make a profound difference and help you dominate local rankings fairly quickly if you also optimize other relevant LSEO ranking factors. If you can get links from local websites in your geographic region of business by all means get those links!
---
Build Lots of Highly Specific Localized Content
While it's true that you don't need a website for purposes of ranking your business in local search results on Google (all you need is a Google+ Local Page) there's at least one reason I recommend having both a G+ page and website – Content is King and you have more flexibility (at least for now) in building out specific content pieces on your website vs. Google+. It's also much easier to build linkable assets (content pieces you get others to link to) on a website versus a G+ page. There's more reasons, which I'll cover later.
One of the most obvious things about optimizing for local search is that there is less competition. There are a fixed number of lawyers, Italian restaurants, HVAC professionals, chiropractors, and other types of local and professional service businesses in YOUR community than there are across the country. The nice thing about this reality is that building out specific content can really separate you from the competition. For instance, if your are an Italian restaurant you can build out specific localized content pages about each of your specialities, any special tips unique to Italian dining in (Your Town), show stopping popular recipes in (Your Town), testimonials focused on specific dishes in (Your Town), etc. If you are an attorney you can build out specific local optimized content for each of the areas of legal services you provide, including Personal Injury Attorney in (Your Town), Bankruptcy Law in (Your Town), Matrimonial Law in (Your Town), etc. You get it and we'll deep dive into content just like Greg Louganis hitting the water from 10 metres.
---
Become THE Authority in Your Area of Expertise
In every community across the Globe there is a "best contractor," "best plumber," "top bridal shop," "Top SEO," "#1 landscaper" and every other possible conceivable perceived local business authority. For purposes of ranking high in local search results on Google you need to convince Google that your business is the best! However, just because all your friends and family believe you are the best doesn't mean Google is going to get it. Therefore, for LSEO purposes there are some really smart, strategic things you can do to convince Google of your authority. For instance, you can create a resource center on your website and give away a lot of free content, like white papers, interactive FAQ's, definitions of commonly misunderstood words unique to your profession, a blog with posts from your Owner / CEO and other relevant experts / guest bloggers, get recognized by Google as an author, and more. The point is that convincing Google that you deserve to be #1 may take some work and creating high authority pieces of content and BEING the authority you want to be perceived as can make a big difference over time.
---
Remove Negative Ranking Factors
It's very possible that if you take decisive action on all the tips and strategies I share with you as part of the Ninja Local SEO Series but fail to Avoid Negative Ranking Factors you'll be left scratching your head with very little to no organic search traffic from Google. Google is not human. Google's technology and search algorithms are smart, but since they can't actually think (not yet) it is very easy for the algorithms to trip up and local search is one of the primary areas Google often has problems validating important information about your business. Don't ever forget that Google isn't human as you optimize for local search.
The most common negative local ranking factor is inaccurate, inconsistent and / or duplicative NAP information about your business. NAP refers to "Name" (aka your business name / entity), "Address" (if you have multiple locations Google requires you to take specific steps to differentiate the locations – repeat after me – Google is not a __________), and "Phone Number" (your local number, not an 800 number). We'll go into detail about this later, but in short you need to make sure that wherever your business is mentioned (especially on your website and in business directories like Yelp, Merchant Circle, ReferLocal, Facebook, etc) that your NAP information is accurate and consistent.
Other negative ranking factors which can torment your local SEO efforts include negative sentiment / scores on Google+ Local and other 3rd party review websites, duplicate pages with the same or similar business names and addresses, and listing your 800 number as the only contact number across local data sources such as business directories.
---
Tying it all Together
Local SEO isn't hard per say, but it does require dedication and resources (mostly time). As you've learned from this post there are several things that make Local SEO unique versus traditional SEO. For instance, generating quality reviews can make a big difference in the success of your business on Google. Google's acquisition of popular restaurant review service Zagat in 2011 is a clear testament to the importance Google places on reviews for the purposes of search. Moreover, getting links from local places in your community is important strategically because it sends Google the right signals about your authority in your specific location. Taking specific and decisive action to strategically build localized content and position yourself as the clear authority in your profession in your specific neighborhood can really change the game for your ability to generate business from Google. However, your LSEO supremacy can all come tubbling down if you don't avoid negative local SEO ranking factors such as consistent NAP information across all places and citations on the Web.
Stay tuned for my next post, which will be a deep dive into building an optimized Google+ Page that can shoot you to the top of Google's local search results even without a website.
If you feel like you have poison ivy all over your body after reading this post and are itching for more (aka – you just can't wait for my next series of posts – lol) please stop your itching immediately by downloading my Local SEO book from Amazon. This way you'll be locked and loaded to becoming a Local SEO Ninja by Halloween if not sooner. Boo!
Bye for now. Stay in touch with me….
Follow me on Twitter – http://twitter.com/krisjonescom
Like me on Facebook – http://www.facebook.com/kbjcapital
Connect with me on LinkedIn – http://www.linkedin.com/in/internetceo