Location based pages are a very big part of many many web sites but so often, these tend to be neglected pages and their ability to rank is far less then primary category level landing pages. Below are several quick tips on what to do and what not to do when it comes to giving your location based pages the opportunity to rank.
---
1. Invest in unique content for these pages
Unique content is critical for your location based pages. Also avoid fill in the blank content for your locations based pages. Also, avoid extensive repetition of phrase varitations for [location] keyword. Especially since the penguin update, doing this is risky.  The image below illustrates the type of content strategies to avoid:



Here is an example of better resources: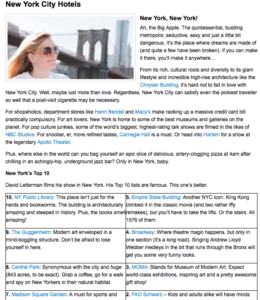 ---
2. Make your location based pages good landing pages
Take a really hard look at your template for your location based pages. Is the template you have set up for these pages adding anything to the users experience? consider adding a live chat option, your phone number, and some trust symbols. You can also inlcude addins like Google maps or the weather, depending to the type of business or content of your pages.
---
3. Add secondary calls to actions
Adding secondary calls to action can really help you boost the value from the traffic these pages are already sending. Beyond just having your phone number on hand, consider adding in an option for visitors to join your newsletter or enter a sweepstakes.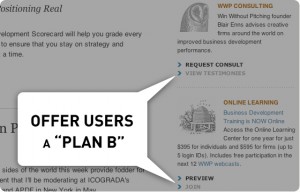 ---
4. Improve internal linking of location based pages
Link or to other nearby pages. This helps drive visitors deeper in your site and also helps equity pass across your website as well. Also, make sure you're using breadcrumbs on these pages. Using breadcrumb navigation becomes especially important on these pages because the visitor is landing deeper on the site.