According to Wordstream, by 2019, 80 percent of the global web traffic is going to be video traffic (and this doesn't even include video exchanged through peer-to-peer (P2P)). Moreover more than 100 hours of video are being uploaded to YouTube every minute (Source: Facts.zone).
Video content has been on the rise for a few years now. Unless you are joining now, it's going to be pretty crowded pretty soon.
Note: We have a huge list of video creation and editing tools you may want to check out.
1. Put Together Video Walkthroughs
According to EyeView, a video tutorial on a landing page can increase its ROI by 80%. And according to ThinkWithGoogle itself, 50% of buyers look for video reviews before buying a product.
There's many more stats to feature here, but really it all comes down to one point: If you are selling anything, be it a product or a SaaS, you need to have video tutorials teaching your future and existing customers how to make the most of it.
Featured tool:

I use Snagit for easily creating screen-flows but there are many more alternatives, including Camtasia (from the same developer):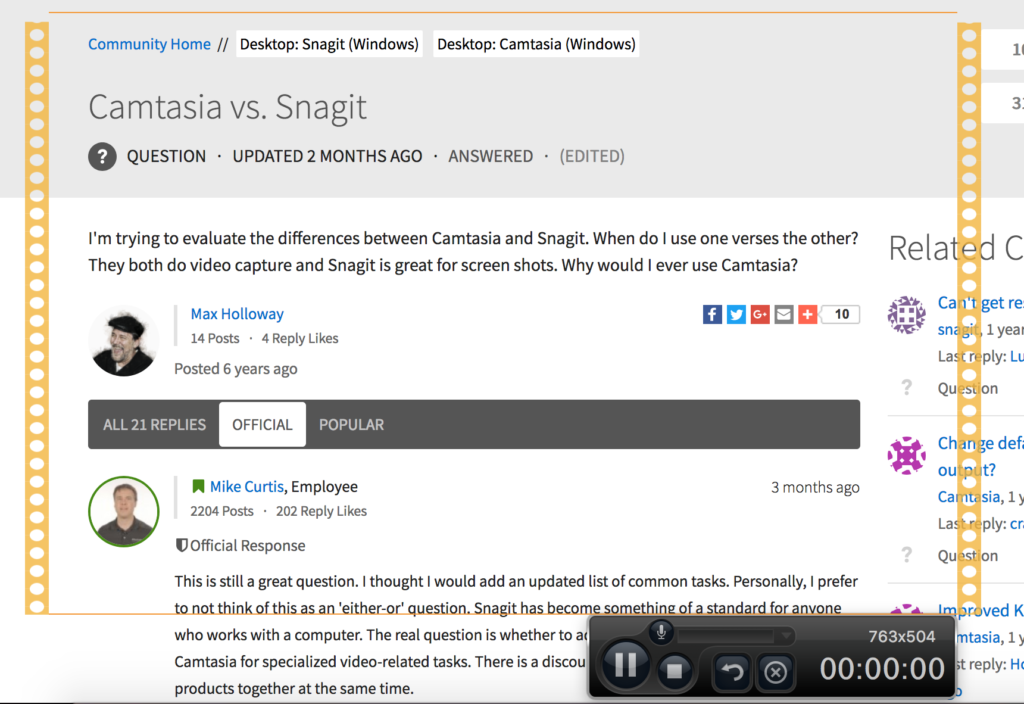 You can also use online resources to enhance your videos with free music and video footage.
2. Put Together a Video Course
When planning a video marketing content (especially if we talk about educational videos), keep a longer-term goal in mind: With time, you can collect all those videos and turn them into an educational course achieving many marketing goals at once:
An alternative conversion goal (for those who are not yet ready to buy)
Higher brand loyalty (giving your customers a place to get updates of new videos and products)
More channels to market your brand to (including mobile apps)
More ways for your (future) customer to access your brand and bring it home: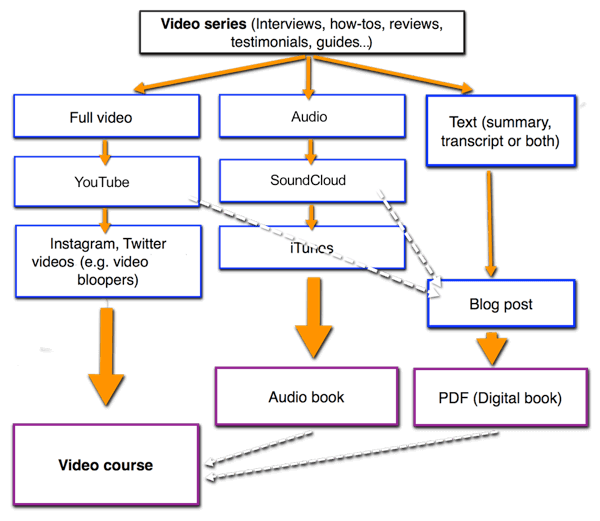 Featured tool:
Uscreen is an affordable and easy-to-use "Video on Demand" platform that allows you to create your own branded OTT channel to tie your customers to your brand and adding value to your micro-community. It comes with a lot of nice features including branded mobile apps, email marketing automation, etc.: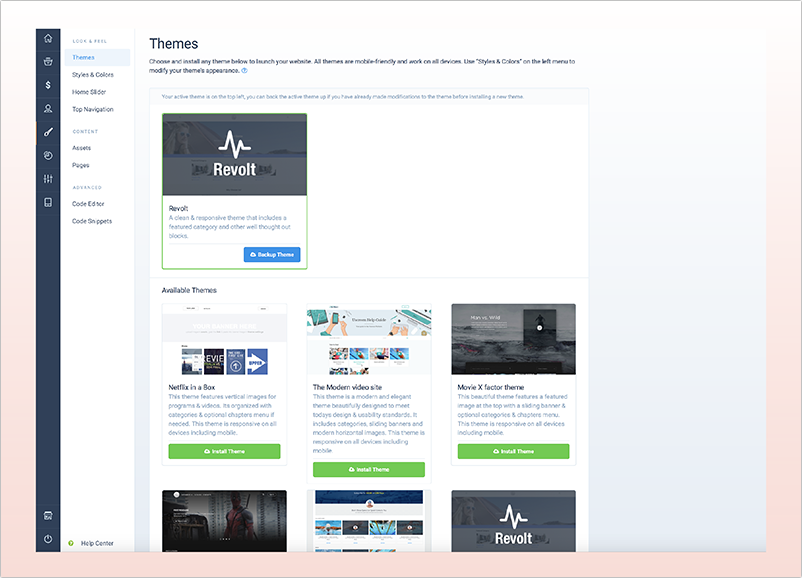 3. Market Video Interviews
There's a lot of demand for video story telling these days: People want to hear from people using your products or choosing your brand as their permanent home:
You can interview your happy customers and let them talk about how they are using your product or why they chose your brand
You can interview niche influencers and let them discuss why they preferred your brand over competitors
You can interview your team members and let them talk about your company culture, etc.
Featured tool:

Take a loot at Blue Jeans that, among other features, allows to live-stream interview to Facebook. It also has a lot of other neat features including handling invites and scheduled events: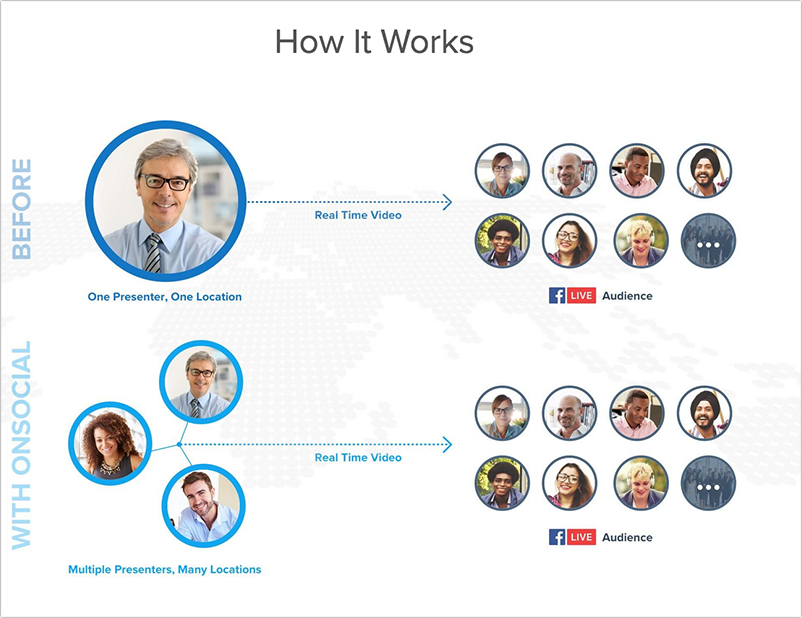 4. Do Crossover Videos with Other Channels
Ask any established Youtuber on how he manages to keep growing their subscription numbers and one solid piece of advice they will all share is this: Collaborate with other Youtube.
The key to successful video marketing is continuous collaboration. I have already mentioned doing interviews, so you can start with interviewing popular Youtubers or getting interviewed by them.
Featured tool:
There are many tools that promise to connect you to notable Youtubers but I really prefer the old-school approach: Meeting them and becoming friends through forums. Yttalk is an active communities that talk about building up their Youtube channels. There's a separate subforum for collaborating and meetups you want to keep an eye on:

5. Create Short Viral Videos
Short viral videos are great for filler content (when you have no time to put together a video tutorial). Besides, it makes a solid cross-marketing content, i.e. you can upload those videos on Facebook and Twitter for more shares and engagement.
It's a good idea to plan a quick video for holidays as well as teaser content for your upcoming bigger asset you are working on.
Featured tool:

I've tried a lot of tools and I like many of them. One of the latest I was playing with is called Animatron Wave. It has a huge library of music and footage as well as lets you put quick videos online with no software to download. I really like its usability: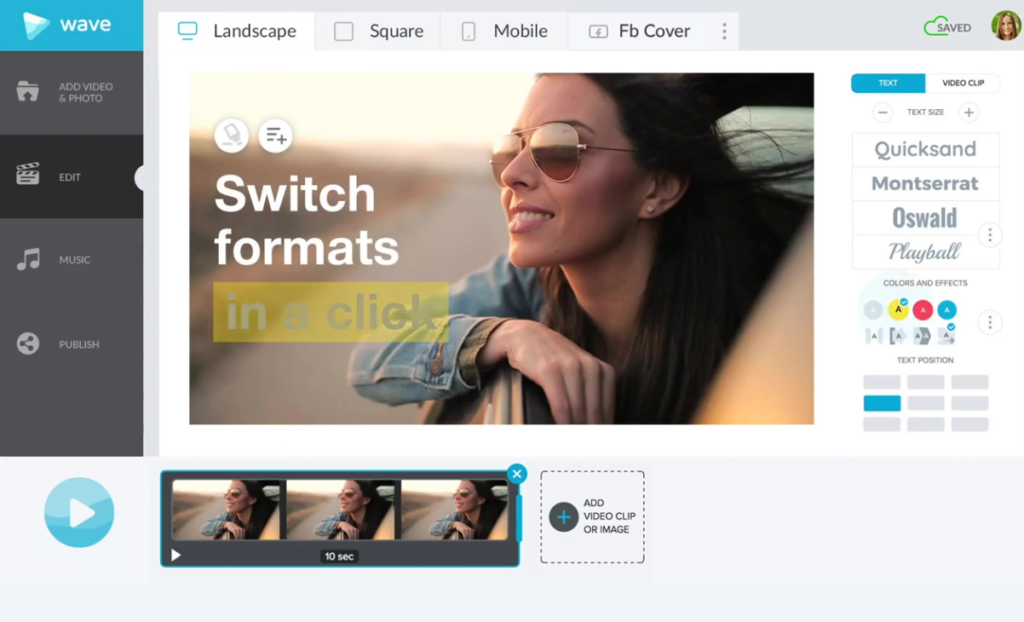 Do you have an idea for a quick video campaign or a tool? Share in the comments!