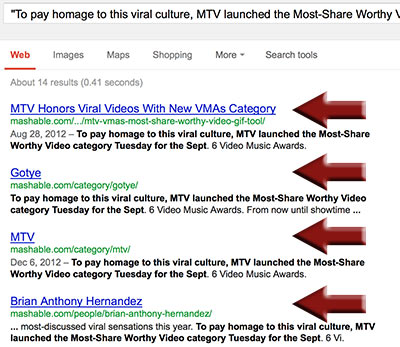 There's an interesting discussion over at SEO chat forum about how to solve the inherent WordPress-run blog duplicate content issue. If you are blogging, you know that these pages are likely to cause partial duplicate content issue:
blog.com/post-name
blog.com//tag/tag-name
blog.com/category/category-name
This is because the category and tag pages usually consist of the post excerpts. In the forum thread, the author even says the tag pages actually outrank his articles (which I've seen as well).
---
So is rel="canonical" the solution here?
The first article to refer to here is Bonnie's excellent 5 Key Rel="Canonical" Implementation Considerations and the main point there:
If you notice you might have internal duplicate content issue, before implementing rel="canonical", "exhaust alternatives first."
There's already a blog-specific solution: NOINDEX meta tag!
Google's blogspot "noindexes" tags by default: This allows search crawlers follow all internal and external links on tag pages without including the actual content in their search index.
Your tag pages won't cause trouble then because they won't be crawled while not being ignored completely (as they do allow search spiders access your "post" pages and you want these re-crawled often!)
---
WordPress Plugin!
There is an excellent Wordpres plugin that will do that job easily for you: WordPress SEO by @Yoast but make sure to check its other options to make sure you are not enabling any extra options.