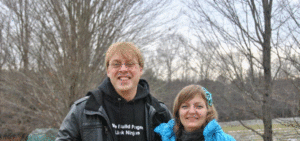 In October of this past year I had the luck to be able to visit Kharkov, Ukraine to speak at Optimization 2011. While there I was lucky enough to be able to hang out with one of my very favorite SEO's in the world, Ann Smarty. Now I've met a lot of Internet Marketers in my day, but there are few internet marketing experts that are as knowledgeable, personable, professional, and as sweet, as Ann…. I knew that I'd be lucky to have her guest blog for us, and after a few talks, it was settled, and Ann has joined Internet Marketing Ninjas as an Independent Guest Blogger (we are still working on getting her more and more involved in the future).
I have admired and been a fan of Ann's writing and work for years. I'm sure most of my readers as well are familiar with Ann and her writing over the years. Ann has written a lot on her own blog at SEOSmarty.com and she's written for several other blogs including SEOmoz, Mashable, Search Engine Journal, Social Media Examiner and others….and now she will be guest blogging for the Internet Marketing Ninjas Blog. Yeah!!!!!
I believe she's tested and reviewed about every internet marketing tool in the world, and that knowledge and experience is key to our business (we love tools…and one day we will release many public tools again). Ann has also written extensively on link building, social media marketing, and several other areas of internet marketing that our company is now highly involved in. This knowledge and experience will greatly assist our growing business
Oh…and in case you missed it, we also announced on Tuesday that Rick DeJarnette Joined the Ninjas as well! Rick is a Former Bing Webmaster Center Blogger and Bing SEO Consultant and will be blogging and assisting our social media and our SEO Analysis team.
It is truly an honor for me to announce that Ann Smarty is contributing to our blog. Look out world….because I'm Feeling Lucky…and I'm surrounding myself with some of the best people and minds that I know of…