So I just got this lead from a guy who say's he can't afford our services, but he's willing to offer a trade….and it sounds so tempting….it's a hotel in south america in a rainforest, near Mayan ruins, near 2 national parks, it's on the coast where you can snorkel and scuba dive, and great fishing…sounds like so much fun. I think I'll have to pass though….too hard to explain to my employees why they're working away on some project that's not bringing us any $, while I'm off having a grand ole time on vacation…
A few years ago I did a trade for a trip to Scotland in exchange for some links….now that was a great deal, and I had an awesome time.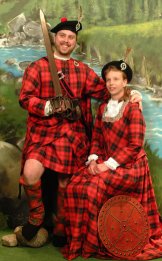 (how about them bonny knees of mine? (that's my wife Mary with me if you were wondering)).
How about you guys? You ever take deals like these?