A few days ago, in case you missed it, we announced that Kim Krause Berg (Founder of Cre8asiteForums) has Joined Internet Marketing Ninjas, and that that I bought the Cre8asiteForums. Kim also posted an "official notice" on the Cre8asite blog.
I've been having several communications with the community members…in admin/moderator areas…in private chats, on facebook pages, on Twitter, etc……and through my Introduction to the community post in the public forum. So far I've felt great about the responses they've given me…but I still know that I have to earn their trust.
I'm very lucky to have Kim, (and all the current admins and mods) continue to assist the forum as they have been doing for years. To me, those are the most valuable people, and those are the ones I want to listen to the most. I'm not coming in to "take over" or "force my rules" on members….I'm there to listen to what you want, share my ideas, and produce, in the end, what the Cre8asiteForum Admins, Mods and of course all of the members want
For me it's another big bonus of having Kim on my team, and that bonus is that Kim has specialized in website usability and conversion since 1998.  I regard Kim as one of the world's leading usability/conversion analysts, I know our clients can all benefit from her analysis and suggestions and solutions to improve their ROI with us.
I Love Forums. As you may know, a few months ago I bought the entire Developer Shed network of sites from Ziff Davis. These sites included some great learning/tutorial sites like scripts.com and tutorialized.com. Along with this purchase came 7 online forums, including Devshed and SEO Chat. I had to buy those, because I was so upset about what had been done to these great old resources (bastardized with advertising)…that I had this strong urge to "Fix" these sites. I took them over, removed 95% of the advertising, and now we've been working on redesigning them….aspfree.com (one of the least active sites), was just published a few hours ago…we're still tweaking it…once this site is "set" then we move to seochat, then devshed, then the other properties…
In the meantime, with Cre8teasiteforums we're brainstorming, collecting ideas and working on some new improvements that we can implement in the short term. Luckily I have Kim, and lots of great admins and mods there to help start working on making the forums even better for everyone. Luckily the Cre8asiteForums are much cleaner than the developer shed sites, and much more friendly…but I know there's room for improvement with everyone's help…and I have some ideas I'll be sharing with the community over time…..
In less than 2 weeks we'll have 12 ninjas at Brett's Pubcon conference in Vegas. Kim will be there too. We'll be making another major announcement that week …..oh, and next week, we have an announcement about another person who has just moved to upstate New York to be a Ninja and to help us out……..there's a lot going on at the moment….but it's soooo exciting…I'm surrounded by an army of Amazing People….and there are boundless opportunities with all of theses communities if I can earn their trust and respect.
I do believe that there are things that can be worked towards which can benefit all who participate…I believe I can make this a Win-Win for everyone…that's my plan….and with a lot of help, from a lot of people….and just making things just a little better every day… in the end, I have no doubt, we'll come out on top.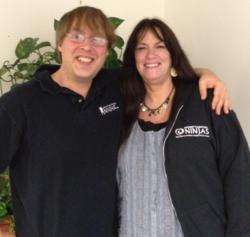 I'm Feeling Lucky