I'm excited to announce that Internet Marketing Ninjas has purchased SEOROI.com and the rights to Advanced SEO Book from Gabriel Goldenberg.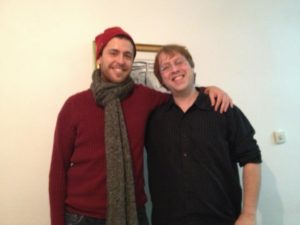 PR: Jim Boykin, CEO of Internet Marketing Ninjas (IMN) and SEO/author Gabriel Goldenberg announced the purchase of Goldenberg's website, SEOROI.COM, and the publishing rights to Goldenberg's book, Advanced SEO Book, by IMN. This announcement comes on the heels of several other acquisitions by Boykin and his company.
"It feels amazing that Internet Marketing Ninjas – who just bought Webmaster World, Cre8asite and SEOChat (part of the Developer Shed network of websites and forums), making them the industry's fastest-growing brand – are buying SEO ROI. IMN's purchase of the site and book copyright is a welcome badge of recognition regarding my content's value," said Goldenberg.
The addition of SEOROI.com to IMN's arsenal of web-properties helps to turn the company into one of the most recognizable Internet Marketing brands in the industry. IMN continues to grow the company and expand their influence on the Internet marketing community. "Gab's website is a great source of online marketing information, and his book, Advanced SEO Book, is one of the most in-depth and original SEO books I have ever read. It will be an honor to be able to update the book in the future as the times and methods change." said Boykin regarding the acquisition.
Advanced SEO Book provides valuable information that can be applied to any Internet marketing strategy. By offering insight on critical thinking as it applies to marketing and tactics regarding many areas of marketing and SEO, this book has been a must-read for many within the SEO industry. You can get a free chapter, "How to Scale Whitehat Link Building Massively & Out Perform Social Media Linkbait" at http://book.seoroi.com/. Goldenberg and Boykin will also be teaming up to offer free copies of Blog Design for ROI. Free copies are available upon request.
Goldenberg will be pursuing other opportunities as well; stating "as for me, a friend and I are researching the Jewish dating field – any developers or angel investors interested in partnering are welcome to contact me. I will no longer be offering client services and fully endorse IMN's services."
---
About Internet Marketing Ninjas
Jim Boykin began Internet Marketing Ninjas (IMN) in 1999; previously branded under the title We Build Pages, the company rebranded in 2011. Located in Upstate New York, in Clifton Park New York, IMN is an Internet Marketing company which offers a wide range of online marketing services, including SEO analysis, link popularity building, social media management, content development, and local marketing. With a staff of approximately 100 in-house, trained internet marketing ninjas, the company continues to grow and explore new opportunities to best address clients' online marketing needs. In 2012, Boykin and IMN acquired Webmaster World, Cre8asiteForums, and the Developer Shed network of websites. Several Internet marketing specialists have also joined the IMN executive staff this year, including Kris Jones (IMN Chairman), Kim Krause Berg (Usability & User Interface Analyst), and Ann Smarty (Community & Brand Manager), and Joe Hall (Senior Marketing Analyst).
---
About Gabriel Goldenberg
Gabriel Goldenberg has been an influential figure in the SEO community for several years and has been touted as an industry leader by many. Goldenberg contributes to numerous publications, including Search Engine Land, SEOmoz, and Search Engine Journal and ProBlogger. He also speaks at various conferences and events, sharing his knowledge and expertise. Goldenberg can be reached via Twitter @GabGoldenberg.