I have Google Adsense on some websites I own…and each month I get messages in my adsense account that look just like this….scroll down to see their email they send me every month….
---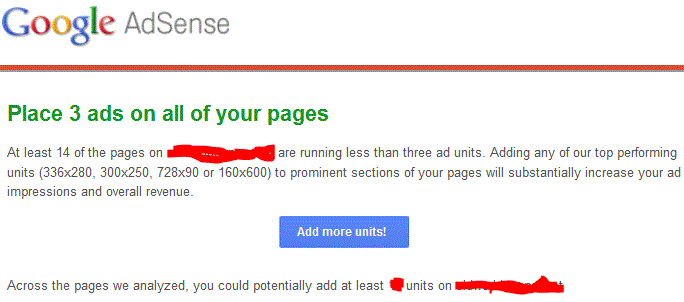 ---
Back to Jim's Rant:
This is just deplorable in the age of the Google Panda Updates!
How can Google still hand out advice telling me to add 3 ad units to all my pages, and to use "Top performing" units (big units), in "Prominent Sections".
That advice is what people followed, until Google spanked these sites with Panda for having too many ad units, in prominent sections of their webpages.
This is just disgusting. Google is still handing out advice that will get sites Penalized with Panda….. Someone on the Google Search Team needs to climb the Adsense wall and slap them and tell them to stop giving out this advice…it was bad enough to give this advice out of  Google's own mouth, while the organic panda mouth was about to rip those sites to shreds….but to still be giving this advice when they know this will get a site penalized with Panda today is a crime….shame on you Google!